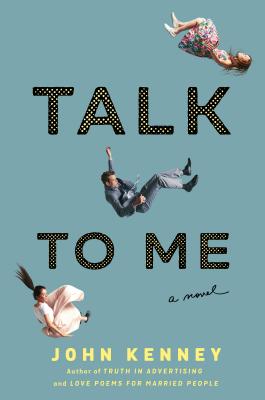 Talk to Me (Hardcover)
G.P. Putnam's Sons, 9780735214378, 320pp.
Publication Date: January 15, 2019
Other Editions of This Title:
Digital Audiobook (1/14/2019)
Paperback (1/7/2020)
* Individual store prices may vary.
Description
Entertainment Weekly, New & Notable
New York Post, Best Book of the Week

By the author of the New York Times bestseller, Love Poems for Married People, and the Thurber Prize-winner Truth in Advertising comes a wry yet tenderhearted look at how one man's public fall from grace leads him back to his family, and back to the man he used to be.

It's a story that Ted Grayson has reported time and time again in his job as a network TV anchor: the public downfall of those at the top. He just never imagined that it would happen to him. After his profanity-laced tirade is caught on camera, his reputation and career are destroyed, leaving him without a script for the first time in years.

While American viewers may have loved and trusted Ted for decades, his family certainly didn't: His years of constant travel and his big-screen persona have frayed all of his important relationships. At the time of his meltdown, Ted is estranged from his wife, Claire, and his adult daughter, Franny, a writer for a popular website. Franny views her father's disgrace with curiosity and perhaps a bit of smug satisfaction, but when her boss suggests that she confront Ted in an interview, she has to decide whether to use his loss as her career gain. And for Ted, this may be a chance to take a hard look at what got him to this place, and to try to find his way back before it's too late.

Talk to Me is a sharply observed, darkly funny, and ultimately warm story about a man who wakes up too late to the mess he's made of his life... and about our capacity for forgiveness and empathy.
About the Author
John Kenney is the author of Truth in Advertising, which won the Thurber Prize for American Humor in 2014. He has worked as a copywriter in New York City for seventeen years. He has also been a contributor to The New Yorker magazine since 1999. Some of his work appears in a collection of The New Yorker's humor writing, Disquiet, Please! He lives in Brooklyn, New York.
Praise For Talk to Me…
Praise for Talk to Me

One of Southern Living's Best New Books of Winter 2019 

"A widely respected network TV anchor falls from grace when a vicious tirade is caught on camera, leaving him to revive his professional reputation—and sense of purpose."—Entertainment Weekly

"With a publicly decimated career and a neglected family in his wake, ex-TV anchor Ted Grayson finds himself taking a hard look at the life he's led and the ways in which he can build a better life in this perceptive new book by John Kenney."—Southern Living

"Chronicle[s] our messy, modern lives."—Los Angeles Times

"Kenney's dark humor evokes understanding....A surprise twist reveals that hope and empathy can prevail."—Shelf Awareness 

"Timely, darkly humorous.... A smart, very 21st-century story."—AARP 

"A blunt, hilariously nuanced but devastatingly emotional tale of the age of internet and instant news....And yet, you'll laugh because Kenney is profane, with a biting, spit-out-your-coffee kind of wit that underscores the pathos and irony of it all…Talk to Me will make you think, and you won't want to put it down."—Marco Eagle

"With depth and sympathy...[Kenney] saves a sweetly ironic twist for a redemptive ending....A powerful and moving rendition of a story we've been waiting to hear: what it's like to be the bad guy in this ripped-from-the-headlines situation."—Kirkus Reviews (starred review)

"Kenney's bittersweet, darkly funny latest (after Truth in Advertising) is equal parts family drama and commentary on communication and news consumption in the age of instant gratification. Kenney is supremely gifted at creating flawed, vivid characters and capturing the wonder, ennui, and heartbreak of marriage and parenthood, and the seemingly small moments that make life precious."—Publishers Weekly

"Kenney's timely satire succeeds with significant nuance...Most winning, though, are Kenney's incisive considerations of parenthood, familial love, and what actually matters when all is seemingly lost."—Booklist

"For all the fast-paced and knowing entertainment it provides, Talk to Me may also serve as a useful antidote to rushed judgment when the next celebrity scandal erupts."—BookPage

"A superbly crafted story of a swaggering news anchor who disgraces himself, facing shame and regret in an era when being human in public is a bloodsport. Talk to Me is moving, full of punch and sorrow – and told at the velocity of a man plummeting to earth."—Tom Rachman, author of The Italian Teacher and The Imperfectionists 

"This high-voltage tale about a one-percenter learning to navigate a vastly changed America will move you to reconsider what you're ready to forgive. Timely, keenly observed and my favorite kind of funny, John Kenney's lastest hits (superbly) home."—Courtney Maum, author of Touch and I Am Having So Much Fun Without You

"A poignant, and often hilarious, portrait of a man in the midst of an extremely public downfall. Kenney, with humor and tenderness, gives us Ted Grayson, TV anchor of a bygone era as he fumbles through a changing media landscape and one terrible mistake and its fallout. This is a very human, very timely story."—Vanessa Manko, author of The Invention of Exile

"This book is a tender father-daughter story, a cautionary tale about forgetting what's important, and an indictment of our toxic instant overreaction culture. Wrap it all together and what do you get? A very funny and unexpectedly touching novel."—Eddie Joyce, author of Small Mercies