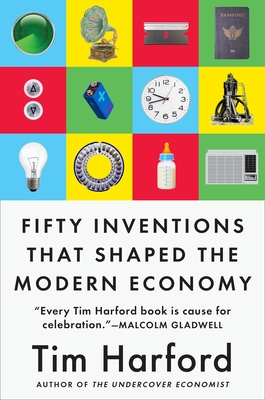 Fifty Inventions That Shaped the Modern Economy
Paperback

* Individual store prices may vary.
Other Editions of This Title:
Digital Audiobook (8/28/2017)
Hardcover (8/29/2017)
Description
NAMED A BEST BOOK OF 2017 by BLOOMBERG BUSINESSWEEK, THE FINANCIAL TIMES, AND AMAZON

Look out for Tim's next book, The Data Detective.

A lively history seen through the fifty inventions that shaped it most profoundly, by the bestselling author of The Undercover Economist and Messy.
 
Who thought up paper money? What was the secret element that made the Gutenberg printing press possible? And what is the connection between The Da Vinci Code and the collapse of Lehman Brothers? 

Fifty Inventions That Shaped the Modern Economy paints an epic picture of change in an intimate way by telling the stories of the tools, people, and ideas that had far-reaching consequences for all of us. From the plough to artificial intelligence, from Gillette's disposable razor to IKEA's Billy bookcase, bestselling author and Financial Times columnist Tim Harford recounts each invention's own curious, surprising, and memorable story. 

Invention by invention, Harford reflects on how we got here and where we might go next. He lays bare often unexpected connections: how the bar code undermined family corner stores, and why the gramophone widened inequality. In the process, he introduces characters who developed some of these inventions, profited from them, and were ruined by them, as he traces the principles that helped explain their transformative effects. The result is a wise and witty book of history, economics, and biography.
Praise For Fifty Inventions That Shaped the Modern Economy…
"One of the joys of Tim Harford's Fifty Inventions That Shaped the Modern Economy is that it presents this perspective on economic growth so that the most casual reader can grasp it... It's great fun to dip into individual chapters of Fifty Inventions. Mr. Harford succeeds in teaching about productivity, economic growth, monopoly, regulation and other essential topics without resorting to technical terminology and intimidating charts and tables. Such a feat requires a kind of inventiveness in itself." —Wall Street Journal

"Tim Harford is a master at picking out the perfect little story that explains some huge economic principle... He's been my go-to guy for learning about the economics and math behind the world at large... perfectly crafted to light up the pleasure centers of my nerd brain." —Roman Mars, 99% Invisible

"This is a lovely book: the kind of thing whose bite-sized morsels add up to a whole meal, but can be enjoyed and shared on their own." —Boing Boing
"Fantastically enlightening... Harford effortlessly leaps across time and continents to show readers various inventions in a new light, revealing unexpected insights into 21st-century society." —BookPage

"Tim reaffirms his status as one of the great (greatest?) contemporary popular writers on economics, this time turning his attention to technology." —Tyler Cowen, author of The Complacent Class

"[Harford's] zest for his subjects makes them hard to resist; his lively, humorous style and wide-ranging curiosity make hard topics go down easily…Harford's contagious delight in his subject reminds readers not to take for granted the impact of objects and ideas so familiar they're easy to overlook."  —Kirkus Reviews

Praise for Tim Harford and MESSY

"Every Tim Harford book is a cause for celebration." —Malcolm Gladwell

"One of the best writers who also happens to be an economist." —Stephen Dubner

"Harford's argument goes beyond aesthetics, resurfacing over and over in his engrossing narrative." —The New York Times Book Review

"Utterly fascinating. Tim Harford shows that if you want to be creative and resilient, you need a little more disorder in your world. It's a masterful case for the life-changing magic of cluttering up."—Adam Grant, New York Times–bestselling author of Originals and Give and Take

"Masterful." —The Economist
Riverhead Books, 9780735216143, 336pp.
Publication Date: August 28, 2018
About the Author
Tim Harford is an award-winning journalist, economist, and broadcaster. He's the author of the bestselling The Undercover Economist, Messy, The Undercover Economist Strikes Back, Adapt, and The Logic of Life. Harford is currently a senior columnist at the Financial Times and host of the BBC Radio 4 program More or Less. He has been named Economics Commentator of the Year (2014), has won the Rybczynski Prize (2014–15) for the best business-relevant economics writing, and has won the Bastiat Prize for economic journalism (2006). He's a visiting fellow of Nuffield College at Oxford University and lives in Oxford with his family.
or
Not Currently Available for Direct Purchase