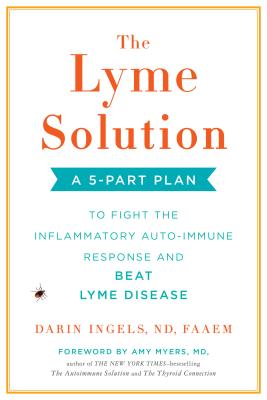 The Lyme Solution
A 5-Part Plan to Fight the Inflammatory Auto-Immune Response and Beat Lyme Disease
Hardcover

* Individual store prices may vary.
Other Editions of This Title:
Digital Audiobook (3/26/2018)
Paperback (4/2/2019)
Description
A comprehensive, natural approach to treating acute and chronic Lyme disease, from a leading naturopathic physician who has managed his symptoms for more than fifteen years.

Lyme disease is one of the fastest-growing infectious diseases in the United States, and millions of people worldwide suffer from its shape-shifting symptoms. Now, in The Lyme Solution, Dr. Darin Ingels shares his revolutionary approach to treating and healing acute and chronic Lyme. Drawing on his experience as a naturopathic physician who has treated thousands of cases, and as a patient, Ingels reveals that Lyme is an autoimmune disease as much as it is an infection. Conventional treatments too often rely on toxic doses of antibiotics that weaken your body and worsen symptoms, instead of boosting your ability to fight for your health. Including the latest research about the diagnosis and treatment of Lyme, Ingels's uniquely holistic approach provides a path to wellness by fortifying the microbiome, enhancing the immune system, and strengthening the body's ability to heal from within. The Lyme Solution offers a simple, five-step plan, including:

  *  the most effective early treatment and prevention measures to avoid contracting the disease or stop it in its tracks;
  *  an Immune Boosting Diet and list of herbal supplements that will increase immunity and reduce inflammation;
  *  guidelines for when and how to use antibiotics as an effective part of your treatment plan;
  *  tools to identify and eliminate conditions that mimic Lyme disease or exacerbate your symptoms.

Whether you are facing acute or chronic Lyme, or undiagnosed autoimmune symptoms, the natural, whole-body approach of The Lyme Solution will help you permanently recover your health, and reclaim your life.
Praise For The Lyme Solution: A 5-Part Plan to Fight the Inflammatory Auto-Immune Response and Beat Lyme Disease…
"The Lyme Solution is a simple, clear map for those suffering with chronic Lyme and tick related infections. It cuts through the confusion and mystery surrounding Lyme and provides a step by step guide to restoring health and well-being for so many. Targeting the bugs alone is not enough to heal and Dr. Ingels's approach support your body's own healing system to create long term health."—Mark Hyman, MD, #1 New York Times bestselling author of Eat Fat Get Thin, and Director of the Cleveland Clinic Center for Functional Medicine

"Lyme Disease is an important underlying root cause of various mystery and autoimmune illnesses. Dr. Ingels offers a comprehensive plan that can help you support your body naturally to heal from this devastating condition and get your life back!"—Dr. Izabella Wentz, Pharmacist, #1 New York Times bestselling author of Hashimoto's Protocol
 
"Hopelessness is the greatest disease of modern medicine and there are millions who have felt trapped by diagnoses of chronic Lyme Disease. In the pages of The Lyme Solution, Dr. Darin Ingels lights the path to healing in generous detail and with pragmatic steps to renew hope today."—Kelly Brogan, MD, author of the New York Times bestseller A Mind of Your Own
 
"The increase in the number of Lyme Disease cases and the complications from it are alarming—this book couldn't be more timely or needed. Dr. Ingels gives the kind of practical solutions I wish every patient could get, a healthy plan that is easy to follow that makes a person stronger, healthier and probably more well than before they contracted Lyme in the first place!"—Frank Lipman, MD, bestselling author of The New Health Rules
 
"Wow! If you are suffering with Lyme disease (or any other tick-borne infection), read this book. It is a game changer. A masterful clinician, Dr. Darin Ingels shares his experience caring for thousands of Lyme patients and offers a simply organized yet comprehensive roadmap to recovery that doesn't rely on taking endless rounds of antibiotics. I am giving this book to all my Lyme patients!"—Susan S. Blum, MD, MPH, Founder and Director, Blum Center for Health and author of Healing Arthritis and The Immune System Recovery Plan

"This is an incredible book, extremely detailed and thorough. I'm going to recommend it to all my Lyme patients."—Dr. Kabran Chapek, ND, President of the Psychiatric Association of Naturopathic Physicians Amen Clinics Northwest

"Lyme disease is one of the most frustrating diseases we face: common, debilitating, protean, often undiagnosed, and frequently life-ruining. Thankfully, Dr. Darin Ingels has provided The Lyme Solution, a superb and practical book that offers optimal treatment based on his years of experience and thousands of successfully treated patients. If you question whether you may have Lyme disease, reading this book may be the best first step you can take."—Dale E. Bredesen, MD, New York Times Bestselling author of The End of Alzheimer's
Avery, 9780735216303, 384pp.
Publication Date: March 27, 2018
About the Author
Darin Ingels, ND,FAAEM, is a respected leader in natural medicine with numerous publications, international lectures, and more than twenty-six years of experience in the healthcare field. He received his bachelor of science degree in medical technology from Purdue University and his doctorate of Naturopathic Medicine from Bastyr University. He has worked as a clinical microbiologist/immunologist at Lutheran General Hospital, and is board-certified in Integrative Pediatrics. He is also one of the first Naturopathic Physicians to receive a Fellowship with the American Academy of Environmental Medicine. His practice focuses on chronic immune disorders, including Lyme disease, autism, allergies, asthma, recurrent or persistent infections, and other immune problems. Dr. Ingels uses diet, nutrients, herbs, homeopathy, and immunotherapy to help his patients achieve better health.
or
Not Currently Available for Direct Purchase