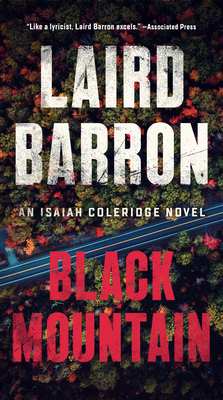 Black Mountain (An Isaiah Coleridge Novel #2)
Paperback

* Individual store prices may vary.
Other Editions of This Title:
Digital Audiobook (5/6/2019)
Hardcover (5/7/2019)
Description
Ex-mob enforcer Isaiah Coledrige has hung out a shingle as a private eye in New York's Hudson Valley, and in his newest case, a seemingly simple murder investigation leads him to the most terrifying enemy he has ever faced

When a small-time criminal named Harold Lee turns up in the Ashokan reservoir--sans a heartbeat, head, or hands--the local mafia capo hires Isaiah Coleridge to look into the matter. The mob likes crime, but only the crime it controls . . . and as it turns out, Lee is the second independent contractor to meet a bad end on the business side of a serrated knife. One such death can be overlooked. Two makes a man wonder.

A guy in Harold Lee's business would make his fair share of enemies, and it seems a likely case of pure revenge. But as Coledrige turns over more stones, he finds himself dragged into something deeper and more insidious than he could have imagined, in a labyrinthine case spanning decades. At the center are an heiress moonlighting as a cabaret dancer, a powerful corporation with high-placed connections, and a serial killer who may have been honing his skills since the Vietnam War. . .

A twisty, action-packed follow-up to the acclaimed Blood Standard, Black Mountain cements Laird Barron as an inventive and remarkable voice in crime fiction.
Praise For Black Mountain (An Isaiah Coleridge Novel #2)…
"Coleridge is a large, unbelievably strong, scarred man—a thug, yes, but a thinking-person's thug…Readers with a tolerance for violence will want to meet him."—Booklist (starred review)

Further Praise for Black Mountain 

"Isaiah Coleridge [is] an intimidating presence...A big bruiser who likes nothing better than a good fight." —The New York Times Book Review

"Things get downright hallucinatory as [Coleridge] proceeds toward a climax that seems as much Bram Stoker as Lawrence Block. [A] supportive librarian-girlfriend and a loyal partner-in-arms give the p.i. the emotional backup he needs to return (no doubt) for further bizarre adventures at 'the mysterious intersection of coincidence and fate.'"—The Wall Street Journal

"Black Mountain is a crime-horror hybrid that takes the most entertaining elements of both genres and mixes them into something new that pushes the boundaries of contemporary crime fiction…With those elements on the table, Barron uses his elegant prose as glue…This is at once more elegant and bloodier than most contemporary crime fiction, more eloquent and vicious, smarter and more ruthless. This is crime fiction hurled headfirst into Lovecraftian darkness…Black Mountain is an entertaining, blood-spattered, and unusually self-assured novel with a meticulously constructed plot that masterfully braids several narratives into a single story."—Los Angeles Review of Books

"Barron's second novel featuring retired mob strongman Isaiah Coleridge is as nasty as a cornered pit viper—and its plot is about as sinuous. . . . Barron peppers the text with literary references and philosophical reflections that provide rich counterpoint to the violent bashing and bloodletting. Fans of hardboiled crime fiction and wiseguy vernacular will be well satisfied."—Publishers Weekly

"Like a lyricist, Laird Barron excels at manipulating the tones and cadence of language."—Associated Press

"There's an atmosphere in these novels that rivals the darkest episodes of True Detective. Barron's prose bites you like a cornered animal...Do you enjoy crime novels? Are you fascinated by investigators hunting down creepy serial killers? Do you like your noir dosed with existential horror? Then stop reading this review and go pick up a copy of Laird Barron's Black Mountain."—San Antonio Current
G.P. Putnam's Sons, 9780735217461, 400pp.
Publication Date: April 28, 2020
About the Author
Laird Barron was born in Alaska, where he raised huskies and worked in the construction and fishing industries for much of his youth. He is the author of several short-story collections and two novels, and his work has also appeared in many magazines and anthologies. A multiple Locus, World Fantasy, and Bram Stoker Award nominee, he is also a three-time winner of the Shirley Jackson Award. Barron lives in Kingston, New York.