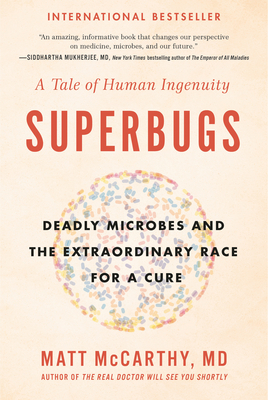 Superbugs
Deadly Microbes and the Extraordinary Race for a Cure: A Tale of Human Ingenuity
Paperback

* Individual store prices may vary.
Other Editions of This Title:
Digital Audiobook (5/20/2019)
Hardcover (5/21/2019)
Description
International Bestseller

"An amazing, informative book that changes our perspective on medicine, microbes and our future."
--Siddhartha Mukherjee, MD, New York Times bestselling author of The Emperor of All Maladies

A New York Times bestselling author shares this exhilarating story of cutting-edge science and the race against the clock to find new treatments in the fight against the antibiotic-resistant bacteria known as superbugs.

Physician, researcher, and ethics professor Matt McCarthy is on the front lines of a groundbreaking clinical trial testing a new antibiotic to fight lethal superbugs, bacteria that have built up resistance to the life-saving drugs in our rapidly dwindling arsenal. This trial serves as the backdrop for the compulsively readable Superbugs, and the results will impact nothing less than the future of humanity.

Dr. McCarthy explores the history of bacteria and antibiotics, from Alexander Fleming's discovery of penicillin, to obscure sources of innovative new medicines (often found in soil samples), to the cutting-edge DNA manipulation known as CRISPR, bringing to light how we arrived at this juncture of both incredible breakthrough and extreme vulnerability. We also meet the patients whose lives are hanging in the balance, from Remy, a teenager with a dangerous and rare infection, to Donny, a retired New York City firefighter with a compromised immune system, and many more.

The proverbial ticking clock will keep readers on the edge of their seats. Can Dr. McCarthy save the lives of his patients infected with the deadly bacteria, who have otherwise lost all hope?
Praise For Superbugs: Deadly Microbes and the Extraordinary Race for a Cure: A Tale of Human Ingenuity…
A USA Today Book Not to Miss

One of Book Authority's Best Public Health Books of All Time

"An amazing, informative book that changes our perspective on medicine, microbes and our future."—Siddhartha Mukherjee, MD, New York Times bestselling author of The Emperor of All Maladies

"Written from the front lines in the battle against resistant microbes, Superbugs will educate and inspire all those concerned about the growing threat to individuals and society. McCarthy offers a fast paced, vivid narrative that grips the reader from the opening pages and never lets go."—Jerome Groopman, MD; Recanati Professor, Harvard Medical School; co-author of New York Times bestseller Your Medical Mind

"There might not be another author who so fluidly combines a world-class doctor and researcher's knowledge and experience with a memoirist's sensibility. Matt McCarthy is Siddhartha Mukherjee and David Sedaris rolled into one. Who else but McCarthy could write a dispatch from the front lines of the secret fight for the future of the human race that is not just gripping and illuminating, but also poignant and funny?"—Ben Reiter, New York Times bestselling author of Astroball

"A riveting insider's look at the race to find a cure for antibiotic-resistant infections, one of the most pressing challenges in modern medicine…. The author's storytelling is at once urgent and empathetic, a compelling combination that leaves readers feeling informed and optimistic. Insightful and honest, McCarthy effectively combines useful information about the latest advances in microbial research with accounts of the best aspects of humanity."—Kirkus

"Superbugs is a riveting look into the world of bacteria and antibiotics. Dr. Matt McCarthy offers a compulsively readable tour through infectious disease. With his characteristic humor and warmth, Dr. McCarthy humanizes a fascinating and timely topic that has resonance for us all. In a voice that is thoughtful and honest, punctuated by sharp wit, he reveals the drugs and dilemmas that will impact humanity for years to come. This is a rare and important book."—Daniela Lamas, author of You Can Stop Humming Now

"A perfect work of popular science. Like Atul Gawande, Matt McCarthy has the magical ability to transmit deeply technical knowledge in a way that makes the reader feel like part of a high-level professional conversation; like Michael Lewis, a gift for the place where big ideas overlap; like Elizabeth Kolbert, a sense of narrative urgency about the state of the present world that makes anything outside its pages seem trivial. Magnificent."—Charles Finch, winner of National Book Critics Circle Award, Nona Balakian Citation for Excellence in Reviewing

"McCarthy gives an insider's look at the history of antibiotics and the urgent fight against deadly, drug-resistant bacteria."—People

"In his new book, Superbugs: The Race to Stop an Epidemic, Dr. McCarthy offers a glimmer of hope: a new way to both cure and prevent future superbug infections with a single treatment."—Christian Broadcasting Network

"Fascinating."—WNYC's All of It with Alison Stewart

"McCarthy weaves the history of the life-saving drugs into a suspenseful account of his own role in a groundbreaking clinical trial."—The Boston Globe Magazine

"It may sound like another sci-fi superhero movie, but physician and author Matt McCarthy warns that the topic of lethal bacteria is not to be taken lightly...McCarthy explains how these pathogens have built up a resistance to our current arsenal of antibiotics."—NPR All Things Considered

"Cutting-edge science."—Twin Cities Pioneer Press

"Sheds a lot of light on an issue that should be in the public consciousness."—SF Gate
Avery, 9780735217515, 304pp.
Publication Date: June 9, 2020
About the Author
MATT MCCARTHY is the author of two national bestsellers, The Real Doctor Will See You Shortly and Odd Man Out. He is an assistant professor of medicine at Weill Cornell and a staff physician at NewYork-Presbyterian Hospital, where he serves on the Ethics Committee. His work has appeared in Sports Illustrated, Slate, The New England Journal of Medicine, and Deadspin. He reviews nonfiction for USA Today and is editor-in-chief of Current Fungal Infection Reports.