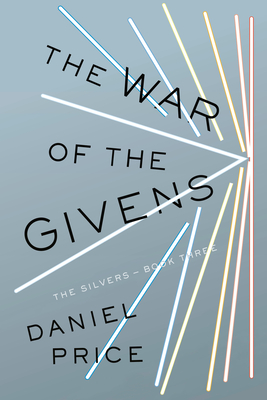 The War of the Givens (The Silvers Series #3)
Paperback

* Individual store prices may vary.
Other Editions of This Title:
Digital Audiobook (2/12/2024)
Description
X-Men meets Blake Crouch in the addictive, explosive conclusion to Daniel Price's genre-bending Silvers trilogy about six extraordinary people whose fates become intertwined on an Earth far different from our own...one that is headed for utter destruction.

It's been two years since the world collapsed in a sheet of light, obliterating everything on Earth...but not quite everyone. Saved from the apocalypse by three mysterious beings, sisters Hannah and Amanda Given were marked with silver bracelets and transported to an entirely different Earth, a place where restaurants move through the air like flying saucers and the fabric of time is manipulated by common household appliances. Joined by four other survivors from their native world, each wearing an identical, irremovable bracelet, the new companions became known as the Silvers. Afflicted with time-bending powers they never wanted, and on the run from unexpected new enemies, the Silvers embarked on a dangerous journey for survival across an alien America—a hunt for answers that bound the group like family while revealing the gravely sinister intentions of their "saviors."

But their new Earth is about to suffer the same fate as the old one and the Silvers have only ten weeks to prevent it. Their one hope is to find the remaining survivors of their home world—a quest that will take them from Mexico to England to a radically changed Japan—to gain more allies for the final confrontation with the god-like beings who first brought them to this Earth. Failure will mean death for billions of people. But victory may come at a cost the Silvers cannot afford.
Praise For The War of the Givens (The Silvers Series #3)…
Praise for Daniel Price and the Silvers trilogy

"A brilliantly imagined fantasy."—Booklist (starred review)

"An absorbing adventure.... You'll get pulled in."—Kirkus (starred review)

"Highly recommended for fans of apocalyptic and dystopian fiction."—Library Journal (starred)

"Dazzlingly original and nimbly told, Daniel Price's Silvers series brims with mind-bending fun."—Brendan Duffy, author of House of Echoes

"Any hours spent reading The Flight of the Silvers will be time well spent."—BookPage

"You should read [The Flight of the Silvers]. I found it very difficult to put it aside to deal with my own life.... I'll be looking forward to the next installment."—SFcrowsnest

"Throws crazy new ideas at you at a pretty intense clip, but...it works amazingly well."—i09

"A sharp, smart piece of science fiction. Price has not only recaptured the grand scale of Book One, but expanded upon it. It's a narrative that unspools cinematically in the mind's eye; there's a visual acuity at work here that is wonderful and rare. Here's hoping that the wait for Book Three will be a short one. After all, the world is running out of time."—Allen Adams, The Maine Edge

"Conjures a detailed, fantastic alternate Earth, populated with vulnerable, relatable characters from this Earth who readers will enthusiastically follow anywhere. Speculative fiction writers wear imagination like a suit of clothes, and Daniel Price has a closetful."—Robert Buettner, bestselling author of The Golden Gate

"Amazing."—Casey Rose Frank, The Joyful Pen

"A king-sized doorstopper epic of superhuman proportions. This sucker is jam-packed with X-Men by way of Fringe action scenes, each one carefully crafted and massive in scope.... Hugely cinematic, and packed to the rafters with fight scenes and conflict galore, The Song of the Orphans was well worth the wait. Fans will be pleased to take another trip to AltAmerica, but now begins the wait for book three. I shall wait patiently, or at least try to."—Michael Patrick Hicks, author of Convergence
Blue Rider Press, 9780735217911, 624pp.
Publication Date: April 18, 2023
About the Author
Daniel Price is the author of Slick, The Flight of the Silvers, The Song of the Orphans, and The War of the Givens. He lives in Gilbert, Arizona, with his partner, Nancy. He cannot actually manipulate time.