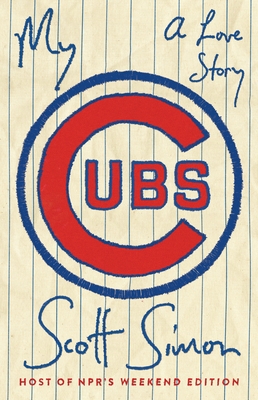 My Cubs (Hardcover)
A Love Story
Blue Rider Press, 9780735218031, 160pp.
Publication Date: April 11, 2017
Other Editions of This Title:
Digital Audiobook (4/10/2017)
CD-Audio (4/11/2017)
* Individual store prices may vary.
Description
NPR's Scott Simon's personal, heartfelt reflections on his beloved Chicago Cubs, replete with club lore, memorable anecdotes, frenetic fandom and wise and adoring intimacy that have made the world champion Cubbies baseball's most tortured—and now triumphant—franchise.

Heartbreak and hope. Charmed and haunted. My Cubs is Scott Simon's love letter to his Chicago Cubs, World Series winners for the first time in over a century. Replete with personal reflections, club lore, memorable anecdotes, and tales of frenetic fandom, My Cubs recounts the franchise's pivotal moments with the wise and adoring intimacy of a long-suffering devotee and Chicago native. Simon illustrates how the condition of "Cubness" has defined the life of so many Chicagoans and how the team's fortunes became intertwined with the aspirations of its faithful. With the curse finally broken on November 2, 2016, My Cubs is the perfect portrayal of paradise lost and found.
About the Author
Scott Simon is the host of NPR's Weekend Edition with Scott Simon. He has reported stories from all fifty states and every continent, and has won every major award in broadcasting. He is also a special contributor to CBS Sunday Morning and is the author of several books, including the novels Pretty Birds and Windy City, and the memoir Unforgettable. He used to list his hobbies as including, "bleeding for the Chicago Cubs," but no more.
Praise For My Cubs: A Love Story…
"Scott Simon's "My Cubs: A Love Story" provides the emotional 108-year backstory. He lays out the context of suffering, of losses, of communal connections and religious devotion….His view — the fan's perspective — is no doubt crucial to understanding the significance of last year's World Series."
–Rick Maese, The Washington Post

"[My Cubs] reads more like a memoir or a journal of sorts, at times wistfully cathartic and at others joyously nostalgic." –Cubs Insider

"The author is a solid stylist, and his descriptions of Cubs' players, managers, and owners resonate, as do his anecdotes about his wife and daughters as they try to understand his mania." – Kirkus Reviews

"A short and heartfelt memoir about his lifelong love for the Chicago Cubs...Simon gives readers a wonderful look at how a Cubs fan—indeed, any devoted fan of any team—has a feeling of 'love, not loyalty.'" –Publishers Weekly

"A brisk, sweet romp through Cubs history to the glorious present."  –BookPage