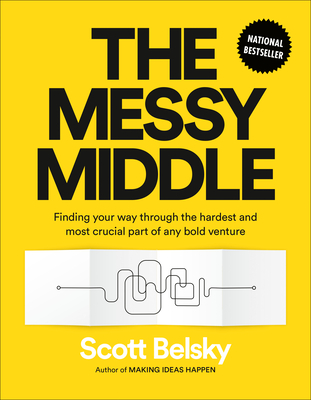 The Messy Middle
Finding Your Way Through the Hardest and Most Crucial Part of Any Bold Venture
Hardcover

* Individual store prices may vary.
Other Editions of This Title:
Digital Audiobook (10/1/2018)
Description
NATIONAL BESTSELLER

NAMED ONE OF THE MOST INSPIRING BOOKS OF 2018 BY INC.

NAMED ONE OF THE BEST STARTUP BOOKS OF ALL TIME BY BOOKAUTHORITY 


The Messy Middle is the indispensable guide to navigating the volatility of new ventures and leading bold creative projects by Scott Belsky, bestselling author, entrepreneur, Chief Product Officer at Adobe, and product advisor to many of today's top start-ups.

Creating something from nothing is an unpredictable journey. The first mile births a new idea into existence, and the final mile is all about letting go. We love talking about starts and finishes, even though the middle stretch is the most important and often the most ignored and misunderstood. 
 
Broken into three sections with 100+ lessons, this no-nonsense book will help you: 

• Endure the roller coaster of successes and failures by strengthening your resolve, embracing the long-game, and short-circuiting your reward system to get to the finish line.

• Optimize what's working so you can improve the way you hire, better manage your team, and meet your customers' needs.

• Finish strong and avoid the pitfalls many entrepreneurs make, so you can overcome resistance, exit gracefully, and continue onto your next creative endeavor with ease.

With insightful interviews from today's leading entrepreneurs, artists, writers, and executives, as well as Belsky's own experience working with companies like Airbnb, Pinterest, Uber, and sweetgreen, The Messy Middle will outfit you to find your way through the hardest parts of any bold project or new venture.
Praise For The Messy Middle: Finding Your Way Through the Hardest and Most Crucial Part of Any Bold Venture…
"Starting a new venture is like jumping off a cliff and sewing a parachute on the way down. This book is the parachute." —Joe Gebbia, Co-Founder & Chief Product Officer, Airbnb
 
"This is required reading for founders. Experienced entrepreneurs all know this period Scott refers to as 'the messy middle' and a few of us have worked our way out of it, but this is the first time I've seen an expert—both as a founder and as an investor—break down in such detail just how to endure, optimize, and make it through." —Alexis Ohanian, co-founder of Initialized Capital and Reddit
 
"Scott Belsky is a master of generous work worth doing. The Messy Middle will help you see that you have more control than you dare to admit, and the ability to make a difference if you care enough." —Seth Godin, author of Linchpin
 
"Having been through the ups and downs of the messy middle many times, it's critical to understand the challenges ahead. This insightful book empowers you to approach them head-on. Belsky's powerful toolkit, based on hard earned experiences, is an essential guide to building a compelling product, revolutionizing an organization or growing your leadership abilities." —Tony Fadell, inventor of the iPod, co-inventor of the iPhone, founder and former CEO of Nest, Principal at Future Shape

"Building a lasting business is 1% idea and 99% resilience. The Messy Middle details the unglamorous but essential lessons every founder needs to learn." —Jennifer Hyman, Co-Founder & CEO, Rent The Runway

"The Messy Middle is one of my favorite business books of the last decade. It's humble, smart, vulnerable, and precise. If you do complex work (don't we all?), this book will show you how to navigate the most difficult part of any endeavor." —Todd Henry, author of Herding Tigers

"With The Messy Middle, Belsky delivers a brilliant book that goes past dogma and slogans into key tactics and ideas. ... Small business teams and evolving start up teams will find The Messy Middle useful for refining every aspect of their game."— Small Business Trends
Portfolio, 9780735218079, 416pp.
Publication Date: October 2, 2018
About the Author
Scott Belsky is an entrepreneur, author, and investor. He is currently Chief Product Officer at Adobe, serves as a board member to several early stage companies, and is a Venture Partner at Benchmark, a leading venture capital firm based in San Francisco. He was previously the founder and CEO of Behance, a leading online platform to showcase and discover creative work. He is also the creator of 99U, Behance's think tank and annual conference devoted to execution in the creative world. Belsky is the author of Making Ideas Happen and coauthor of the 99U book series.