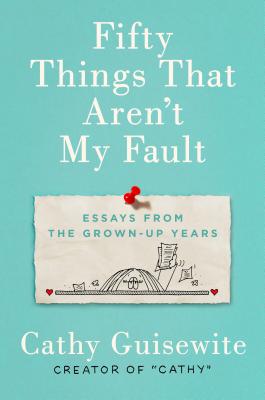 Fifty Things That Aren't My Fault
Essays from the Grown-up Years
Hardcover

* Individual store prices may vary.
Other Editions of This Title:
Paperback (4/14/2020)
Library Binding, Large Print (11/6/2019)
Description
A National Bestseller

From the creator of the iconic "Cathy" comic strip comes her first collection of funny, wise, poignant, and incredibly honest essays about being a woman in what she lovingly calls "the panini generation."

As the creator of "Cathy," Cathy Guisewite found her way into the hearts of readers more than forty years ago, and has been there ever since. Her hilarious and deeply relatable look at the challenges of womanhood in a changing world became a cultural touchstone for women everywhere. Now Guisewite returns with her signature wit and warmth in this debut essay collection about another time of big transition, when everything starts changing and disappearing without permission: aging parents, aging children, aging self stuck in the middle.

With her uniquely wry and funny admissions and insights, Guisewite unearths the humor and horror of everything from the mundane (trying to introduce her parents to TiVo and facing four decades' worth of unorganized photos) to the profound (finding a purpose post-retirement, helping parents downsize their lives, and declaring freedrom from all those things that hold us back). No longer confined to the limits of four comic panels, Guisewite holds out her hand in prose form and becomes a reassuring companion for those on the threshold of "what happens next." Heartfelt and humane and always cathartic, Fifty Things That Aren't My Fault is ideal reading for mothers, daughters, and anyone who is caught somewhere in between.
Praise For Fifty Things That Aren't My Fault: Essays from the Grown-up Years…
One of:
Real Simple's "Best Books of 2019 (So Far)"
O Magazine's "25 2019 Books We Can't Wait For" 
Parents.com's "9 Books That Make Great Mother-Daughter Gifts" 
PopSugar's "Buzzy Books to Read This Spring"
InStyle's "7 Books to Put on Your April Reading List" 
Nylon's "15 Great Books to Read This April"
Bustle's "29 New Memoirs Out In Spring To Help You Welcome Warm-Weather Reading"

"The creator of the iconic cartoon Cathy comes out of retirement to make us laugh, cry, and remind us—with humor and pathos—that yes, we...live to tell the tale."—O, The Oprah Magazine

"Often hilarious and true, [Fifty Things That Aren't My Fault] gets at that tension between the empowerment propaganda women are raised on and the gendered I-am-responsible-for-everyone's-well-being reality in which most of us still live."—TIME

"This new book will feel like a friend...the kind who knows exactly what to say when you need some reassurance."—NPR

"Bright essays that send up the absurdities of modern middle age."—Vanity Fair

"Heartfelt and hilarious essays."—Parade 

"With touching honesty and humor, [Cathy Guisewite] reflects on caring for her aging parents and raising her daughter. It's a book for Cathy fans and everyone else."—Real Simple

"A series of humorous musings on life after 60 as she navigates between grown children and elderly parents."—Newsday

"Tackles aging, transitions, children and the struggle of being part of what she calls 'the panini generation.'"—New York Post

"Cathy's appeal lay in the fact that she spoke openly about the things that women weren't supposed to talk about: anxiety and insecurity and frustrations. She was a touchstone for neurotic girls and women of all ages.... [Her] forthcoming essay collection is as full of humor and pathos about life's many mundanities as you'd want it to be. Only this time, there's no comic strips, it's all Guisewite's voice—reliably sane, sparkling, and suffused with the same warmth and wit as we've all come to expect. What a treat."—Nylon

"Equally parts warm, laugh-out-loud funny, and charming. Guaranteed to make you fall in love with Cathy all over again."—PopSugar

"Relatable, hilarious, and just awesome."—Parents

"This is a book that will wrap around you like a hug, with warmth, with and wisdom. From the futility of finding jeans that fit out of dozens in the closet to the equally futile task of trying to get parents to learn TiVo, every woman and every daughter will recognize themselves in Fifty Things That Aren't My Fault."—Shelf Awareness 

"Smart, funny essays... Those taking care of both children and parents will relate but everyone will benefit from Guisewite's humorous take on contemporary life."—Orange County Register  

"[Guisewite] offers a new way to savor the humor of her classic comic-strip character. Absurd and often witty takes on life as a caregiver, mother, and woman."—Austin American-Statesman

"Now in this hilarious essay collection, Guisewite delights us again with the same kind of deadpan humor that made her comic strip a legend."—Palm Beach Post

"Guisewite's humor, empathy and insightfulness combine to create a clever and highly entertaining look at the challenges and issues faced by women today."—BookReporter

"Finally, a reason to laugh about growing older."—Best Life

"A funny and heartwarming telling of her experience in womanhood."—Harvard Crimson

"The humorous and at time poignant book reflects the concept of aging, tackling, in turns, feminism, the difficulty of removing sports bras, kids moving out of the home, the death of parents, and more. You'll laugh, you'll cry, and you'll definitely say, 'That's so me!'"—Mind Body Green

"Guisewite hits the mark....Offers a new way to savor the humor of her classic comic-strip character. Absurd and often witty takes on life as a caregiver, mother, and woman."—Kirkus Reviews

"Guisewite finds her voice when she delves into her relationships with her daughter and parents and examines the struggles of aging and loss, which she does with humor and a deft eye for detail... [Fifty Things That Aren't My Fault is] a work with real heart...Guisewite is not Ephron, but she's not trying to be. She's emphatically, jubilantly, Cathy."—Library Journal

"Struggling with the indignities of aging and the stress of caring for both a teenage daughter and elderly parents, Cathy cartoonist Guisewite finds an outlet for her frustrations in this amusing debut essay collection....Women who can relate to her experiences and concerns will enjoy her girlfriendish voice and appreciate the more substantive material."—Publishers Weekly 

"Fans of Cathy, rejoice! Cartoonist Guisewite is back with a hilarious collection of essays....Covering topics that are eminently relatable to today's readers with her characteristic forthright humor, Guisewite's essays are well written and affecting....Fans of the comic will be thrilled at these later-year insights into a character they love....New readers will be charmed by the author's wit and turn of phrase. Ack!"—Booklist

"Cathy Guisewite must have discovered early that laughter is the only free emotion—the only one that cannot be compelled—because she gave us the gift of freedom in her 'Cathy' comic strip. Now, in Fifty Things That Aren't My Fault, she has written a book that will help us free our lives to the very end."—Gloria Steinem 

"Cathy was always the comic-book character who summed up what we were thinking, whether it was about calories, clothing, bosses, stress, or that extra cinnamon bun. Freed from the brevity of a single frame, creator Cathy Guisewite lets her signature voice and humor fly with Fifty Things That Aren't My Fault, and tackles the subjects of parenting, caregiving, aging, food, and so much more. Aack! It's fabulous."—Lee Woodruff, author of Perfectly Imperfect 

"Cathy Guisewite lets us know that it's okay to be a woman who's half Betty Crocker and half Betty Friedan. It's okay to listen to your mother. It's okay to miss the legs you used to hate. Nobody's perfect, but imperfect people tell the best stories. Women are resilient. And everybody says 'AACK!'"—Helen Ellis, author of American Housewife

"There is humor; there is comedy; there is Cathy, who gives us laughter but reaches way beyond the funny bone to touch us with her humane, entertaining, and satisfying collection. Cathy Guisewite is one of those personalities who bubble up from the page, then reach out to become our friend, fellow sufferer, and favorite observer of just about everything. Add her to your life."—George Hodgman, author of Bettyville

"Cathy Guisewite, a bona fide hero for so many of us as we came of age, has delivered a one-two hilarious punch with her book—intimate, powerful, funny, emotional, real, and riveting. Cathy bares her soul and proves once again that happily, truly, we are all in this together."—Beth Grant, actress (The Mindy Project, Little Miss Sunshine) 
G.P. Putnam's Sons, 9780735218420, 336pp.
Publication Date: April 2, 2019
About the Author
Cathy Guisewite is the creator of the "Cathy" comic strip, which ran in nearly 1,400 newspapers for thirty-four years. The strip earned Guisewite the National Cartoonist Society Reuben Award in 1992, an Emmy Award for Outstanding Animated Program for the TV special Cathy in 1987, and the high honor of having her work displayed on the fronts of refrigerators across the land. Cathy lives in California with her handsome and charming dog, Leo.
Coverage from NPR
or
Not Currently Available for Direct Purchase