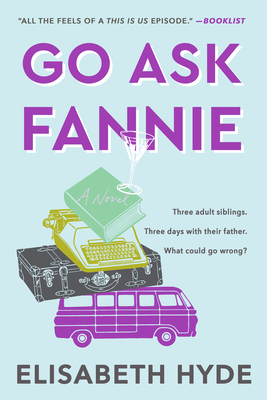 Go Ask Fannie (Paperback)
G.P. Putnam's Sons, 9780735218611, 304pp.
Publication Date: April 2, 2019
Other Editions of This Title:
Digital Audiobook (4/9/2018)
Hardcover (4/10/2018)
Library Binding, Large Print (8/2/2018)
* Individual store prices may vary.
Description
"With all the feels of a This Is Us episode, Hyde's latest novel will delight readers" (Booklist). Three adult siblings. Three days with their father. What could go wrong?

When Murray Blaire invites his three children to his New Hampshire farm for a few days, he makes it clear he expects things to be pleasant. But when Ruth and George arrive already bickering and Lizzie turns up late, cradling a damaged family cookbook and talking about possible criminal charges against her, all hope for a relaxing family weekend is gone.

This is not the first time the Blaire family has been thrown into chaos. In fact, that cookbook, an old edition of Fannie Farmer, is the last remaining artifact from a time when they were a family of six, not four, with a father running for Congress and a mother building a private life of her own. The notes written in its pages, pages Lizzie risked her spotless record to save, provide tantalizing clues to their mother's ambitions and the mysterious choices she once made, choices that pulled the Blaire family apart, but could also bring them back together.

Told with equal measures of humor and tenderness, Go Ask Fannie is a warm and heartfelt tale of the power of family and the pains of growing up, proving that family survival isn't about setting aside old rivalries, but preserving the love that's written between the lines.
About the Author
Elisabeth Hyde is the author of five critically acclaimed novels, most recently In The Heart of the Canyon, a New York Times Editor's Choice and a People magazine Great Read. Her fourth novel, The Abortionist's Daughter, became a bestseller in Great Britain after being selected as a Summer Read by the Richard & Judy Show. Trained as a lawyer, she worked for the U.S. Department of Justice in Washington, D.C., before she started writing full-time. She lives in Boulder with her husband.
Praise For Go Ask Fannie…
Praise for Go Ask Fannie

"Writing in a style both affecting and realistic, Hyde gives readers a family that could mirror their own, including the characters, the conversations, and the treasured family keepsake. With all the feels of a This Is Us episode, Hyde's latest novel will delight readers."—Booklist

"Hyde's insightful and engaging novel is highly recommended, especially for readers who enjoy family sagas by Sue Miller and Anne Tyler."—BookPage

"It's a must-read for anyone who loves a good family drama—especially those with siblings."—HelloGiggles

"Hyde, whose best-known novel is The Abortionist's Daughter, is here an accomplished, assured and painstaking archaeologist of a multilayered family history, of its secrets, vulnerabilities and regrets. A richly rewarding read."—Sunday Times (UK) 

"In this heartfelt story, family conflict and love intertwine."—The Tennessean 

"Hyde always produces character-driven books that ooze authenticity."—5280

"The writing is superb and compelling... Excellent plotting and a story which just seems to happen without effort."—BookBag UK

"A book full of huge-hearted mistake makers that you'll want to call your own—Go Ask Fannie is a rousing reminder that the only way to truly forgive another person is to first forgive yourself."—Courtney Maum, author of Touch and I Am Having So Much Fun Here Without You

"Wonderful characters, a gorgeous sense of time and place, and elegant storytelling make Go Ask Fannie an utter delight. The members of this loving, raging, totally compelling family may not like one another all the time, but I adored them all from the first page. Elisabeth Hyde has written a funny, joyous novel, heartbreaking and heartwarming all at once and in the very best ways."—Laurie Frankel, author of This is How It Always Is 

"What does it mean to be a family?  What are the secrets we hide?  In this poignant, often funny, yet serious novel, Elisabeth Hyde mines the mysteries and paradoxes of our most intimate connections. How we hurt, disappoint, and lie to one another, and how despite it all we are inextricably joined.  In the end Elisabeth Hyde has served us up a recipe for love, one that the reader will feast on for a long time."—Mary Morris, author of The Jazz Palace

More Praise for Elisabeth Hyde

"Elisabeth Hyde is a remarkably lucid and authoritative novelist."—John Irving

"[Hyde's] prose is vigorous and natural, her perception subtle, her voice and those of her characters all-American."—New York Times Book Review (Editors' Choice)

"Like Anne Tyler, Hyde captures the quirky, heartbreaking core of a character and puts it on the page with shining prose...in a novel full of originality and sparkle."—Publishers Weekly