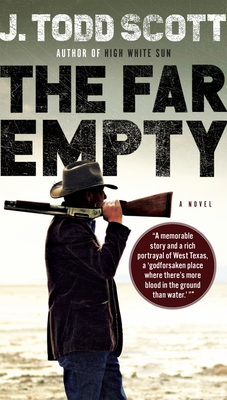 The Far Empty (Paperback)
G.P. Putnam's Sons, 9780735218857, 480pp.
Publication Date: February 27, 2018
Other Editions of This Title:
Hardcover (6/7/2016)
* Individual store prices may vary.
Description
In this gritty crime debut set in the stark Texas borderlands, an unearthed skeleton will throw a small town into violent turmoil.

Seventeen-year-old Caleb Ross is adrift in the wake of the sudden disappearance of his mother more than a year ago, and is struggling to find his way out of the small Texas border town of Murfee. Chris Cherry is a newly minted sheriff's deputy, a high school football hero who has reluctantly returned to his hometown. When skeletal remains are discovered in the surrounding badlands, the two are inexorably drawn together as their efforts to uncover Murfee's darkest secrets lead them to the same terrifying suspect: Caleb's father and Chris's boss, the charismatic and feared Sheriff Stanford "Judge" Ross.

Dark, elegiac, and violent, The Far Empty is a modern Western, a story of loss and escape set along the sharp edge of the Texas border. Told by a longtime federal agent who knows the region, it's a debut novel you won't soon forget.
About the Author
J. Todd Scott has been a federal agent with the DEA for more than twenty years, working cases investigating international maritime smuggling, domestic meth labs, and led a multi-agency Strike Force dedicated to attacking Mexican cartel smuggling routes. A posting in West Texas provided the backdrop for his debut, The Far Empty. He has a law degree from George Mason University and is a father of three. A Kentucky native, he now resides in Arizona.
Praise For The Far Empty…
Praise for The Far Empty

"[J. Todd Scott] has written a story that smartly captures the vast skies, bleak beauty and unchecked wildness of deepest West Texas...fast-moving...Intriguing...a frank, unpolished view of life near the border...[The Far Empty] is an impressive debut—a memorable story and a rich portrayal of West Texas, a 'godforsaken place where there's more blood in the ground than water.'"—Houston Chronicle

"Gritty and raw, steeped in violence, this modern Western explores the black heart of the human soul. Excelling in his portrayal of evil, Scott draws a bleak countryside that hides drug running, deceit and murder."—RT Book Reviews

"An atmospheric noir about drug runners and crooked West Texas border cops written by an ex–DEA agent who knows the territory, this debut thriller looks like the real deal… Scott juggles his cast of heroic, flawed, and monstrous characters with the skill of a far more experienced writer… Scott is, as they say, one to watch."—Texas Monthly

"The rough and bloody borderlands of west Texas provide the backdrop for this rousing debut novel, a hybrid of mystery and contemporary western."—Atlanta Journal-Constitution

"[J. Todd Scott]'s career starts with a bang."—El Paso Times

"This first-time novelist's familiarity with his setting and its habitués shines through on every page."—Kirkus Reviews

"Federal agent Scott's knowledge of the border country of West Texas is on fine display in his outstanding debut...Scott's skills as a storyteller are impressive, and his tale of an ambitious young lawman has echoes of the movie Shane and the books of Cormac McCarthy."—Publishers Weekly (starred review)

"This thriller sprawls like the West Texas land of its setting, and, like all those arid miles, it's fraught with mystery and echoes of a violent past....Scott tells his story in a style placid on the surface and churning underneath, like water about to boil, and, when it does so, it erupts into a series of fine, violent action scenes."—Booklist

"Thrilling, suspenseful and psychologically perceptive...Terrific...So well written that you just go with the bloody flow."—Providence Journal

"J. Todd Scott's Far Empty is so good I wish I'd written it. The poetic and bloody ground of west Texas has given birth to a powerful new voice in contemporary western crime fiction."—Craig Johnson, New York Times-bestselling author of the Walt Longmire Series

"J. Todd Scott is the real deal. The Far Empty is an astonishing, accomplished debut crime novel worthy of award consideration."—Michael McGarrity, New York Times bestselling author

"A haunting, gritty novel of modern Texas that brings to mind John Sayles's seminal film, Lone Star. As a real-life federal lawman, Scott not only knows the battered terrain but the wounded people who call it home. I loved the authenticity of this forgotten wasteland and the last breaths of the Code of the West."—Ace Atkins, New York Times Bestselling author of The Innocents

"Balancing both the brutal and beautiful, J. Todd Scott has delivered a story that hangs around the neck long after the final page. Fearless, searing prose that reeks of honesty, The Far Empty is as gritty and raw as sun-scorched earth."—David Joy, author of Where All Light Tends to Go