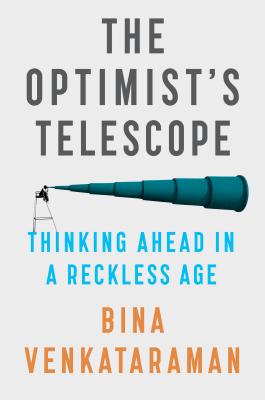 The Optimist's Telescope
Thinking Ahead in a Reckless Age
Hardcover

* Individual store prices may vary.
Other Editions of This Title:
Digital Audiobook (8/26/2019)
Paperback (8/25/2020)
CD-Audio (8/27/2019)
Description
Named a Best Book of 2019 by NPR

"How might we mitigate losses caused by shortsightedness? Bina Venkataraman, a former climate adviser to the Obama administration, brings a storyteller's eye to this question. . . .  She is also deeply informed about the relevant science." —The New York Times Book Review

A trailblazing exploration of how we can plan better for the future: our own, our families', and our society's.  

Instant gratification is the norm today—in our lives, our culture, our economy, and our politics. Many of us have forgotten (if we ever learned) how to make smart decisions for the long run. Whether it comes to our finances, our health, our communities, or our planet, it's easy to avoid thinking ahead.

The consequences of this immediacy are stark: Superbugs spawned by the overuse of antibiotics endanger our health. Companies that fail to invest stagnate and fall behind. Hurricanes and wildfires turn deadly for communities that could have taken more precaution. Today more than ever, all of us need to know how we can make better long-term decisions in our lives, businesses, and society.

Bina Venkataraman sees the way forward. A former journalist and adviser in the Obama administration, she helped communities and businesses prepare for climate change, and she learned firsthand why people don't think ahead—and what can be done to change that. In The Optimist's Telescope, she draws from stories she has reported around the world and new research in biology, psychology, and economics to explain how we can make decisions that benefit us over time. With examples from ancient Pompeii to modern-day Fukushima, she dispels the myth that human nature is impossibly reckless and highlights the surprising practices each of us can adopt in our own lives—and the ones we must fight for as a society. The result is a book brimming with the ideas and insights all of us need in order to forge a better future.
Praise For The Optimist's Telescope: Thinking Ahead in a Reckless Age…
"How might we mitigate losses caused by shortsightedness? Bina Venkataraman, a former climate adviser to the Obama administration, brings a storyteller's eye to this question. . . .  She is also deeply informed . . . heed Venkataraman's impassioned call for making a commitment to future change." —The New York Times Book Review

"Bina Venkataraman zeroes in on the heart of [the] problem… with vivid anecdotes, Venkataraman musters all the optimism she can manage to suggest how we might be able to overcome something that feels like plain old human nature." —NPR, Best Books of 2019

"Venkataraman vividly depicts what happens when we don't plan ahead and what we can do about it, on our own and together." —The Washington Post

"In pacy prose that's easy to digest but offers concrete examples of change . . . this book offers hope that we can take back some control of our own destinies and aim for a better future." —The Financial Times

"Most of us only see the future after it becomes the past. The Optimist's Telescope is here to change that. It's a rare read that's as fascinating as it is important. In it, Bina Venkataraman brings together powerful narrative, cutting-edge behavioral science, and the rich experience of a high-impact career." —Adam Grant, author of Originals

"The unknown can always be scary. But in this wise, eye-opening, and hopeful book, Bina Venkataraman shows us the ways we can think more clearly and strategically about the future - in our communities, our families, and in our own lives." —Arianna Huffington

"Bina Venkataraman illuminates how we can make better decisions for ourselves, our communities, and Earth itself. She introduces us to an array of colorful and unexpected characters, from ancient philosophers to tech entrepreneurs, all while distilling the science of foresight into practical advice we can all use. A timely and valuable book." —Anne-Marie Slaughter, author of Unfinished Business

"The Optimist's Telescope is a noble and important book. Through stories of people who have made a difference and an acute awareness of how things can be made better, Bina Venkataraman shows how we can effect change and make the world a better place. She is the good parent this planet so desperately needs." —Errol Morris, Oscar-winning filmmaker and author of Believing Is Seeing

"[Venkataraman] explores all sorts of ways that businesses, governments, and communities have learned to be better planners-ahead. . . . She also writes beautifully about how we can all 'be better ancestors.'" —The Grist

"A timely reminder that time is not on our side without long-term thinking." —Kirkus Reviews

"A thought-provoking and eminently readable debut…Venkataraman's thoughtful and clear-eyed assessment of how to teach oneself to make more carefully considered decisions should prove a valuable tool for anyone wishing to think less in the short term and more toward the future." —Publishers Weekly

"An intriguing look at strategies for the long-term with citations from business executives, sociologists, and philosophers; highly recommended." —Library Journal

"Chinese peasants once got paid by the piece to find dinosaur bones; soon they took to smashing the bones into tiny pieces to boost their income. This book is a sobering compendium of the many ways in which ill-conceived short-term incentives undermine valuable long-term goals.  The stakes go way beyond busted fossils: think rising sea waters, treatment-resistant pathogens, collapsing infrastructure, disappearing topsoil . . . A grim list and grounds for pessimism unless, that is, it gets read in the context of this book, for Bina Venkataraman has assembled a remarkable repair kit, full of tested tools for harmonizing the lure of present reward with the foresight we need if we are to build a durable future." —Lewis Hyde

"The Optimist's Telescope will help you think about the biggest decisions you face in your life and that humanity faces in this historical moment. Everyone should read this book." —Gary Knell, chairman of National Geographic Partners
Riverhead Books, 9780735219472, 336pp.
Publication Date: August 27, 2019
About the Author
Bina Venkataraman is the editorial page editor of The Boston Globe. Before joining the Globe, she served as a senior adviser for climate change innovation in the Obama White House, was the director of global policy initiatives at the Broad Institute of MIT and Harvard, and taught in the program on science, technology, and society at MIT. An alumna of Brown University and the Harvard Kennedy School, Venkataraman grew up in a small town in Ohio and now lives in Boston.