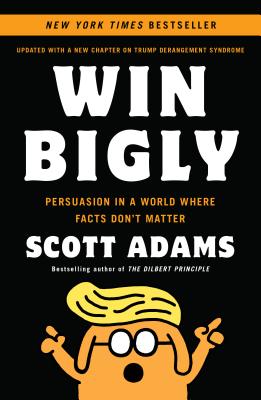 Win Bigly
Persuasion in a World Where Facts Don't Matter
Paperback

* Individual store prices may vary.
Other Editions of This Title:
Digital Audiobook (10/30/2017)
Description
The New York Times bestseller that explains one of the most important perceptual shifts in the history of humankind

Scott Adams was one of the earliest public figures to predict Donald Trump's election. The mainstream media regarded Trump as a lucky clown, but Adams – best known as "the guy who created Dilbert" -- recognized a level of persuasion you only see once in a generation. We're hardwired to respond to emotion, not reason, and Trump knew exactly which emotional buttons to push.
 
The point isn't whether Trump was right or wrong, good or bad. Adams goes beyond politics to look at persuasion tools that can work in any setting—the same ones Adams saw in Steve Jobs when he invested in Apple decades ago. Win Bigly is a field guide for persuading others in any situation—or resisting the tactics of emotional persuasion when they're used on you. 
 
This revised edition features a bonus chapter that assesses just how well Adams foresaw the outcomes of Trump's tactics with North Korea, the NFL protesters, Congress, and more.
Praise For Win Bigly: Persuasion in a World Where Facts Don't Matter…
"Win Bigly taught me how to persuade my boss to treat me with slightly less contempt."
—Dilbert

"I am deeply impressed by Scott Adams. I don't know how anyone can write so many pages without using the word 'doth.'"
—William Shakespeare

"I recommend this book to all mammals, big and small. It once turned a mole into a cheetah. I saw it with my own eyes."
—Lord Byron

"If you only read one book this year, that's one more than I did."
—Mark Twain

"Scott taught me how to create a persuasive nickname for myself."
—Alexander the Great

"If I'm being honest, Win Bigly is better than all other books and at least one play."
—Abe Lincoln

"Win Bigly helped me escape from the secret room beneath the author's shed."
—Kristina Basham

"My life improved tremendously after I finished this book. If you ever write a book, I bet you'll feel good when you're done writing it too. Hey, why is my shed door open?"
—S. Adams
Portfolio, 9780735219731, 320pp.
Publication Date: October 30, 2018
About the Author
Scott Adams is the creator of Dilbert, one of the most popular comic strips of all time. He has been a full-time cartoonist since 1995, after 16 years as a technology worker for companies like Crocker National Bank and Pacific Bell. His many bestsellers include The Dilbert Principle, Dogbert's Top Secret Management Handbook, and How To Fail At Almost Everything And Still Win Big. He is co-founder of WhenHub. He lives outside of San Francisco.