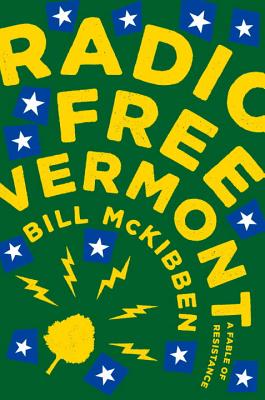 Radio Free Vermont
A Fable of Resistance
Hardcover

* Individual store prices may vary.
Other Editions of This Title:
Digital Audiobook (11/6/2017)
Paperback (11/6/2018)
Library Binding, Large Print (1/3/2018)
Description
 "We've got a long history of resistance in Vermont and this book is testimony to that fact."
–Bernie Sanders

A book that's also the beginning of a movement, Bill McKibben's debut novel Radio Free Vermont follows a band of Vermont patriots who decide that their state might be better off as its own republic.
 
As the host of Radio Free Vermont--"underground, underpowered, and underfoot"--seventy-two-year-old Vern Barclay is currently broadcasting from an "undisclosed and double-secret location." With the help of a young computer prodigy named Perry Alterson, Vern uses his radio show to advocate for a simple yet radical idea: an independent Vermont, one where the state secedes from the United States and operates under a free local economy. But for now, he and his radio show must remain untraceable, because in addition to being a lifelong Vermonter and concerned citizen, Vern Barclay is also a fugitive from the law.
 
In Radio Free Vermont, Bill McKibben entertains and expands upon an idea that's become more popular than ever--seceding from the United States. Along with Vern and Perry, McKibben imagines an eccentric group of activists who carry out their own version of guerilla warfare, which includes dismissing local middle school children early in honor of 'Ethan Allen Day' and hijacking a Coors Light truck and replacing the stock with local brew. Witty, biting, and terrifyingly timely, Radio Free Vermont is Bill McKibben's fictional response to the burgeoning resistance movement.
Praise For Radio Free Vermont: A Fable of Resistance…
"Is it a surprise that the debut novel from one of our best-known environmental activists focuses on grassroots resistance? In backwoods Vermont, two radicals use an underground radio show to recruit people interested in seceding from the United States. What follows is a zany, witty, and altogether timely imagination of modern resistors." – The Millions

"Timely..provoctative entertainment...McKibben's book may well be the lost sequel to Edward Abbey's The Monkey Wrench Gang..." – Kirkus Reviews

"rollicking…With a playful and quick-moving plot that belies the seriousness of the book's environmental and political message, McKibben's stirring call for recognizing the value and power of smallness in a globalized world makes for a vital and relevant fable."  –Publishers Weekly

"Radio Free Vermont is a charming bit of artisanal resistance lit…what's surprising is how well-crafted the book is overall; how unhokey its folksiness feels, and how true it's observations ring."–Jennifer Senior, The New York Times 


"In a time when smart comedy is essential to survival, McKibben's shrewdly uproarious and provocative fable of resistance is exhilarating." –Booklist (starred review)

"Only Bill McKibben could set out to write his first novel and produce an addictive caper loaded with craft beer, contract spies, and chase scenes on cross-country skis! This is James-Bond-meets-A-Prairie-Home-Companion and no one but McKibben could pull it off. He does it with such heart, grace, wisdom and fun that I just couldn't put it down. A story as outrageous as our times."
–Naomi Klein, author of The Shock Doctrine
 
"What a delicious pleasure to read Radio Free Vermont - a weird and utterly joyous if sometimes hair-raising romp through the dark Wonderland of life under Trump. Bill McKibben is a brilliant storyteller, and I love this book, which is balm for our troubled times."
–Jay Parini, author of The Last Station
 
"I hope no one secedes, but I also hope that Americans figure out creative ways to resist injustice and create communities where everybody counts.  We've got a long history of resistance in Vermont and this book is testimony to that fact."
–Bernie Sanders

"A lean, fantastical, swift-kick-in-the-pants of a read, Radio Free Vermont may not save the world — but it succeeds wildly in making the formidable prospect of resistance feel a bit more fun." –NPR.org

"A little comic story with a big political message" –The Washington Post

"In a time when many Americans feel alienated from the machinery of government, [this] is a message worth taking seriously." –Book Page  

"If busting loose from Washington sounds like a good idea to you, [RFV] makes for fun reading."  –Oustide

"A stirring reminder of the importance of loving our home, working with the people around us to figure out what we want that home to look like in the future, and then fighting for that vision."  –The Christian Science Monitor 

"A delightful romp." –The Buffalo News

"A witty tour de force." –The Addison County Independent 
Blue Rider Press, 9780735219861, 240pp.
Publication Date: November 7, 2017
About the Author
Bill McKibben is an author and environmentalist. His 1989 book The End of Nature is regarded as the first book for a general audience about climate change, and has appeared in 24 languages; he's gone on to write a dozen more books, including Eaarth and Oil and Honey. He is a founder of 350.org, the first planet-wide, grassroots climate change movement, which launched the fast-growing fossil fuel divestment movement. McKibben lives in Vermont.
or
Not Currently Available for Direct Purchase