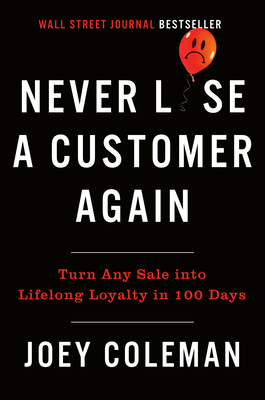 Never Lose a Customer Again
Turn Any Sale into Lifelong Loyalty in 100 Days
Hardcover

* Individual store prices may vary.
Description
Award-winning speaker and business consultant Joey Coleman teaches audiences and companies all over the world how to turn a one-time purchaser into a lifelong customer.

Coleman's theory of building customer loyalty isn't about focusing on marketing or closing the sale: It's about the First 100 Days® after the sale and the interactions the customer experiences.

While new customers experience joy, euphoria, and excitement, these feelings quickly shift to fear, doubt, and uncertainty as buyer's remorse sets in. Across all industries, somewhere between 20%-70% of newly acquired customers will stop doing business with a company with the first 100 days of being a new customer because they feel neglected in the early stages of customer onboarding.

In Never Lose a Customer Again, Coleman offers a philosophy and methodology for dramatically increasing customer retention and as a result, the bottom line. He identifies eight distinct emotional phases customers go through in the 100 days following a purchase. From an impulse buy at Starbucks to the thoughtful purchase of a first house, all customers have the potential to experience the eight phases of the customer journey. If you can understand and anticipate the customers' emotions, you can apply a myriad of tools and techniques -- in-person, email, phone, mail, video, and presents -- to cement a long and valuable relationship.

Coleman's system is presented through research and case studies showing how best-in-class companies create remarkable customer experiences at each step in the customer lifecycle.

In the "Acclimate" stage, customers need you to hold their hand and over-explain how to use your product or service. They're often too embarrassed to admit they're confused. Take a cue from Canadian software company PolicyMedical and their challenge of getting non-technical users to undergo a complex installation and implementation process. They turned a series of project spreadsheets and installation manuals into a beautiful puzzle customers could assemble after completing each milestone.

In the "Adopt" stage, customers should be welcomed to the highest tier of tribal membership with both public and private recognitions. For instance, Sephora's VIB Rogue member welcome gift provides a metallic membership card (private recognition) and a members-only shade of lipstick (for public display).

In the final stage, "Advocate," loyal customers and raving fans are primed to provide powerful referrals. That's how elite entrepreneurial event MastermindTalks continues to sell-out their conference year after year - with zero dollars spent on marketing. By surprising their loyal fans with amazing referral bonuses (an all-expenses paid safari?!) they guarantee their community will keep providing perfect referrals.

Drawing on nearly two decades of consulting and keynoting, Coleman provides strategies and systems to increase customer loyalty. Applicable to companies in any industry and of any size (whether measured in employee count, revenue, or total number of customers), implementing his methods regularly leads to an increase in profits of 25-100%.

Working with well-known clients like Hyatt Hotels, Zappos, and NASA, as well as mom-and-pop shops and solo entrepreneurs around the world, Coleman's customer retention system has produced incredible results in dozens of industries.

His approach to creating remarkable customer experiences requires minimal financial investment and will be fun for owners, employees, and teams to implement. This book is required reading for business owners, CEOs, and managers - as well as sales and marketing teams, account managers, and customer service representatives looking for easy to implement action steps that result in lasting change, increased profits, and lifelong customer retention.
Praise For Never Lose a Customer Again: Turn Any Sale into Lifelong Loyalty in 100 Days…
"Joey's fanatical commitment to sales and customer experience has impressed me for many years. In this book, he spills his secrets and promises to create a massive shift in your company's bottom line—and he even guarantees it!"
- Chris Guillebeau, New York Times bestselling author of Side Hustle and The $100 Startup
 
"Joey offers​ ​a​ ​balanced​ ​approach​ ​for​ ​forming incredible customer​ ​relationships​ ​without​ ​sacrificing​ ​the​ ​bottom​ ​line.​  Never Lose A Customer Again is the best (and most useful) book I've read in years."
- Michael Port, New York Times and Wall Street Journal bestselling author of Steal the Show   
 
"Gift this to every business owner you know; it's the detailed, how-to guide for today's customer relationships. Recommended!"
- Jay Baer, founder of Convince & Convert and author of Hug Your Haters
 
"Joey's explanation of customer experience is genius. It completely reframed our business and led us to become the leader in our field. I don't just recommend Joey or his book - that's not a strong enough statement. If you don't implement these ideas in your business, you're going to lose to someone who does."
- Tucker Max, 3x #1 New York Times bestselling author and co-founder of Book in a Box
 
"Joey is top of the field when it comes to customer experience design. It usually takes years to develop world class customer service - but this process can get a company there in weeks."
- Robbe (Robert) Richman, Former Culture Strategist at Zappos and author of The Culture Blueprint
 
"This book is essential for everyone who has any interaction with your customers! Never Lose a Customer Again goes beyond customer service and experience. It's about validation that the customer made the right decision to do business with you. Everyone in your organization must understand this.
- Shep Hyken, customer service expert and New York Times bestselling author of The Amazement Revolution
 
"Never Lose a Customer Again is the roadmap for the most practical marketing strategy you can employ: creating an exceptional customer experience."
- John Jantsch, author of Duct Tape Marketing and The Referral Engine    
 
"Never Lose a Customer Again is a landmark work on the least talked about, yet most important, part of a successful business – keeping your customers. If you only read one book on this critical subject, make it this one."        
- Marcus Sheridan, author of They Ask You Answer

"Joey Coleman reminds us that the true, lasting path to profitability is building customer relationships for life - and in this book, he shows exactly how to do it."
- Dorie Clark, author of Stand Out and Entrepreneurial You; adjunct professor, Duke University Fuqua School of Business
 
"Joey's work and expertise in the customer space are bleeding edge.  Never Lose a Customer Again is a must-read for anyone growing a company, or wanting to grow in their role inside a company."    
- Cameron Herold, Founder COO Alliance, author of Double Double and Meetings Suck
 
"Whether you're a solo entrepreneur or a Fortune 100 enterprise, this book is the ultimate road map for making your brand stand out. It's​ ​guaranteed​ ​to​ ​become​ ​a​ ​classic​ ​-​ ​not​ ​only​ ​in​ ​the​ ​genre​ ​of​ ​customer​ ​experience,​ ​but​ ​among business​ ​books​ ​in​ ​general. Implementing these revolutionary techniques is the best gift you can give your customers, your business, and yourself!"
- John Ruhlin, founder of Ruhlin Group and author of Giftology
 
"The techniques outlined in this book are the absolute best way I know to keep your customers. Never Lose a Customer Again is directly applicable, funny to read, and filled with great examples. By learning how to better care for your customers you will dramatically improve your bottom line. Read this book!"
- UJ Ramdas, Co-Founder at Intelligent Change
 
"If you believe as I do that customer experience is the last true brand differentiator, and you're wondering how you can differentiate your business in a sustainable, competitor-proof way, then you have picked up the perfect book. There is no one on Earth more passionate about the customer experience than Joey Coleman (trust me, I've tried to match his passion!), and he translates that passion into an actionable guide to treating your customers right and taking your business to the next level. So many companies make the mistake of focusing all of their resources on acquiring new customers; instead, Joey's approach is to focus on keeping the customers you already have. And when you treat your customers and clients with the respect and consideration they deserve, they will pay you back with loyalty and a willingness to share their great experience with the world."
- Dan Gingiss, Senior Director of Global Social Media at McDonald's Corporation and Author of Winning at Social Customer Care
 
"Joey's step-by-step guide will show you how to wow your customers so that you'll never lose one again."
- Vanessa Van Edwards, bestselling author of Captivate
 
"Never​ ​Lose​ ​a​ ​Customer​ ​Again​​ ​provides ​a​ ​goldmine​ ​of​ ​ideas​,​ ​examples, and ready-to-implement action steps designed to hook your customers early in the relationship and turn them into lifelong fans!"
- Nir Eyal, bestselling author of Hooked
 
"I was in the audience at the conference where Joey first tried out his First 100 Days philosophy and watched it ripple through the crowd of seasoned entrepreneurs and business executives. He received a standing ovation. Since then, Joey has become an incredibly in-demand speaker and writer. Never Lose a Customer Again is the next step in that journey."
- Ryan Holiday, bestselling author of The Obstacle is the Way and Ego is the Enemy

 
Portfolio, 9780735220034, 368pp.
Publication Date: April 3, 2018
About the Author
Joey Coleman is the Chief Experience Composer at Design Symphony, a customer experience branding firm that specializes in creating unique, attention-grabbing customer experiences. His clients include individual entrepreneurs, start-ups, small businesses, non-profits, government entities, and Fortune 500 companies. When not traveling the world for speaking and consulting engagements, he enjoys time at home with his family in the mountains of Colorado.