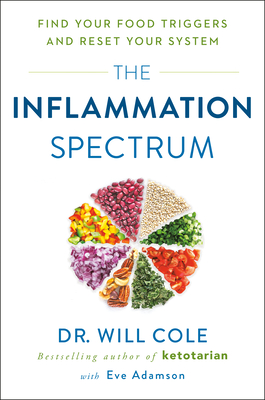 The Inflammation Spectrum (Hardcover)
Find Your Food Triggers and Reset Your System
Avery, 9780735220089, 336pp.
Publication Date: October 15, 2019
* Individual store prices may vary.
Description
From the international bestselling author of Ketotarian comes a revolutionary new plan to discover the foods your unique body loves, hates, and needs to feel great.

In Dr. Will Cole's game-changing new book The Inflammation Spectrum, readers will discover how inflammation is at the core of most common health woes and exists on a continuum: from mild symptoms such as weight gain and fatigue on one end, to hormone imbalance and autoimmune conditions on the other. How you feel is constantly and dynamically being influenced by every meal. Every food you eat is either feeding inflammation or fighting it. Because no one else is you, the foods that work well for someone else may not be right for your body. At heart, The Inflammation Spectrum is about learning to love your body enough to nourish it with delicious, healing foods. Its insightful quizzes and empowering advice will put you on a path toward food freedom and overall healing.
About the Author
Dr. Will Cole is a leading functional-medicine expert who consults people around the world via webcam at www.drwillcole.com and locally in Pittsburgh, Pennsylvania. He specializes in clinically investigating the underlying factors in chronic disease and then customizing health programs. Dr. Cole was named one of the top 50 functional-medicine and integrative doctors in the nation. His previous book is the international bestseller Ketotarian: The (Mostly) Plant-Based Plan to Burn Fat, Boost Your Energy, Crush Your Cravings, and Calm Inflammation.
Praise For The Inflammation Spectrum: Find Your Food Triggers and Reset Your System…
"Will Cole is one of the most curious and compassionate health practitioners we have worked with at goop. In The Inflammation Spectrum, he shares his helpful, simple-to-follow toolbox, along with his compelling and empowering perspective on reclaiming and optimizing your health."
—Gwyneth Paltrow, founder of goop and New York Times-bestselling author of The Clean Plate
 
"Dr. Cole has done a terrific job highlighting the role of inflammation as a pivotal player in a broad swath of our most pervasive and tenacious health issues. Focusing on chronic inflammation and the lifestyle modifications that can facilitate its resolution are fundamental for regaining and preserving health, and these goals are wonderfully achieved in The Inflammation Spectrum."
—David Perlmutter, MD, FACN, New York Times-bestselling author of Grain Brain and Brain Maker
 
"The Inflammation Spectrum is the book we have all been needing. Just like he did with Ketotarian, Dr. Will Cole wows us all again by shedding a new light on inflammation with a fresh solution. With this book you'll not only learn how inflammation impacts your health but you'll also discover the specific foods your body loves and hates to start healing your health problems—no guessing needed."
—Alejandro Junger, MD, New York Times-bestselling author of Clean Gut and Clean Eats
 
"The Inflammation Spectrum is for anyone who is fed up with fad diets. My colleague Dr. Will Cole has used his years of functional medicine experience to brilliantly lay out a plan that anyone can use to feel and look their best. Discover food freedom by finally discovering which foods are truly optimal for your body and how that can manifest into sustainable, lifelong wellness."
—Mark Hyman, MD, Director, the Cleveland Clinic Center for Functional Medicine, New York Times-bestselling author of Food
 
"Inflammation is such a hot topic in the wellness world, and The Inflammation Spectrum finally provides us with the answers to all of our questions. Dr. Will Cole explains how inflammation exists on a continuum and shows you how to discover where you personally are on that spectrum. If you've ever been confused about your health, this is the book to read to start making positive changes, naturally through delicious food medicines."
—Josh Axe, DNM, DC, CNS and bestselling author of Keto Diet and Eat Dirt
 
"Dr. Will Cole is a go-to expert on all things functional medicine for my client's health problems. The Inflammation Spectrum makes it easy to find which foods work best for your body. He takes it one step further by giving you the tools to apply that knowledge to your life in a very practical way through finding out what foods your body loves. This is grace-based eating at its best."
—Kelly LeVeque, celebrity nutritionist and author of Body Love
 
"Inflammation is the root of all evil when it comes to health. It's a serious problem that many of us are living with and we don't even know it! With Dr. Will Cole's The Inflammation Spectrum, there's finally a program and a protocol to put us on a path to fighting inflammation and achieving optimal health and happiness."
—Jason Wachob, Founder & Co-CEO, mindbodygreen and author of Wellth
 
"Healers like Will Cole are the great promise—and future—of preventative medicine. In his practice, Dr. Cole offers highly individuated and intuitive care that puts you on a wellness spectrum—with the goal of keeping you on the vital end. In today's high stress world where autoimmune disease runs rampant among women, he brings a much needed focus to stopping chronic illness before it takes hold."
—Elise Loehnen, Chief Content Officer, goop

"If you could summarize what is at the root cause of all diseases of civilization, it would come down to inflammation, hands down. In The Inflammation Spectrum, Dr. Will Cole offers up his invaluable clinical wisdom on how to nourish yourself to keep the fires of inflammation at bay. This book will help you put out the fire that's keeping you fat and sick with a whole food-based ketogenic diet that's tailor made for you."
—Jimmy Moore, bestselling author of Keto Clarity and co-author of The Complete Guide to Fasting

"Finally! ALL the smart questions you WANT your health practitioner to ask!!! My esteemed colleague, Dr. Will Cole, gets it right with The Inflammation Spectrum. As a gut health expert, I know the root of most chronic inflammation is in the gut and how individualized, tailored prescriptions for health through diet, recipes and meal plans can change lives. Dr. Cole's book features Functional Medicine-based quizzes that can help everyone be a sleuth to discover their unique inflammation and health profile."
—Vincent Pedre, MD and bestselling author of Happy Gut
 
"In The Inflammation Spectrum, Dr. Will Cole eloquently explains the root cause of health problems and offers a fun, innovative plan to begin lowering inflammation and reclaiming optimal wellness."
—Terry Wahls, MD, IFMCP, author of The Wahls Protocol
 
"Once again my friend Dr. Will Cole has created a means of education around a topic that is so controllable, but often neglected. Inflammation within our body is a symptom and a cause for a number of systematic issues. What we choose to eat and where we choose to source it from has a direct correlation to the broader issue of inflammation. As a chef devoted to changing the world through food, I am excited for you to enjoy the epic education that is found within the following pages."
—Dan Churchill, Author of DudeFood
 
In The Inflammation Spectrum my friend Dr. Will Cole brings love and grace back to wellness. Doing away with dieting dogma, Will teaches us how to find out which foods make us feel our very best. 
—Kelly Rutherford, actress
 
 "Dr. Will Cole does an amazing job at showing us how inflammation plays a vital role in shaping our health. He brilliantly explains the root facets to chronic health problem and provides hope and innovative, practical ways to overcome inflammation and come out on the other side with restored health for a thriving life."
—Dhru Purohit, host of The Broken Brain