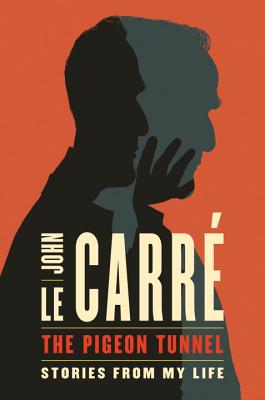 The Pigeon Tunnel
Stories from My Life
Hardcover

* Individual store prices may vary.
Other Editions of This Title:
Digital Audiobook (9/5/2016)
Paperback (9/5/2017)
Hardcover, Large Print (9/7/2016)
Paperback, Large Print (9/5/2017)
CD-Audio (9/6/2016)
Description
"Recounted with the storytelling élan of a master raconteur — by turns dramatic and funny, charming, tart and melancholy." -Michiko Kakutani, The New York Times

The New York Times bestselling memoir from John le Carré, the legendary author of Tinker, Tailor, Soldier, Spy; The Spy Who Came in from the Cold; and The Night Manager, now an Emmy-nominated television series starring Tom Hiddleston and Hugh Laurie. John le Carré's new novel, A Legacy of Spies, is now available.

From his years serving in British Intelligence during the Cold War, to a career as a writer that took him from war-torn Cambodia to Beirut on the cusp of the 1982 Israeli invasion to Russia before and after the collapse of the Berlin Wall, le Carré has always written from the heart of modern times. In this, his first memoir, le Carré is as funny as he is incisive, reading into the events he witnesses the same moral ambiguity with which he imbues his novels. Whether he's writing about the parrot at a Beirut hotel that could perfectly mimic machine gun fire or the opening bars of Beethoven's Fifth; visiting Rwanda's museums of the unburied dead in the aftermath of the genocide; celebrating New Year's Eve 1982 with Yasser Arafat and his high command; interviewing a German woman terrorist in her desert prison in the Negev; listening to the wisdoms of the great physicist, dissident, and Nobel Prize winner Andrei Sakharov; meeting with two former heads of the KGB; watching Alec Guinness prepare for his role as George Smiley in the legendary BBC TV adaptations of Tinker, Tailor, Soldier, Spy and Smiley's People; or describing the female aid worker who inspired the main character in The Constant Gardener, le Carré endows each happening with vividness and humor, now making us laugh out loud, now inviting us to think anew about events and people we believed we understood.

Best of all, le Carré gives us a glimpse of a writer's journey over more than six decades, and his own hunt for the human spark that has given so much life and heart to his fictional characters.
Praise For The Pigeon Tunnel: Stories from My Life…
One of the NP99: National Post's best books of 2016

"Recounted with the storytelling élan of a master raconteur — by turns dramatic and funny, charming, tart and melancholy." —Michiko Kakutani, The New York Times

"An illuminating, self-effacing and pleasurable inquiry into le Carré's creative process, offering globe-spanning thrills of a different, but no less captivating kind than those associated with the novels." —USA Today
 
"[Le Carré] is a polished raconteur, with an actor's protean self-presentation, gifts of pace and timing, aptitude for entrances and exits." —Wall Street Journal

"This incisive and witty memoir, by the man who long ago set the gold standard for modern espionage novelists, is a glittering treasure chest of great stories." —The Seattle Times, "The Best Books of 2016"

"The Pigeon Tunnel is the literary equivalent of a long night spent in the company of a grand storyteller, who has saved up a lifetime of his best tales to share with you over several rounds of fine scotch. The collection leaves the impression of a man who has gone to impossible lengths for his words, bringing the farthest reaches of the globe, some of its cruelest inhabitants, and a small handful of genuine heroes back home for all of us."—Entertainment Weekly

"The name 'John le Carré' attracts the audience, but it's David Cornwell confiding in us here, as if over dinner, then chatting long into the evening over snifters of brandy, or, as he unspools memories of Russia, glasses of vodka." —Associated Press

"The Pigeon Tunnel contains what le Carré calls 'tiny bits of history caught in flagrante,' all of them borrowed from the lived experience of a novelist whose career has more closely resembled that of a war correspondent than a literary celebrity....Spies are le Carré's preferred subject, but through them he grapples with larger human truths that transcend the cloak-and-dagger underworld." —The American Scholar

"Looking back on a life rich enough to spawn multiple globe-spanning novels...le Carré showcases his grand, cinematic sense of place and...the ineffable quality that defines a professional raconteur....The inviting, drinks-beside-the-fire style from a master of the craft never overtakes the details of le Carré's remarkable life or his strong insider's opinions on issues of geopolitical import since World War II." —Library Journal, starred review

"Always insightful, frequently charming, and sometimes sobering, the memorable tales told by master storyteller le Carré about his life will surely delight both longtime fans and newcomers." —Publishers Weekly
 
"For all the cinematic glamour of le Carré's experiences, reflections on the workaday realities of fiction writing may provide the most engaging aspect of this colorful valediction. A satisfying recollection of a literary life well-lived." —Kirkus Reviews

Praise for A Delicate Truth
 
"At the moment a new generation is stumbling upon his work, le Carré is still writing at something close to the top of his game. . . . [He] has not lost his ability to sketch, in a line or two, an entire character." —Dwight Garner, The New York Times Magazine

"The narrative dominoes fall with masterly precision. . . . As ever, le Carré's prose is fluid, carrying the reader toward an inevitable yet nail-biting climax." —Olen Steinhauer, The New York Times Book Review (front page)

"Timelier than ever." —The New York Times
 
"Well-wrought . . . A sharply sketched gallery of characters."—The Wall Street Journal
 
"Le Carré is fiercely modern. . . . a confluence of styles, voices, approaches . . . A novel that beckons us beyond any and all expectations."—The Washington Post

"Gorgeous writing. It's sophisticated storytelling at its very best." —USA Today

"Le Carré is...at full power with a book that draws on a career's worth of literary skill and international analysis. No other writer has charted—pitilessly for politicians but thrillingly for readers—the public and secret histories of his times." —The Guardian (UK)
Viking, 9780735220775, 320pp.
Publication Date: September 6, 2016
About the Author
John le Carré was born in 1931 and attended the universities of Bern and Oxford. He taught at Eton and served briefly in British Intelligence during the Cold War. For the last fifty years he has lived by his pen. He divides his time between London and Cornwall.
or
Not Currently Available for Direct Purchase