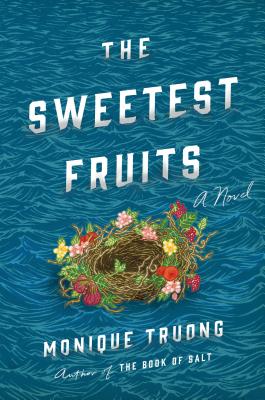 The Sweetest Fruits
A Novel
Hardcover

* Individual store prices may vary.
Other Editions of This Title:
Digital Audiobook (9/2/2019)
Paperback (6/30/2020)
Library Binding, Large Print (2/19/2020)
Description
"A sublime, many-voiced novel of voyage and reinvention" (Anthony Marra)

"[Truong] imagines the extraordinary lives of three women who loved an extraordinary man [and] creates distinct, engaging voices for these women" (Kirkus Reviews)

A Greek woman tells of how she willed herself out of her father's cloistered house, married an Irish officer in the British Army, and came to Ireland with her two-year-old son in 1852, only to be forced to leave without him soon after. An African American woman, born into slavery on a Kentucky plantation, makes her way to Cincinnati after the Civil War to work as a boarding house cook, where in 1872 she meets and marries an up-and-coming newspaper reporter. In Matsue, Japan, in 1891, a former samurai's daughter is introduced to a newly arrived English teacher, and becomes the mother of his four children and his unsung literary collaborator.

The lives of writers can often best be understood through the eyes of those who nurtured them and made their work possible. In The Sweetest Fruits, these three women tell the story of their time with Lafcadio Hearn, a globetrotting writer best known for his books about Meiji-era Japan. In their own unorthodox ways, these women are also intrepid travelers and explorers. Their accounts witness Hearn's remarkable life but also seek to witness their own existence and luminous will to live unbounded by gender, race, and the mores of their time. Each is a gifted storyteller with her own precise reason for sharing her story, and together their voices offer a revealing, often contradictory portrait of Hearn. With brilliant sensitivity and an unstinting eye, Truong illuminates the women's tenacity and their struggles in a novel that circumnavigates the globe in the search for love, family, home, and belonging.
Praise For The Sweetest Fruits: A Novel…
Praise for The Sweetest Fruits:

A New York Times Book Review Editor's Choice

Winner of the Binghamton Center for Writers' John Gardner Fiction Prize

"A marvelous mixture of fact and imagination . . . Truong's lush style is on gorgeous display in these pages, her imagery evoking hidden emotional depths . . . While the lives, loves and adventures of Lafcadio Hearn hold center stage in this novel, these are set off by a rich brocade of social critiques — of slavery, colonization and the repression of women. With great generosity and compassion, Truong explores the difference between writing and telling stories, with the question of who gets to speak and who remains silent." —Diana Abu-Jaber, The Washington Post  

"A delicate, impressionistic tale . . . Truong is exploring personal memory in all its creative and contradictory subjectivity . . . [The Sweetest Fruits] is propelled not by action but by the retrospective piecing together that happens once a relationship is over. Spurred by nostalgia, regret, longing and anger, each woman examines her memories . . . As Setsu observes, 'to tell another's story is to bring him to life,' but here it's the women who achieve that feat rather than the man who connected them." —Priya Parmar, The New York Times Book Review

"I've been addicted to Truong's writing ever since her debut, The Book of Salt, a work of historical fiction incorporating real people that felt—unlike much of that genre—lush, invigorating, and real. Her third novel fictionalizes Greek-Irish writer Lafcadio Hearn but through the eyes of only his mother and his two wives—one a freed American slave, the other his Japanese translator." —Boris Kachka, New York Magazine

"Monique Truong's nomadic tale is a look at the storied life of 19th century writer and expeditionist Lafcadio Hearn through the eyes of the women who knew him best. Sweeping in scope and written in tight, precise language, it's a read-into-the-night pick." —Marie Claire

"Truong transforms author Lafcadio Hearn's biography into a revelatory mystery by giving voice to three women who shaped him." —Jane Ciabattari, BBC

"Mesmerizing . . . Truong focuses on the mostly neglected women in Hearn's life, imagining the struggles and sorrows of his mother, and, looking at him through the eyes of his two wives, imparts searing counterpoints to the iconic Hearn . . .  In going beyond the knowable and guiding us through the imaginable, Truong takes the measure of the man through his women in coruscating prose." —Jeff Kingston, Los Angeles Review of Books

"Monique Truong brings to life brave, spirited women left out of a history that privileges what Toni Morrison called 'the master narrative.' In doing so, she humanizes rather than diminishes Hearn. Through disparate, often contradictory narratives, she invites further investigation: keep telling it slant, whatever it takes, to reveal, as Dickinson writes, 'truth's superb surprise'—that sweetest of all fruits. A worthy endeavor at any time, it's an especially urgent one today." —World Literature Today

"A captivating work of historical fiction that flung me into three very different places in time around the world . . . [I was] so impressed with Truong's ability to write in such disparate voices and bring together a really original novel." —Cathy Erway, HuffPost

"An absolutely brilliant intersection of fiction and history, politics and culture, love and loss." —Hyphen Magazine

"Truong's innovative narration gives us the stories of three incredible women right at the moments those stories are being repurposed or lost. Even more importantly, it shows us those erasures in process. . . . Truong's genius for finding joy and life amidst trauma and dislocation ensures that the novel she germinated from the traces left by Patrick Lafcadio Hearn is filled with plenty and sweetness, too. In The Sweetest Fruits, even fragmented and forgotten stories offer sustenance. And in nourishing them it nourishes us." —Believer

"Truong is among the most talented literary fiction writers working in the United States . . . [The Sweetest Fruits is] an exciting new development in her writing career . . . For anyone whose life feels overshadowed by a more powerful figure, or even just not centered at any point in life for reasons beyond one's control, reading [this] novel can be a vindicating experience." —Rei Magosaki, Los Angeles Review of Books

"An absorbing dive into disparate places and societies, [The Sweetest Fruits] illustrates the critical roles women have played in the accomplishments of men. It also offers an intimate portrait of each region's food culture, told through its characters." —Food & Wine

"An inspired look at one of the most original characters of the 19th century." —Mental Floss
 
"Truong deserves considerable praise for [this] beautiful, complex story . . . As a moving, poignant novel, [The Sweetest Fruits] is magnificent; as a recontextualization of malestream history, it is long overdue." —PopMatters

"The globetrotting 19th-century writer Lafcadio Hearn may be at the heart of Truong's entrancing novel, but it derives its power from the sequence of three women who loved him . . . Truong's smart novel, told in evocative, lush language, raises important questions." —The National Book Review

"A glorious imaginative reclamation of the stories of those who loved and nurtured [Lafcadio] Hearn and his storytelling." —Electric Literature 

"In The Sweetest Fruits, Monique Truong does what she does best, painting a vivid portrait of privilege, restlessness, and tenacity through the conflicting experiences of characters grappling with their senses of love, family, and home." —Kevin Chau, Lit Hub, "Most Anticipated Books of 2019" 

"In this globetrotting, luminous novel, the three narrators offer an honest, contradictory portrait of the man they knew that highlights the social expectations of their gender, race, and class for their time. Like [Truong's] first novel, The Book of Salt, The Sweetest Fruits leads readers [into] a sweeping narrative that poses questions about belonging, existence, and storytelling." —Kate Gavino, The Millions, "Most Anticipated: The Great Second-Half 2019 Book Preview" 

"[A] sparkling, imaginative historical novel." —Philadelphia Inquirer

"Without ever giving him a voice, this thoughtfully crafted, brilliantly researched novel is an intimate look into [Hearn's] strange, storied life." —Columbia Magazine

"[Truong's] sweeping prose lifts up the unsung women behind Hearn, a man larger than life in part thanks to those whom history has failed to note." —Observer, "The Must-Read New Books of Fall 2019"

"[A] remarkable novel about love, the power of memory, and betrayal . . . Truong is dazzling on the sentence level, and she inhabits each of these three women brilliantly. Truong's command of voice and historical knowledge brings the stories of these remarkable women to life." —Publishers Weekly (starred review)

"Extraordinary . . . by reclaiming these exemplary women's voices, Truong enhances history with illuminating herstory too long overlooked." —Terry Hong, Booklist (starred review)

"It isn't only the fantastic Lafcadio Hearn who springs to new life in these pages. The women around him do as well, even as they mix the extraordinary and the ordinary in an exhilarating new way. The Sweetest Fruits is brilliant and heartbreaking--I was transfixed." —Gish Jen, author of Typical American
 
"Monique Truong has composed a sublime, many-voiced novel of voyage and reinvention.  It will cross horizons, yet remain burrowed in your heart."  —Anthony Marra, author of A Constellation of Vital Phenomena 

"Intimate and sensuous yet majestic in scope, The Sweetest Fruits is a rapturous, glorious novel, extraordinarily alive to the world." —Idra Novey, author of Those Who Knew
 
"Presented in four courses from the perspective of the women closest to him, The Sweetest Fruits is a feast you'll want to devour for its arresting metaphors and its beautiful prose." —Anita Lo, author of Solo: A Modern Cookbook for One

"[Truong] imagines the extraordinary lives of three women who loved an extraordinary man [and] creates distinct, engaging voices for these women . . . Bold [and] original." —Kirkus Reviews

Praise for Monique Truong:

"Impressive and ambitious . . . An irresistible, scrupulously engineered confection that weaves together history, art, and human nature . . . Displays the author's supple imagination on every page." —The Los Angeles Times on The Book of Salt

"A debut novel of pungent sensuousness and intricate, inspired imagination . . . A marvelous tale." —Elle on The Book of Salt

"A deeply compassionate and artfully crafted novel about being foreign and family at the same time by the writer whose debut, The Book of Salt, swept us away." —O: The Oprah Magazine on Bitter in the Mouth


Viking, 9780735221017, 304pp.
Publication Date: September 3, 2019
About the Author
Monique Truong is the author of two novels, The Book of Salt and Bitter in the Mouth, and her work has been published in fifteen countries. Her awards and honors include the PEN/Robert Bingham Fellowship, the New York Public Library Young Lions Award, the Asian American Literary Award, and the American Academy of Arts and Letters Rosenthal Family Foundation Award.
or
Not Currently Available for Direct Purchase