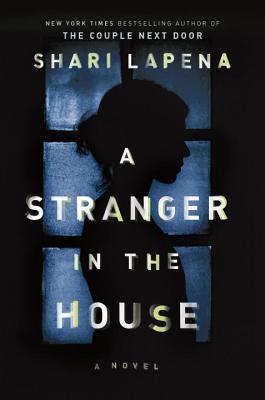 A Stranger in the House
A Novel
Hardcover

* Individual store prices may vary.
Other Editions of This Title:
Digital Audiobook (8/14/2017)
Paperback (5/29/2018)
Paperback (6/4/2019)
CD-Audio (8/15/2017)
Paperback, Large Print (8/15/2017)
Description
Shari Lapena's new thriller, AN UNWANTED GUEST, is available now!

"Smart and suspenseful. . . you'll never see the ending coming." --PureWow

In this neighborhood, danger lies close to home. A domestic thriller packed full of secrets, and a twisty story that never stops—from the bestselling author of The Couple Next Door

He looks at her, concerned. "How do you feel?" She wants to say, Terrified. Instead, she says, with a faint smile, "Glad to be home."

Karen and Tom Krupp are happy—they've got a lovely home in upstate New York, they're practically newlyweds, and they have no kids to interrupt their comfortable life together. But one day, Tom returns home to find Karen has vanished—her car's gone and it seems she left in a rush. She even left her purse—complete with phone and ID—behind.

There's a knock on the door—the police are there to take Tom to the hospital where his wife has been admitted. She had a car accident, and lost control as she sped through the worst part of town.

The accident has left Karen with a concussion and a few scrapes.  Still, she's mostly okay—except that she can't remember what she was doing or where she was when she crashed. The cops think her memory loss is highly convenient, and they suspect she was up to no good. 

Karen returns home with Tom, determined to heal and move on with her life. Then she realizes something's been moved. Something's not quite right. Someone's been in her house. And the police won't stop asking questions.

Because in this house, everyone's a stranger. Everyone has something they'd rather keep hidden. Something they might even kill to keep quiet.
Praise For A Stranger in the House: A Novel…
Praise for A Stranger in the House:

"Lapena's A Stranger in the House will have you sleeping with the lights on for weeks." 
—Bustle

"Smart and suspenseful. . . you'll never see the ending coming."
--PureWow

 "So much suspense. So many twists. Good luck sleeping tonight." 
—Hello Giggles

"Nothing beats end-of-summer blues like diving into a thrilling story—and this novel delivered. . .  riveting."
—First for Women 

"So many dizzying twists you'd better not drive after reading!"
—Linwood Barclay, New York Times bestselling author of Parting Shot
 
"Smart, twisty and compulsive. Suspense and suspicion accumulate relentlessly, toying with your expectations and your emotions right up until the packs-a-punch ending. Don't miss it, and don't expect to be able to put it down."
—Gilly Macmillan, New York Times bestselling author of The Perfect Girl

"A diverting page-turner."
--Publishers Weekly

"Great suspense and lots of twists."
--The Toronto Star

"Lapena keeps the well-developed twists churning, with each a surprise notch in this ever-evolving plot, and she continues this skillful storytelling until the stunning twist at the end. . . memorable." --Associated Press

Praise for The Couple Next Door:

"Meticulously crafted and razor sharp. The Couple Next Door lingers long after you turn the final page."
—Harlan Coben, #1 New York Times bestselling author of Fool Me Once

"The twists come as fast [as] you can turn the pages." 
—People

"Provocative and shocking. One crime, an entire neighborhood of suspects, secrets and lies. How well do we ever know those around us? The Couple Next Door will keep you glued to the pages in search of the answer. Even then, you'll never guess the truth . . . until it's too late."
—Lisa Gardner, #1 New York Times bestselling author of Find Her

"I read this novel at one sitting, absolutely riveted by the story line. The suspense was beautifully rendered and unrelenting!"
—Sue Grafton, New York Times bestselling author of X

"Real men read women writers–because of books like this. Trust me."
—Lee Child, #1 New York Times bestselling author of Make Me

"Shari Lapena has written a stunning debut thriller. Turn on the night lights and lock all your doors and windows. The Couple Next Door grabs you with each twist and shocks you with every betrayal."
—Linda Fairstein, New York Times bestselling author of Killer Look

"A twisty, utterly riveting tale that will send readers on a wild roller-coaster ride of emotions. Shocking revelations kept me turning the pages like a madwoman."
—Tess Gerritsen, New York Times bestselling author of Playing with Fire

"Expertly paced and finely crafted, The Couple Next Door is a gripping thriller of the highest order. I couldn't put it down."
—A. J. Banner, bestselling author of The Good Neighbor

"Gripped me from the very beginning to the very end!"
—Becky Masterman, author of Rage Against the Dying

"Brilliant! This utterly riveting psychological thriller hurtles along at breakneck speed, never giving you the opportunity to catch your breath. Twisty, turny, and unputdownable."
—C. L. Taylor, bestselling  author of The Lie

"Exquisitely torturous tension."
—NPR.org

"Where did that baby go! It's hard not to read to the end to find out, and the twists waiting there are gratifyingly clever."
—USA Today

"The many never-saw-them-coming twists and questionable characters . . . will keep you on the edge of your seat. First-time novelist Lapena's writing is spare and tense, and it makes The Couple Next Door a compulsive read. The last line is absolutely a killer."
—Good Housekeeping

"[A] well-sculpted domestic thriller . . . highly suspenseful . . . Twists are subtly revealed with aplomb, taking the story to increasingly unpredictable levels."
—The Associated Press
Pamela Dorman Books, 9780735221123, 320pp.
Publication Date: August 15, 2017
About the Author
Shari Lapena is the internationally bestselling author of the thrillers The Couple Next Door, A Stranger in the House and An Unwanted Guest, which have all been both New York Times and UK Sunday Times bestsellers. Her books have been sold in 35 territories around the world.  She lives in Toronto.
or
Not Currently Available for Direct Purchase