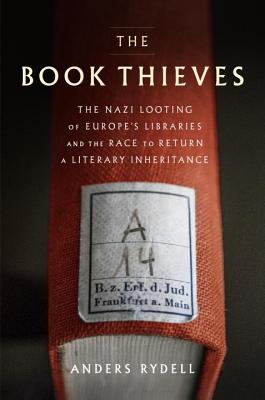 The Book Thieves
The Nazi Looting of Europe's Libraries and the Race to Return a Literary Inheritance
Hardcover

* Individual store prices may vary.
Other Editions of This Title:
Digital Audiobook (2/6/2017)
Paperback (2/6/2018)
Description
"A most valuable book." —Christian Science Monitor

For readers of The Monuments Men and The Hare with Amber Eyes, the story of the Nazis' systematic pillaging of Europe's libraries, and the small team of heroic librarians now working to return the stolen books to their rightful owners.

While the Nazi party was being condemned by much of the world for burning books, they were already hard at work perpetrating an even greater literary crime. Through extensive new research that included records saved by the Monuments Men themselves—Anders Rydell tells the untold story of Nazi book theft, as he himself joins the effort to return the stolen books. When the Nazi soldiers ransacked Europe's libraries and bookshops, large and small, the books they stole were not burned. Instead, the Nazis began to compile a library of their own that they could use to wage an intellectual war on literature and history. In this secret war, the libraries of Jews, Communists, Liberal politicians, LGBT activists, Catholics, Freemasons, and many other opposition groups were appropriated for Nazi research, and used as an intellectual weapon against their owners. But when the war was over, most of the books were never returned. Instead many found their way into the public library system, where they remain to this day.

Now, Rydell finds himself entrusted with one of these stolen volumes, setting out to return it to its rightful owner. It was passed to him by the small team of heroic librarians who have begun the monumental task of combing through Berlin's public libraries to identify the looted books and reunite them with the families of their original owners. For those who lost relatives in the Holocaust, these books are often the only remaining possession of their relatives they have ever held. And as Rydell travels to return the volume he was given, he shows just how much a single book can mean to those who own it.
Praise For The Book Thieves: The Nazi Looting of Europe's Libraries and the Race to Return a Literary Inheritance…
"Rydell's tale is a fascinating blend of intellectual history, detective story, and "restitution activism" that cannot help but inspire its readers." —LA Review of Books

"A chilling reminder of Hitler's twisted power." —BBC

"This history can still startle and surprise us; that, as researchers ask new questions and follow new leads, revelations are still possible . . . Rydell's passion for the subject is undeniable. Serving as a courier, he manages to convey the emotional power of returning even a single book to a grateful descendant who has lost so much else." —The Chicago Tribune

"Reader-friendly and a riveting account, the book deserves a large readership." —Jack Fischel, The Jewish Book Council

"An erudite exploration of the systematic plundering of libraries and book collections by Nazi invaders. Looting books by mainly Jewish owners, collections, and libraries was an effective way of stealing Jewish memory and history, as this thorough work of research by Swedish journalist and editor Rydell attests . . . An Engrossing, haunting journey for bibliophiles and World War II historians alike." —Kirkus Reviews (Starred Review)
Viking, 9780735221222, 368pp.
Publication Date: February 7, 2017
About the Author
Anders Rydell is a journalist, editor, and author of nonfiction. As the Head of Culture at a major Swedish media group, Rydell directs the coverage of arts and culture in 14 newspapers. His two books on the Nazis, The Book Theives and The Looters, have been translated into 16 languages. The Book Thieves is his first work published in English.
 
Henning Koch was born in Sweden but has spent most of his life in England, Spain, and Sardinia. Most recently he translated A Man Called Ove by Fredrik Backman. He has also written a short story collection, Love Doesn't Work, and a novel, The Maggot People.
or
Not Currently Available for Direct Purchase