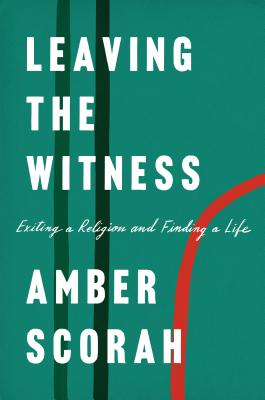 Leaving the Witness
Exiting a Religion and Finding a Life
Hardcover

* Individual store prices may vary.
Other Editions of This Title:
Digital Audiobook (6/3/2019)
Paperback (6/2/2020)
Description
"À la Tara Westover's Educated, Scorah's pensive, ultimately liberating memoir chronicles her formative years as a Jehovah's Witness...and captures the bewilderment of belief and the bliss of self-discovery."--O, The Oprah Magazine, Named one of "The Best Books by Women of Summer 2019"

"Scorah's book, the bravery of which cannot be overstated, is an earnest one, fueled by a plucky humor and a can-do spirit that endears. Her tale, though an exploration of extremity, is highly readable and warm."--The New York Times Book Review

A riveting memoir of losing faith and finding freedom while a covert missionary in one of the world's most restrictive countries.

A third-generation Jehovah's Witness, Amber Scorah had devoted her life to sounding God's warning of impending Armageddon. She volunteered to take the message to China, where the preaching she did was illegal and could result in her expulsion or worse. Here, she had some distance from her community for the first time. Immersion in a foreign language and culture--and a whole new way of thinking--turned her world upside down, and eventually led her to lose all that she had been sure was true.

As a proselytizer in Shanghai, using fake names and secret codes to evade the authorities' notice, Scorah discreetly looked for targets in public parks and stores. To support herself, she found work at a Chinese language learning podcast, hiding her real purpose from her coworkers. Now with a creative outlet, getting to know worldly people for the first time, she began to understand that there were other ways of seeing the world and living a fulfilling life. When one of these relationships became an "escape hatch," Scorah's loss of faith culminated in her own personal apocalypse, the only kind of ending possible for a Jehovah's Witness.

Shunned by family and friends as an apostate, Scorah was alone in Shanghai and thrown into a world she had only known from the periphery--with no education or support system. A coming of age story of a woman already in her thirties, this unforgettable memoir examines what it's like to start one's life over again with an entirely new identity. It follows Scorah to New York City, where a personal tragedy forces her to look for new ways to find meaning in the absence of religion. With compelling, spare prose, Leaving the Witness traces the bittersweet process of starting over, when everything one's life was built around is gone.
Praise For Leaving the Witness: Exiting a Religion and Finding a Life…
As seen and heard on The Daily Show with Trevor Noah and NPR Morning Edition and Fresh Air

"A fascinating glimpse into the consciousness of being an outsider in every possible way, and what it takes to find your path into the life you'd like to lead."—Nylon

"A keen observer…[Scorah's] book is most remarkable for its intimacy…inviting readers to experience, and confront, the grasp of a fundamentalist religion through the eyes of a former true believer."—The New Yorker

"Scorah's book, the bravery of which cannot be overstated, is an earnest one, fueled by a plucky humor and a can-do spirit that endears. Her tale, though an exploration of extremity, is highly readable and warm….She teaches us how integrity is determined not by assenting to the juvenile claims of fundamentalism, but by enduring the universe as we find it — breathtaking in its ecstasies and vicious in its losses — without recourse to a God. Given the enormity of her grief and the wholesale collapse of her previous belief system, the intellectual integrity that Scorah displays is nothing short of a miracle."—The New York Times Book Review

"[Scorah] has a jaw-dropping tale to tell—about growing up in a Jehovah's Witness community where she wasn't allowed to attend birthday parties or go to college….Surprisingly relatable—we all know what it's like when a loss of faith becomes too urgent to ignore."—Family Circle

"[A] riveting debut memoir...Leaving the Witness, witty and moving in turns, offers a rare look into the workings of the Jehovah's Witnesses, as well as the various complications that prevent others from leaving despite their own doubts. Scorah, by untangling and exposing the mechanisms that once held her, offers a path for others to imagine new and unexpectedly hopeful futures for themselves, despite the fear and grief that accompany such a transition."—Longreads

"Fully engrossing. Readers will walk away with a keen understanding of this secretive religion."—Associated Press

"This stunning memoir throws back the curtains on a cult-like religion most of us know in name only, as well as the tragedies [Scorah] survived as she forged a new life outside of it. Both religious people and dedicated atheists will find a lot to love in this stark, revelatory book."—Woman's Day

"À la Tara Westover's Educated, Scorah's pensive, ultimately liberating memoir chronicles her formative years as a Jehovah's Witness—a "life in waiting" that included a sham marriage, covert missionary work in China, and eventual shunning by her religious community—and captures the bewilderment of belief and the bliss of self-discovery. Writing "stitched the narrative arc of my life back together," Scorah says; her book is a suture for anyone searching to reconcile their past and present selves."—O, The Oprah Magazine

"In her impressive debut, Scorah recounts her years as a Jehovah's Witness in China, her decision to leave the faith, and her ongoing spiritual questioning…Scorah's prose is straightforward, and she has a winning sense of humor about how much she's changed…Scorah provides a rare glimpse into the insular world of the Jehovah's Witnesses, and her accounts of expat life and leaving her faith should give this candid memoir wide appeal."—Publishers Weekly (*starred review*)

""An intriguing read about a mysterious religion….an eye-opening account of how Jehovah's Witnesses live and operate."—Kirkus Reviews

"Leaving the Witness is the fascinating and moving story of a woman finding her true place in the world, away from the strict requirements of her family and her religion. Amber Scorah navigates her escape with courage, clarity, and humor. She is a strikingly beautiful writer with the unique perspective and fresh sight that can only belong to an outsider."—Lisa Brennan-Jobs, author of Small Fry
 
"Scorah's memoir is about a woman's voice. How she can use that voice to spread a doctrine. How she can reject that doctrine and speak her own beliefs. How she can use that voice to create art, and through that art, process the vicissitudes of her life. This book is perceptive, empathic, fraught, honest and heartbreaking. It is like nothing else you've ever read."—Heidi Julavits, author of The Folded Clock

"Amber Scorah's perfectly paced and sharply-written memoir opened my eyes to inner and outer worlds I'd placed in my periphery. Scorah's gift is this wide-openness. She shares her guts, her intelligent doubt, her pain, and forgives and allows it in her reader. Her questions are answers. This is a book for the fearful and the brave."—Leanne Shapton, author of Swimming Studies
 
"Part love story, part heartbreaking tragedy, part Graham Greene expat intrigue, part Orwellian groupthink exposé, Leaving the Witness is a vivid and unflinching account of what it means to live on the fringes of society. This is essential reading for those who have ever found themselves on the inside hoping to get out—and everyone else who has been on the outside wondering what it might be like to get in."—Said Sayrafiezadeh, author of When Skateboards Will Be Free

"Amber Scorah has written an unforgettable book. With warmth, curiosity, and humor, Scorah examines how the experience of living in a society that operates according to different rules, informed by different values, can ultimately change the way we see ourselves."—Katherine Zoepf, author of Excellent Daughters
Viking, 9780735222540, 288pp.
Publication Date: June 4, 2019
About the Author
Amber Scorah is a writer living in Brooklyn, NY. Her articles have been published in The New York Times, The Believer, and USA Today. Prior to coming to New York, Scorah lived in Shanghai, where she was creator and host of the podcast Dear Amber - The Insider's Guide to Everything China. This is her first book.
Coverage from NPR
or
Not Currently Available for Direct Purchase