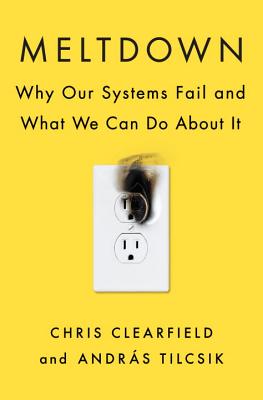 Meltdown
Why Our Systems Fail and What We Can Do About It
Hardcover

* Individual store prices may vary.
Other Editions of This Title:
Digital Audiobook (3/19/2018)
Paperback (3/19/2019)
Description
NAMED A BEST BOOK OF 2018 BY THE FINANCIAL TIMES

A groundbreaking take on how complexity causes failure in all kinds of modern systems--from social media to air travel--this practical and entertaining book reveals how we can prevent meltdowns in business and life

"Endlessly fascinating, brimming with insight, and more fun than a book about failure has any right to be, Meltdown will transform how you think about the systems that govern our lives. This is a wonderful book."--Charles Duhigg, author of The Power of Habit and Smarter Faster Better

A crash on the Washington, D.C. metro system. An accidental overdose in a state-of-the-art hospital. An overcooked holiday meal. At first glance, these disasters seem to have little in common. But surprising new research shows that all these events--and the myriad failures that dominate headlines every day--share similar causes. By understanding what lies behind these failures, we can design better systems, make our teams more productive, and transform how we make decisions at work and at home.

Weaving together cutting-edge social science with riveting stories that take us from the frontlines of the Volkswagen scandal to backstage at the Oscars, and from deep beneath the Gulf of Mexico to the top of Mount Everest, Chris Clearfield and András Tilcsik explain how the increasing complexity of our systems creates conditions ripe for failure and why our brains and teams can't keep up. They highlight the paradox of progress: Though modern systems have given us new capabilities, they've become vulnerable to surprising meltdowns--and even to corruption and misconduct.

But Meltdown isn't just about failure; it's about solutions--whether you're managing a team or the chaos of your family's morning routine. It reveals why ugly designs make us safer, how a five-minute exercise can prevent billion-dollar catastrophes, why teams with fewer experts are better at managing risk, and why diversity is one of our best safeguards against failure. The result is an eye-opening, empowering, and entirely original book--one that will change the way you see our complex world and your own place in it.
Praise For Meltdown: Why Our Systems Fail and What We Can Do About It…
"Meltdown effectively conveys why addressing systemic failures is both difficult and essential. . . . Where Meltdown really hits its stride is in taking on the factors that promote groupthink and discourage dissent."—The Wall Street Journal

"Analysis of why things go wrong is always more exciting to read than praise for everything working out. . . . A compellingly written investigation of interesting case studies in calamity."—Financial Times, Business Books of the Month

"Thought-provoking. . . . Clearfield and Tilcsik colorfully explain why your job, like everyone else's in today's global economy, is becoming part of bigger networks of co-dependent systems, laden with unforeseeable risks and unimaginable outcomes. . . . The readers also offer some calming practical advice you can pack as a parachute. Read their pages and maybe, just maybe, you can avoid—or at least minimize—your own forthcoming descent into chaos."—Forbes

"Endlessly fascinating, brimming with insight, and more fun than a book about failure has any right to be, Meltdown will transform how you think about the systems that govern our lives. This is a wonderful book."—Charles Duhigg, author of The Power of Habit and Smarter Faster Better

"Meltdown is not for the faint of heart. In crisp, compelling prose, Christopher Clearfield and András Tilcsik explain why failures occur so often in today's unfathomably complex systems. Their insights and takeaways offer crucial guidance for avoiding your own disasters."—Daniel H. Pink, author of To Sell is Human and Drive
 
"Too often, we blame failures on bad apples when the real culprits are bad barrels. This engaging, evidence-based book sheds light on why blunders and bankruptcies happen—and how you can get better at designing systems to prevent them."—Adam Grant, author of Originals and co-author of Option B

"Meltdown is essential reading for any leader. We are all human. We all make mistakes. But in complex, whirlwind environments, those mistakes can spiral quickly out of control. This book can help."
—Anne-Marie Slaughter, author of Unfinished Business

"As technology advances, it brings an explosion of complexity and interdependence that can threaten our most critical systems and organizations in unforeseen ways. Meltdown is essential reading for anyone who seeks to understand these dangers and what can be done to address them."—Martin Ford, author of Rise of the Robots

"It is rare to have the pleasure of reading a book that tackles a complex issue and provides a new way of thinking that is both rigorous and practical. Meltdown is such a book. I not only enjoyed it but also learned a lot about the world—most of it utterly counterintuitive—and even something important about myself. A valuable read for anyone who would rather shape their world than just let it happen to them."—Roger Martin, author of The Design of Business
 
"A cautionary study in how complex systems can easily go awry… A useful, thought-provoking book."—Kirkus
Penguin Press, 9780735222632, 304pp.
Publication Date: March 20, 2018
About the Author
Chris Clearfield is a former derivatives trader who worked in New York, Hong Kong, and Tokyo. He is a licensed commercial pilot and a graduate of Harvard University, where he studied physics and biology. Chris has written about complexity and failure for The Guardian, Forbes, and the Harvard Kennedy School Review. He lives in Seattle.

András Tilcsik holds the Canada Research Chair in Strategy, Organizations, and Society at the University of Toronto's Rotman School of Management. He has been recognized as one of the world's top forty business professors under forty and as one of thirty management thinkers most likely to shape the future of organizations. The United Nations named his course on organizational failure as the best course on disaster risk management in a business school. He lives in Toronto.
or
Not Currently Available for Direct Purchase