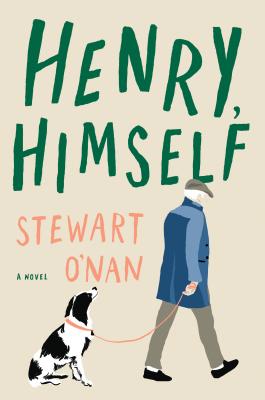 Henry, Himself
A Novel
Hardcover

* Individual store prices may vary.
Other Editions of This Title:
Digital Audiobook (4/8/2019)
Paperback (4/7/2020)
Library Binding, Large Print (7/1/2020)
Description
A member of the greatest generation looks back on the loves and losses of his past and comes to treasure the present anew in this poignant and thoughtful new novel from a modern master

Stewart O'Nan is renowned for illuminating the unexpected grace of everyday life and the resilience of ordinary people with humor, intelligence, and compassion. In Henry, Himself he offers an unsentimental, moving story of a twentieth-century everyman.

Soldier, son, lover, husband, breadwinner, churchgoer, Henry Maxwell has spent his whole life trying to live with honor. A native Pittsburgher and engineer, he's always believed in logic, sacrifice, and hard work. Now, seventy-five and retired, he feels the world has passed him by. It's 1998, the American century is ending, and nothing is simple anymore. His children are distant, their unhappiness a mystery. Only his wife Emily and dog Rufus stand by him. Once so confident, as Henry's strength and memory desert him, he weighs his dreams against his regrets and is left with questions he can't answer: Is he a good man? Has he done right by the people he loves? And with time running out, what, realistically, can he hope for?

Like Emily, Alone, O'Nan's beloved portrait of Henry's wife, Henry, Himself is a wry, warmhearted portrait of an American original--a man who believes he's reached a dead end only to discover life is full of surprises.
Praise For Henry, Himself: A Novel…
Praise for Henry, Himself:

A New York Times Editors' Choice

"Beautifully spare and poignant . . . a novel that charms not through its plot, but through its subtle revelations of character and the human condition."  —The New York Times Book Review 

"Stewart O'Nan excels at portraying the dilemmas and desires of ordinary people . . . A wise, tender and humorous writer, he portrays outwardly unexceptional people with rich inner lives defined by doubt and anxiety, affection and hope. Henry, Himself is a beautiful book with a touch of the ineffable about it, and the best novel I have read so far this year." —Mary Ann Gwinn, The Seattle Times

"O'Nan, with some of his most gorgeous writing, [provides] Henry instances of unexpected grace . . . This novel is a lovely tribute to the enduring mystery of an ordinary life." —Pittsburgh Post-Gazette

"O'Nan has returned to the mode that marks his best work, capturing America's shaky middle class with dignity . . . Tracking Henry's subtle interplay with [his wife] Emily, and the unspoken mysteries that concern him, O'Nan reveals a rich inner life." —Minneapolis Star Tribune 

"As usual, this profoundly unpretentious writer employs lucid, no-frills prose to cogently convey complicated emotions and fraught family interactions. The novel makes no claims for Henry or his kin as exceptional people but instead celebrates the fullness and uniqueness of each ordinary human being. Astute and tender, rich in lovely images and revealing details—another wonderful piece of work from the immensely gifted O'Nan." —Kirkus (starred review)

"Charming, meditative, gently funny, and stealthily poignant portrait [of Henry] . . . O'Nan elevates the routines and chores of quiet domesticity to a nearly spiritual level in his lingering attention to details . . . Like Richard Russo and Anne Tyler, O'Nan discerningly celebrates the glory of the ordinary in this pitch-perfect tale of the hidden everyday valor of a humble and good man." —Booklist

"Engaging and immersive . . . One of O'Nan's gifts is his ability to craft his characters with such uncanny attention to detail that the reader comes to care for them as the author does . . . [A] poignant, everyman story." —Book Page 

"Henry, Himself is a character-driven novel, the quiet story of a man from the greatest generation who finally learns at 75 to stop worrying about his past and any mistakes he may have made and to start living for for the moment." —The Missourian blog

Praise for Emily, Alone:

"O'Nan's best novel yet . . . It's heartbreaking stuff—I will confess I found myself sobbing at certain, often unexpected points . . . and yet the novel's brilliance lies just as much with O'Nan's innate comic timing."—The New York Times Book Review

"Emily is as authentic a character as any who ever walked the pages of a novel . . . filled with joy and rue . . . an ordinary life made, by its quiet rendering, extraordinary."—The Boston Globe

Praise for Wish You Were Here:

"O'Nan's finest and deepest novel to date . . . the action rises and ebbs with the rhythms of daily life . . . O'Nan draws [his characters] with sympathy and subtlety, especially the women." —The New York Times Book Review

"Stark and brilliantly mesmerizing . . . You read on less to find out what happens to the Maxwells than to become better acquainted with the characters, whom O'Nan makes fascinating and familiar.  Here are 'our real lives.'" —Los Angeles Times



Viking, 9780735223042, 384pp.
Publication Date: April 9, 2019
About the Author
Stewart O'Nan is the author of numerous books, including West of Sunset, The Odds, Emily Alone, Snow Angels, Songs for the Missing, and A Prayer for the Dying. His 2007 novel, Last Night at the Lobster, was a national bestseller and a finalist for the Los Angeles Times Book Prize. He was born and raised in Pittsburgh, where he lives with his family.
or
Not Currently Available for Direct Purchase