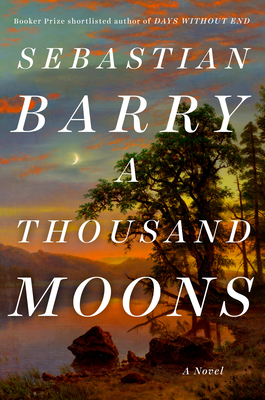 A Thousand Moons
A Novel
Hardcover

* Individual store prices may vary.
Other Editions of This Title:
Digital Audiobook (3/18/2020)
Digital Audiobook (4/20/2020)
Paperback (4/20/2021)
Library Binding, Large Print (7/29/2020)
Compact Disc (4/21/2020)
MP3 CD (4/21/2020)
Description
"A brave and moving novel [that] has a tender empathy with the natural world." —Hermione Lee, The New York Review of Books

From the two-time Booker Prize finalist author of Days Without End comes a dazzling companion novel about memory and identity, set in Tennessee in the aftermath of the Civil War

Winona Cole, an orphaned child of the Lakota Indians, finds herself growing up in an unconventional household on a farm in west Tennessee. Raised by her adoptive parents John Cole and Thomas McNulty, whose story Barry told in his acclaimed previous novel Days Without End, she forges a life for herself beyond the violence and dispossession of her past.

Tennessee is a state still riven by the bitter legacy of the Civil War, and the fragile harmony of her family is soon threatened by a further traumatic event, one which Winona struggles to confront, let alone understand. Exquisitely written, A Thousand Moons is a stirring, poignant story of love and redemption, of one woman's journey and her determination to write her own future.
Praise For A Thousand Moons: A Novel…
Praise for A Thousand Moons:

"[His characters] may have rolled under the floorboards of history, but in Barry's capacious, generous imagination, they have a speaking voice. Their lives, often of abysmal failure, anguish, and bare survival, become as heroic as in any classical epic." —Hermione Lee, The New York Review of Books

"[F]reighted with history and meaning. War's aftershocks, Native American genocide, African-American slavery, not to mention gender fluidity: all of this Mr. Barry folds into Winona's narrative with his customary skill . . . Winona is our clear-eyed guide not only to the annihilated past but also to the enduring natural world." —The Wall Street Journal

"An astonishing first-person performance of a different sort—a high-wire virtuoso mix of Irish and frontier vernacular. Love and war, gender fluidity, an outsider's piercing take on the foundations of modern America. Near-surreal violence, with moments of great tenderness." —Kazuo Ishiguro

"Barry prefers moral complication to the righteous simplicities of 'us' and 'them' . . . the writing brings off Barry's characteristic balancing act, between the lyrical telling that comes to him naturally and the grubby, tormenting world he wants to show us . . . The politics and power struggles, male brutality and race rhetoric in this novel are imagined with an intuitive, unsparing realism . . . Because of something unguarded in his writing, and his idiom borrowed from ordinary speech and proverbial wisdom, we can trust him to touch the terrible stories from our collective past without betraying them, or turning them merely into clever art. His work reminds us how much we need these rare gifts of the natural storyteller, for reckoning with our past and present." —The Guardian (London)

"Barry's atmospheric prose captures the mid-nineteenth century's language and hardscrabble spirit." —The New Yorker

"Along with memorable characters and a powerful story line, A Thousand Moons blends bygone language with rich imagery . . . like its predecessor, this novel considers timeless ideas like tolerance and human rights. Taken together, these books stand as a sustained interrogation of this country's founding ideas and myths . . . Barry's affection and respect for Winona is palpable. A Thousand Moons is a sincere and well-written novel starring an intrepid, self-sufficient heroine. We can never have too many of these." —Star-Tribune

"Barry at his powerful, lyrical best . . . Identity, culture, gender and race are examined sensitively through the eyes of Winona, a Native American girl adopted by the cross-dressing Thomas McNulty and his partner John Cole during the American Indian Wars." —The Independent, "Best Books of 2020"

"One of Sebastian Barry's extraordinary gifts as a writer is his boundless capacity for empathy, for inhabiting the skin, nerves and mouths of characters the river of history tends to wash away . . . This attention to the stories of individual figures within broader generations has created a humane and textured history of the Irish nation and its emigrant experiences." —The Irish Times

"Sebastian Barry's way with language is a constant wonder and A Thousand Moons is another ­golden thread in his unfolding annal of ­history's anomalous people." —Fintan O'Toole, New Statesman

"Barry understands full well the challenges inherent in his decision to tell Winona's story. This is a subtle, troubling novel, full of silences, full of pain . . . Barry knows that it is too much to look for redemption in a story like Winona's, but in his telling he shows that love offers at least a spark of hope." —Financial Times

"A compelling tale of identity and revenge . . . a journey that is horrifying, thrilling and enchanting in equal measure, all of it rendered in Barry's uniquely lyrical prose, which seems at once effortless and dense with meaning . . . [P]rose this good is a kind of enchantment, transcending the constructs that are supposed to define us to speak in a voice that is truly universal." —The Observer (London)

"A poetic sensibility runs through this luminous novel of sorrow and uplift by the Booker-nominated, multi-award-winning Barry. Highly recommended." —Library Journal (starred review)

"[T]his beautifully rendered historical bildungsroman is equal parts thrilling and meditative." —Booklist

"In Winona, who sees both the beauty and the piercing loss of her world, Barry has created a vivid if didactic heroine . . . [W]ill satisfy fans of the first installment [Days Without End]." —Publishers Weekly

"A page-turner with heart and soul . . . Like all of Barry's best fiction, it examines life from an angle that makes it look as fresh as a new moon." —The Times (London)
 
"A richly poetic read. Barry is concerned again with shifting sexual, personal and political boundaries, with the effects of tumultuous times—of rivalry, lawlessness and fissure—on individuals, families and communities, and with interactions between those on opposite sides of a political debate." —The Sunday Times (London)

"Barry is an extraordinary descriptive writer. The prose is tightly wound and seems so persistently on the edge of violence that acts of compassion are almost as shocking as those of brutality . . . There's a quiet glow of brightness – here are unexpected stories of love and respect. But, ultimately, theirs is a world 'so knotted with evil that good could only hope to unknot a tiny few threads of it.'" —Sunday Telegraph (London)
Viking, 9780735223103, 256pp.
Publication Date: April 21, 2020
About the Author
Sebastian Barry was born in Dublin in 1955. He is the first novelist to twice win the Costa Book of the Year award, for Days Without End and The Secret Scripture, and has twice been shortlisted for the Booker Prize. The current Laureate for Irish Fiction, he lives in County Wicklow, Ireland.