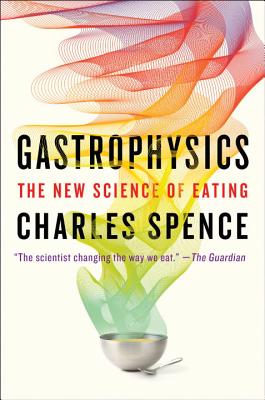 Gastrophysics
The New Science of Eating
Hardcover

* Individual store prices may vary.
Other Editions of This Title:
Digital Audiobook (6/19/2017)
Paperback (7/3/2018)
Description
The science behind a good meal: all the sounds, sights, and tastes that make us like what we're eating—and want to eat more.

Why do we consume 35 percent more food when eating with one other person, and 75 percent more when dining with three? How do we explain the fact that people who like strong coffee drink more of it under bright lighting? And why does green ketchup just not work?

The answer is gastrophysics, the new area of sensory science pioneered by Oxford professor Charles Spence. Now he's stepping out of his lab to lift the lid on the entire eating experience—how the taste, the aroma, and our overall enjoyment of food are influenced by all of our senses, as well as by our mood and expectations.

The pleasures of food lie mostly in the mind, not in the mouth. Get that straight and you can start to understand what really makes food enjoyable, stimulating, and, most important, memorable. Spence reveals in amusing detail the importance of all the "off the plate" elements of a meal: the weight of cutlery, the color of the plate, the background music, and much more. Whether we're dining alone or at a dinner party, on a plane or in front of the TV, he reveals how to understand what we're tasting and influence what others experience.

This is accessible science at its best, fascinating to anyone in possession of an appetite. Crammed with discoveries about our everyday sensory lives, Gastrophysics is a book guaranteed to make you look at your plate in a whole new way.
Praise For Gastrophysics: The New Science of Eating…
"A chatty whirl through the latest discoveries and their real-world applications, roughly organized by the five senses and different dining situations, Mr. Spence's book is far from a systematic treatise on gastrophysics."
—Wall St Journal
 
"[A] delicious explainer"
—Real Simple
 
"Fascinating...[Spence] considers everything from marketing and cognitive neuroscience to design and behavioral economics to get the scoop on how our brains process the food on our plate."
—PureWow

"Spence has a light touch and a knack for framing research questions in provocative headings: 'What's the link,' he asks, 'between the humble tomato and aircraft noise?' It's a question worth pondering should you have the dubious pleasure of being served an in-flight meal, just as you'll learn here why the barista at Starbucks puts your name on the cup (hint: it's not really a memory aid for said barista). A sharp, engaging education for food consumers and a font of ideas for restaurateurs and chefs as well."—Kirkus 

"If simply changing the name of a dish on a menu or the color of the plate on which it is served can dramatically alter our perception of taste and food quality, then everyone in the restaurant industry needs to read this and take a deeper look at the scientific secrets Professor Spence reveals in Gastrophysics."—Larry Olmsted, New York Times bestselling author of Real Food, Fake Food: What You Don't Know About What You're Eating & What You Can Do About It

"Popular science at its best. Insightful, entertainingly written and peppered throughout with facts you can use in the kitchen, in the classroom, or in the pub."—Daniel J. Levitin, New York Times bestselling author of The Organized Mind and This Is Your Brain on Music

"Spence allows people to appreciate the multisensory experience of eating."—The New Yorker
 
"Not many people are as ready to realize the importance of the senses as Charles Spence."—Ferran Adrià, El Bulli restaurant, Spain
 
"Can't fail to entertain, inform, and dazzle."—Heston Blumenthal, The Fat Duck restaurant, UK

"A fascinating look at the science of food and how our perception is shaped by all our senses, not just taste."—Sunday Times (UK)

"Gastrophysics serves up a mind-bending menu of fascinating insights."—Observer (UK)

 
Viking, 9780735223462, 336pp.
Publication Date: June 20, 2017
About the Author
Charles Spence is the head of the Crossmodal Research Laboratory at the University of Oxford. He has consulted for multinational companies including Toyota and ICI, advising on various aspects of multisensory design, packaging, and branding. He has featured frequently in Time, The Wall Street Journal, The New Yorker, The Boston Globe, The Washington Post, Forbes, Barron's, and The Atlantic. He is the co-author, with Betina Piqueras-Fiszman, of a college textbook, The Perfect Meal. 
or
Not Currently Available for Direct Purchase