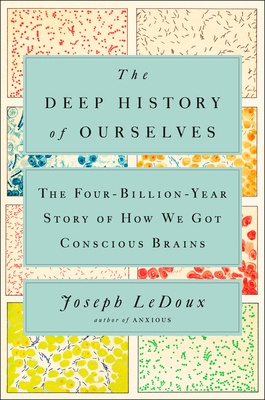 The Deep History of Ourselves
The Four-Billion-Year Story of How We Got Conscious Brains
Hardcover

* Individual store prices may vary.
Other Editions of This Title:
Digital Audiobook (8/26/2019)
Paperback (8/25/2020)
Description
Longlisted for the PEN/E.O. Wilson Literary Science Writing Award

A leading neuroscientist offers a history of the evolution of the brain from unicellular organisms to the complexity of animals and human beings today

Renowned neuroscientist Joseph LeDoux digs into the natural history of life on earth to provide a new perspective on the similarities between us and our ancestors in deep time. This page-turning survey of the whole of terrestrial evolution sheds new light on how nervous systems evolved in animals, how the brain developed, and what it means to be human.

In The Deep History of Ourselves, LeDoux argues that the key to understanding human behavior lies in viewing evolution through the prism of the first living organisms. By tracking the chain of the evolutionary timeline he shows how even the earliest single-cell organisms had to solve the same problems we and our cells have to solve each day. Along the way, LeDoux explores our place in nature, how the evolution of nervous systems enhanced the ability of organisms to survive and thrive, and how the emergence of what we humans understand as consciousness made our greatest and most horrendous achievements as a species possible.
Praise For The Deep History of Ourselves: The Four-Billion-Year Story of How We Got Conscious Brains…
Praise for The Deep History of Ourselves

"Readers have good reason to ponder LeDoux's concluding challenge. [A] refreshingly lucid treatment of profound questions."
—Booklist (starred review)

"Plenty of popular authors describe the history of life, but LeDoux wants readers to remember as well as enjoy, so he divides his book into short, pithy chapters, each explaining a single evolutionary advance. . . . Like all good educators, the author begins simply. . . . [An] expert history of human behavior beginning at the beginning."
—Kirkus Reviews

"Joseph LeDoux deepens our understanding of a profound question as old as Aristotle: how does our mind set us apart from other species? We could not have a better guide: LeDoux is a world-leading neuroscientist whose research has taken him to the frontiers of behavior, emotions, and consciousness.  With brilliance, wit, and wisdom, LeDoux traces four billion years of life, showing how humans share basic behaviors with one-celled organisms yet soar to a reflective self-awareness that may be unique in the universe. Utterly fascinating and a thrill to read."  
—Jeffrey D. Sachs, University Professor at Columbia University

"Joseph LeDoux is the major scientist leading the current important effort to delineate the brain mechanisms of emotional states. In his most recent book, The Deep History of Ourselves, LeDoux attempts to connect the survival capacity of single-celled micro-organisms to the unique human capacity for survival. This capacity is importantly mediated by our ability to think, feel, and to contemplate not only our own past and future but the past and future of humankind. This is an extraordinary book. Indeed, as LeDoux points out, it is a deep history of ourselves." 
 —Eric R. Kandel, Kavli Professor and University Professor, Columbia University; Senior Investigator, Howard Hughes Medical Institute; author of In Search of Memory and The Age of Insight; recipient of the 2000 Nobel Prize in Physiology or Medicine

"LeDoux begins his new book with the biology of simple life forms but ends it, at the peak of biological complexity, with a closely argued defense of human feeling and consciousness as higher order cognitive processes. One does not need to agree with all of his positions―and I, for one, agree with many―to admire the quality of his achievement and to congratulate him on it."
 —Antonio Damasio, Dornsife Professor of Neuroscience, University of Southern California, and author of The Strange Order of Things: Life, Feeling and the Making of Cultures

"Joseph LeDoux has provided a remarkable, personalized synthesis of zoology, neuroscience, psychology and philosophy: His main theme is the emergence of consciousness through the evolution of nervous systems and the behaviors they control: Not the tree of life, but the tree of consciousness, and where it may lead us. An amazing, mind-expanding read."
—Trevor Robbins, University of Cambridge, Recipient of the 2014 Brain Prize
 
"This is a fascinating book with a grand vision of the evolution of life, from its molecular origins to what it is like to be conscious. Joseph LeDoux takes an unconventional look at some key ideas, including new and revealing insights on how our brains work."
—Marian Stamp Dawkins, Professor of Animal Behaviour, University of  Oxford

"An enthralling, highly informative journey from the origins of life itself to the emergence of creatures with sophisticated mental lives. An indispensable perspective on how we humans come to possess intelligence, consciousness, and emotion. From biology to mentality, this book is a tour de force."
—Susan Schneider, NASA Chair, Library of Congress, and author of Artificial You: AI and the Future of Your Mind
 
"Joseph LeDoux has written an extraordinary book full of insight, enlightening the many ways that we humans, and along the way, other animals, came to be the way we are. Wonderfully readable by a lay audience, full of useful information even for other neuroscientists."
—Daniel Levitin, PhD, FRSC, author of This Is Your Brain on Music and The Organized Mind
 
"Joseph LeDoux is one of the rare scientists who sees both the forest and the trees.  This exceptionally readable book will satisfy diverse audiences.  It is a primer on the evolution of life forms wedded to a sophisticated, historically informed, provocative discussion of the psychological processes that cry for illumination.  An original work by a distinguished scientist who understands both the brain and its relation to psychological events." 
—Jerome Kagan, Emeritus Professor of Psychology, Harvard University
 
"The most important thing to know about consciousness is that it evolved. In this master work, Joe LeDoux shows us not only the big picture of that evolution, but also the critical details of the complex nervous system that has enabled consciousness to emerge into our lives."
­—Christopher Frith, author of Making Up the Mind
 
"Putting ourselves in context is always a wise idea; putting ourselves in the context of 4 billion years of history is a perspective-altering tour-de-force. Short, appealing essays ask 'what is consciousness?', 'what is emotion?', and, most of all, 'who am I?' The answers will surprise you." 
—Hazel Rose Markus, author of Clash! How to Thrive in a Multicultural World

"Deep History presents the continuity in how behavior results from biological processes in the simplest organisms to the most complex. This supports the thesis that behavior in complex organisms such as ourselves is due largely to processes different from those that lead to conscious awareness. LeDoux presents all this with engaging detail and a masterful command of the big picture, culminating in his own theories of consciousness and of the emotions. This rich and remarkable book is must reading for anybody interested in the nature of life, thought, and consciousness."
—David Rosenthal, Philosophy and Cognitive Science, CUNY Graduate Center 
Viking, 9780735223837, 432pp.
Publication Date: August 27, 2019
About the Author
Joseph LeDoux is the Henry and Lucy Moses Professor of Science, and Professor of Neural Science, Psychology, Psychiatry, and Child and Adolescent Psychiatry at New York University. He directs the Emotional Brain Institute at NYU and at The Nathan Kline Institute for Psychiatric Research, and is Deputy Director of the Max Planck-NYU Center for Language, Music, and Emotion, and a member of the National Academy of Sciences. LeDoux's books include Anxious, Synaptic Self, and The Emotional Brain, and he is a singer and songwriter in the folkrock band the Amygdaloids, and in the acoustic duo So We Are. He lives with his wife Nancy Princenthal in Brooklyn, New York.