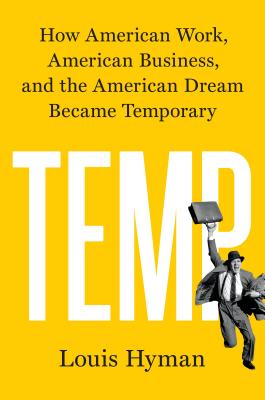 Temp (Hardcover)
How American Work, American Business, and the American Dream Became Temporary
Viking, 9780735224070, 400pp.
Publication Date: August 21, 2018
Other Editions of This Title:
Digital Audiobook (8/20/2018)
Paperback (8/20/2019)
* Individual store prices may vary.
Description
Named a "Triumph" of 2018 by New York Times Book Critics
Shortlisted for the 800-CEO-READ Business Book Award

The untold history of the surprising origins of the "gig economy" --how deliberate decisions made by consultants and CEOs in the 50s and 60s upended the stability of the workplace and the lives of millions of working men and women in postwar America.

Every working person in the United States asks the same question, how secure is my job? For a generation, roughly from 1945 to 1970, business and government leaders embraced a vision of an American workforce rooted in stability. But over the last fifty years, job security has cratered as the postwar institutions that insulated us from volatility--big unions, big corporations, powerful regulators--have been swept aside by a fervent belief in "the market." Temp tracks the surprising transformation of an ethos which favored long-term investment in work (and workers) to one promoting short-term returns. A series of deliberate decisions preceded the digital revolution and upended the longstanding understanding of what a corporation, or a factory, or a shop, was meant to do.

Temp tells the story of the unmaking of American work through the experiences of those on the inside: consultants and executives, temps and office workers, line workers and migrant laborers. It begins in the sixties, with economists, consultants, business and policy leaders who began to shift the corporation from a provider of goods and services to one whose sole purpose was to maximize profit--an ideology that brought with it the risk-taking entrepreneur and the shareholder revolution and changed the very definition of a corporation.

With Temp, Hyman explains one of the nation's most immediate crises. Uber are not the cause of insecurity and inequality in our country, and neither is the rest of the gig economy. The answer goes deeper than apps, further back than downsizing, and contests the most essential assumptions we have about how our businesses should work.
About the Author
Louis Hyman is an associate professor of economic history at the Industrial Labor Relations School of Cornell University, as well as the director of ILR's Institute for Workplace Studies in New York City. A former Fulbright scholar and McKinsey consultant, Hyman received his PhD in American history from Harvard University. His writing has appeared in The New York Times, The Atlantic, Slate, Bloomberg, Pacific Standard, Wilson Quarterly and elsewhere. He is the author of Debtor Nation: The History of America in Red Ink and Borrow: The American Way of Debt.
Praise For Temp: How American Work, American Business, and the American Dream Became Temporary…
"Illuminating and often surprising...a book that encourages us to imagine a future that is inclusive and humane rather than sentimentalize a past that never truly was."—The New York Times
 
"In this persuasive and richly detailed history, Hyman traces a decades-long campaign to eliminate salaried positions and replace them with contract work."—The Nation

"A fascinating journey through changing nature of work."—Forbes

"Hyman looks at the reasons behind the temporary nature of so much of the American economy…[He] examines the changes in American corporate life after the 1950s and 1960s, and why the much-mythologized postwar years were less rosy than we think."—Slate

"Temp dispels the myth that business ever took a break from undermining what meager protections workers had eked out."—Jacobin

"Temp covers a century of economic history in which a dismal dynamic emerges…Hyman's history is incisive when it comes to Silicon Valley's questionable labor practices."—Los Angeles Review of Books

"Hyman's examination of the evolution of work is thorough, thoughtful, and sympathetic, importantly not excluding the people—immigrants, minorities, women, and youth—largely ignored in the "American Dream" model for employment once all but guaranteed to white men."—Publishers Weekly

"A revealing study of the "gig economy," which, though it seems new, has long antecedents...[and] a quietly hopeful spin on an economic process that has proved tremendously dislocating for a generation and more of workers."—Kirkus Reviews

"Hyman charts the decades-long rise of our automation-fueled "ad-hocracy" through the companies that helped create it, from the early days of GM to Upwork and Uber today...The book succeeds as a synthesis of economics, sociology, and history by opting for good storytelling over jargon."—Booklist

"How employers learned to prefer disposable workers without rights for nearly everyjob could be the subtitle of this stark yet engaging tale. Louis Hyman names the culprits, too: entrepreneurs and consultants who taught corporations to chuck obligations to the people on whom they depend. Companies were able to experiment freely on those left out of the New Deal social contract, turning the vulnerability of some into today's insecurity and anxiety for all. If the sunny ending sounds like whistling in the graveyard, no matter: this book is a stimulus to start imagining a sustainable economic order for our time."—Nancy MacLean, author of Democracy in Chains

"Countering common wisdom, Louis Hyman shows that the norm of steady work has been eroded for decades not by the workings of an abstract market but through the systematic efforts of management consultants and temporary work agencies, spreading the gospel of flexibility and cheap labor. Like it or hate it, the gig economy has a history that Hyman masterfully reveals."—Joshua B. Freeman, author of Behemoth: A History of the Factory and the Making of the Modern World

"Louis Hyman weaves a tapestry of unlikely people and events: an orphaned electrician working nights, braceros and divorcées, McKinsey consultants stalking the hallways, undocumented women assembling electronics in kitchens, virtual receptionists, dexterous robots, disgruntled saboteurs, and INS raids. And yet Temp is about our future. This is a crucial book for our time—it is insightful, surprising, and deeply humane."—Kevin Birmingham, author of The Most Dangerous Book

"Temp is a riveting read for anyone grappling with the contradictions and inequities of contemporary capitalism. Louis Hyman simultaneously shows us the decades-long evolution of the present epidemic of job insecurity, takes a clear-eyed look at the exploitation of women and workers of color, and outlines a positive vision of how Americans can prosper in both work and life."—Anne-Marie Slaughter, president and CEO of New America

"In this marvelously insightful study of the revolution now convulsing the world of work, Louis Hyman demonstrates that management-consulting firms like McKinsey and the Boston Consulting Group are truly the organic intellectuals of contemporary capitalism.  They rationalize and propagandize for a business system in which insecurity and inequality have become a new normal encompassing everything from the most familiar big box store to the exotic worksites of Silicon Valley."—Nelson Lichtenstein, author of The Retail Revolution: How Wal-Mart Created a Brave New World of Business
 
"Louis Hyman's Temp takes us on an historical deep dive into how US jobs have developed over time, so that we can better understand where they are headed. Whether you are cheered by or wary of the advent of gig and nontraditional work arrangements, this book offers a new lens to see how we reached this point.  As the largest and most complex market in the country, the labor market affects all our lives.  Its practices and outcomes govern whether we are secure, well-paid, safe, proud, and interested in our work—or not. Temp engagingly and authoritatively reviews the last century of managerial strategy, workplace regulation, and technological change, and offers insight into job-related challenges we will face in the years ahead."—Erica Groshen, former commissioner Bureau of Labor Statistics

or
Not Currently Available for Direct Purchase