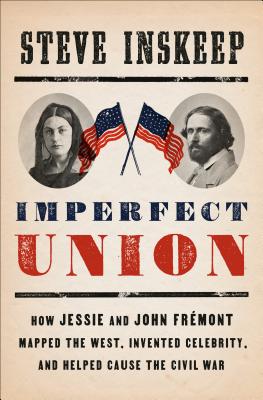 Imperfect Union
How Jessie and John Frémont Mapped the West, Invented Celebrity, and Helped Cause the Civil War
Hardcover

* Individual store prices may vary.
Other Editions of This Title:
Digital Audiobook (1/13/2020)
Paperback (1/5/2021)
Description
Steve Inskeep tells the riveting story of John and Jessie Frémont, the husband and wife team who in the 1800s were instrumental in the westward expansion of the United States, and thus became America's first great political couple

John C. Frémont, one of the United States's leading explorers of the nineteenth century, was relatively unknown in 1842, when he commanded the first of his expeditions to the uncharted West. But in only a few years, he was one of the most acclaimed people of the age – known as a wilderness explorer, bestselling writer, gallant army officer, and latter-day conquistador, who in 1846 began the United States's takeover of California from Mexico. He was not even 40 years old when Americans began naming mountains and towns after him. He had perfect timing, exploring the West just as it captured the nation's attention. But the most important factor in his fame may have been the person who made it all possible: his wife, Jessie Benton Frémont.
 
Jessie, the daughter of a United States senator who was deeply involved in the West, provided her husband with entrée to the highest levels of government and media, and his career reached new heights only a few months after their elopement. During a time when women were allowed to make few choices for themselves, Jessie – who herself aspired to roles in exploration and politics – threw her skill and passion into promoting her husband. She worked to carefully edit and publicize his accounts of his travels, attracted talented young men to his circle, and lashed out at his enemies. She became her husband's political adviser, as well as a power player in her own right. In 1856, the famous couple strategized as John became the first-ever presidential nominee of the newly established Republican Party.

With rare detail and in consummate style, Steve Inskeep tells the story of a couple whose joint ambitions and talents intertwined with those of the nascent United States itself. Taking advantage of expanding news media, aided by an increasingly literate public, the two linked their names to the three great national movements of the time—westward settlement, women's rights, and opposition to slavery. Together, John and Jessie Frémont took parts in events that defined the country and gave rise to a new, more global America. Theirs is a surprisingly modern tale of ambition and fame; they lived in a time of social and technological disruption and divisive politics that foreshadowed our own. In Imperfect Union, as Inskeep navigates these deeply transformative years through Jessie and John's own union, he reveals how the Frémonts' adventures amount to nothing less than a tour of the early American soul.
Praise For Imperfect Union: How Jessie and John Frémont Mapped the West, Invented Celebrity, and Helped Cause the Civil War…
"In the hands of National Public Radio journalist Steve Inskeep, the Frémonts become a vehicle to explore media, the making of modern celebrity, and the fascinating world of mid-nineteenth century American politics . . . [Inskeep's] contribution is to frame these disparate threads through the lens of a widened Frémont circle, masterfully weaving the narratives together in highly readable prose. What emerges is a rich tapestry of not only the Frémonts' relationship (an "imperfect union"), but also their imperfect midcentury United States as well." —Missouri Historical Review

"Revelatory . . . a fresh look that brings 21st-century vision to bear on the 19th-century story. In writing about both Frémont and his wife, Jessie, the aggressive promoter of his career, Inskeep does two important things. He shines an unsparing light on his subjects, and he finds unnerving similarities between the Frémonts' America and our own. Like Candice Millard's Destiny of the Republic, an improbably thrilling book about the Garfield assassination, Imperfect Union finds a big, resonant, star-studded subject that has been hiding in plain sight. . . . If the book's purpose is to illuminate and chill, mission accomplished." —The New York Times
 
"[A] fine new book by Steve Inskeep . . . His journalist's eye for detail and nuance serves his readers well. His account of the dumb luck of the Frémonts in becoming insanely wealthy in California—a property that John bought for a ranch proved to sit atop the Mother Lode—makes clear how capricious fortune could be in that singular moment of American history. And as a journalist, Inskeep recognizes spin when he sees it." —The Washington Post 
 
"Vibrant and propulsive, Imperfect Union is by far Inskeep's strongest book, reminiscent of work by Doris Kearns Goodwin and Jon Meacham." —Minneapolis Star Tribune
 
"In skillfully telling the story of John and Jessie's messy, flawed lives, Imperfect Union enriches our understanding of the messy, flawed nation they helped create." —San Francisco Chronicle

"Throughout this volume are vivid descriptions of the American landscape, some by Frémont, some by Inskeep himself; the author tooled through the Oregon Trail, California, and Nevada as well as consulted primary sources to assemble this narrative, which has the air both of travel writing and biography. But Inskeep's most powerful descriptions are of the man at the center of his story. . . Inskeep has performed a great service—to the Frémonts, and to history." — The Boston Globe

"[Inskeep's] absorbing tale of the Frémonts and their marriage will fascinate readers, many of whom know John only as the namesake of a local school or street or even their hometown itself . . . In addition to his riveting accounts of Frémont's peregrinations, Mr. Inskeep is especially effective in bringing to life the challenges posed by mid-19th-century communication, which depended to a great extent on letters that could arrive months after their dispatch . . . Mr. Inskeep keeps his narrative rooted firmly in the past. Nevertheless, that Frémont nearly rode his celebrity all the way to the White House invites comparison with its current occupant, whose fame prior to winning election rested, admittedly, on a considerably slimmer body of work. " —The Wall Street Journal 
 
"Steve Inskeep, particularly aware of our current cultural moment in his role as the host of NPR's 'Morning Edition,' has given us a history to learn from in his book Imperfect Union: How Jessie and John Frémont Mapped the West, Invented Celebrity, and Helped Cause the Civil War. Present are all the things we like in an American tale: frontier adventure, fame and a conflict that's cast as tragic and romantic. But Inskeep, wise to the lure he has set out, doesn't give us the story we expect . . . Inskeep deepens the tale beyond the traditional American narrative, giving us an insightful look at two people who seem familiar even all these years later: an ambitious and brilliant woman shackled by her gender and an imperfect dreamer who often comes close to doing the right thing. Within the political theater of this pre-Civil War drama, we just might find ourselves." —Bookpage (starred review) 

"An insightful and welcome biography of consequential Americans." —Booklist

"Highly readable . . . A lively introduction to a pair of flawed yet extraordinary figures in the nation's movement westward." —Kirkus  

"Imperfect Union is a fascinating, complex love story, a riveting adventure, and an important, carefully researched history, told with incredible power and skill by one of the country's best nonfiction writers.  What else could you want in a book?" —Candice Millard, author of Hero of the Empire
 
"A noteworthy journalist of present events, Steve Inskeep turns his talents to the nineteenth-century past in this dual biography of Jessie and John C. Frémont. The title, Imperfect Union, is a pun describing both the Union of slave and free states and the union between Jessie and John. The story is engagingly written, rich in new information, and brilliantly fair to the varied characters. Timely in its attention to race, gender, and diversity, this book should fascinate both historians and the general literate public. Inskeep's account is particularly valuable in its presentation of Jessie Frémont, not only as a wife and mother but as ghostwriter and successful propagandist for her courageous, sometimes blundering, explorer husband. He became the new Republican Party's first presidential nominee, Abraham Lincoln's predecessor." —Daniel Walker Howe, Pulitzer Prize-winning author of What Hath God Wrought: The Transformation of America, 1815-1848

"Surprising and illuminating, Steve Inskeep's Imperfect Union does what great history should do: it tells a story of consequence with verve and with an appreciation of the role of human agency in the broad affairs of a people. The story of the Frèmonts has helped shape our own story. Read this terrific book to find out how." —Jon Meacham, Pulitzer Prize-winning author of The Soul of America
 
"This captivating dual biography of John C. Frèmont and his wife Jessie Benton Frèmont portrays the rise and fall of the illegitimate son of an immigrant who became a famous explorer of the American West, a founding father of California as part of the United States, and ran for president as the first candidate of the fledgling Republican party in 1856. John's career peaked in his early forties while Jesse emerged as the stronger partner in this famous marriage and earned a contemporary reputation as 'the better man of the two,' an opinion that the reader will likely share." —James McPherson, author of Battle Cry of Freedom: The Civil War Era
 
"Steve Inskeep's Imperfect Union is a masterfully written dual biography of how Jessie and John Frémont won the American West. Action-packed stories about the Mexican War, the Oregon Trail, the California wilderness, and the Civil War are bountiful. And the political intrigue surrounding the birth of the Republican Party offered is marvelous. Highly recommended!" —Douglas Brinkley, Katherine Tsanoff Brown Chair in Humanities and Professor of History at Rice University and author of The Wilderness Warrior: Theodore Roosevelt and the Crusade for America
 
 
Penguin Press, 9780735224353, 480pp.
Publication Date: January 14, 2020
About the Author
Steve Inskeep is a cohost of NPR's Morning Edition, the most widely heard radio program in the United States, and of NPR's Up First, one of the nation's most popular podcasts. His reporting has taken him across the United States, the Middle East, Latin America, Africa, Pakistan, and China. His search for the full story behind the news has led him to history; he is the author of Instant City: Life and Death in Karachi and Jacksonland: President Andrew Jackson, Cherokee Chief John Ross, and a Great American Land Grab, both published by Penguin Press.
Coverage from NPR
or
Not Currently Available for Direct Purchase