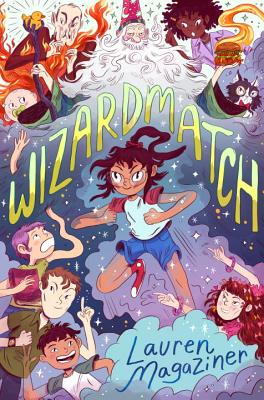 Wizardmatch (Hardcover)
Dial Books, 9780735227781, 304pp.
Publication Date: March 6, 2018
* Individual store prices may vary.
Description
Take the hilarious, magic-infused world of Eva Ibbotson's Which Witch, add the lovable feuding family from The Incredibles, and you'll get Wizardmatch--funny, fantastical, action-packed, and totally heartwarming.

Twelve-year-old Lennie Mercado loves magic. She practices her invisibility powers all the time (she can now stay invisible for fifteen seconds!), and she dreams of the day that she can visit her grandfather, the Prime Wizard de Pomporromp, at his magical estate.

Now Lennie has her chance. Poppop has decided to retire, and his grandchildren are coming from all over to compete in Wizardmatch. The winner inherits his title, his castle, and every single one of his unlimited magical powers. The losers get nothing. Lennie is desperate to win, but when Poppop creates a new rule to quelch any sibling rivalry, her thoughts turn from winning Wizardmatch to sabotaging it...even if it means betraying her family.

Comedic, touching, and page-turny, Wizardmatch is perfect for fans of Mr. Lemoncello's Library, The Gollywopper Games, and The Candymakers.
About the Author
Lauren Magaziner is a graduate of Hamilton College, and wrote her debut book, The Only Thing Worse Than Witches, while studying abroad in Scotland her junior year. Lauren lives in Brooklyn, New York, and writes full-time.
Praise For Wizardmatch…
Praise for Wizardmatch:
"A young, biracial wizard struggles between fighting for her dreams and cheering on her family in this humorous and stirring fantasy."—Kirkus Reviews

"With over-the-top dialogue and an appealing cartoonish quality, middle-grade fantasy adventure fans won't want to miss the fun, intrigue, and clever scheming at Pomporromp Castle."—Booklist

"Readers who enjoy wizardry, magic, and competition will relish this book… a worthy addition to a middle grade library." —School Library Connection

"Lots of campy humor, puns, and wordplay should make this a fun read for the upper elementary set…Purchase where goofy magical fantasy is in high demand." —School Library Journal


Praise for Pilfer Academy:
"Magaziner creates another weird and silly world that mirrors Hogwarts without the magic...A fun fantasy romp."—Kirkus Reviews

"Humorous and engaging. This is an ideal choice for readers who wish boarding school books had a little more mischief."—Booklist

"School-story buffs with a taste for absurd, off-kilter humor will find this a welcome addition to the mix."—BCCB

Praise for The Only Thing Worse Than Witches:
*"Combines Roald Dahl's Witches and Louis Sachar's Wayside School....readers will banish themselves from the ordinary world to finish this book in a flash."—Kirkus Reviews, starred review

"A rollicking tale...first-time novelist Lauren Magaziner fashions a rich and compelling alternative reality."—The Chicago Tribune

"A fun, frothy story that will, well, charm its readers."—Publishers Weekly

"Ideal for middle-grade readers who love Roald Dahl's Matilda and enjoy humor with their fantasy, this debut novel is madcap and fantastical."—Booklist

"Eva Ibbotson fans will appreciate the quirky humor."—BCCB