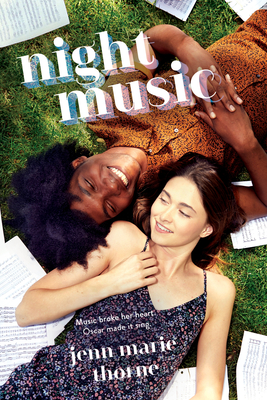 Night Music (Hardcover)
Dial Books, 9780735228771, 400pp.
Publication Date: March 19, 2019
Other Editions of This Title:
MP3 CD (8/13/2019)
Compact Disc (8/13/2019)
Paperback (5/12/2020)
* Individual store prices may vary.
Description
Music has always been Ruby's first love. But has it ever loved her back?
Slip behind the scenes of the classical music world one hot, anything-can-happen, New York City summer.

"Delightful...Hits all the right notes." --Mackenzi Lee, author of The Gentleman's Guide to Vice and Virtue

Ruby has always been Ruby Chertok: future classical pianist and daughter of renowned composer Martin Chertok. But after her horrendous audition for the prestigious music school where her father is on faculty, it's clear that music has publicly dumped her. Now Ruby is suddenly just . . . Ruby. And who is that again? All she knows is that she wants away from the world of classical music for good.

Oscar is a wunderkind, a musical genius. Just ask any of the 1.8 million people who've watched him conduct on YouTube--or hey, just ask Oscar. But while he might be the type who'd name himself when asked about his favorite composer and somehow make you love him more for it, Oscar is not the type to jeopardize his chance to study under the great Martin Chertok--not for a crush. He's all too aware of how the ultra-privileged world of classical music might interpret a black guy like him falling for his benefactor's white daughter.

But as the New York City summer heats up, so does the spark between Ruby and Oscar. Soon their connection crackles with the same alive, uncontainable energy as the city itself. Can two people still figuring themselves out figure out how to be together? Or will the world make the choice for them?

"Seriously swoony...I loved it." --Rachel Hawkins, author of Royals
"Sweet and intense...[An] engrossing romance with a social conscience." --Kirkus
"Dreamy." --Bustle
"Utterly romantic." --Tanaz Bhathena, author of A Girl Like That
"Full of heart and humor. It crackles with energy." --Kelly Loy Gilbert, author of Picture Us in the Light
"Timely and romantic." --Publishers Weekly
"Beautiful, heartfelt, aware, and raw." --Lauren Gibaldi, author of This Tiny Perfect World
"Thoughtful, nuanced." --Booklist
About the Author
Jenn Marie Thorne graduated from NYU-Tisch with a BFA in drama and quickly realized she was having more fun writing plays, short films, and superhero webisodes than actually performing in them. She lives and writes in the UK with her husband, two sons, and hound dog Molly.
Praise For Night Music…
"A delightful summer romance that hits all the right notes—frothy, fun, and thoughtful, it never shies away from the realities of social pressure and familial legacy." —Mackenzi Lee, author of The Gentleman's Guide to Vice and Virtue

"Utterly romantic. An enchanting reminder that failure is often the prelude to possibility and that even loss cannot diminish the glory of finding love again." —Tanaz Bhathena, author of A Girl Like That

★ "Ruby and Oscar's sweet and intense romance sparkles. Readers will root for them not just as a couple, but as individuals trying their best to understand their gifts and passions while facing pressures from the adult world. A smart, funny, engrossing romance with a social conscience." —Kirkus (starred review)
 
"A dreamy summer rom-com that'll make you believe in love again." —Bustle
 
"Full of not only sigh-inducing swoons but the social commentary [that Thorne] is talented at writing. —Paste

"Blending first love, music, and one seriously swoony summer in New York, Night Music is a perfect symphony. I loved it." —Rachel Hawkins, author of Royals
 
"Thorne keeps a complex plot moving . . . This is a timely and romantic story about teens who feel like fish out of water finding the person who understands them." —Publishers Weekly

"At once a glittering love letter to music and a breakup letter to living the life everyone else expects you to, Night Music is full of heart and humor. It crackles with energy." —Kelly Loy Gilbert, author of Picture Us in the Light
 
"Thorne presents a careful examination of privilege. . . . A thoughtful, nuanced romance." —Booklist

"Beautiful, heartfelt, aware, and raw, Night Music is a melody I never want to leave my head." —Lauren Gibaldi, author of This Tiny Perfect World

A Junior Library Guild Selection