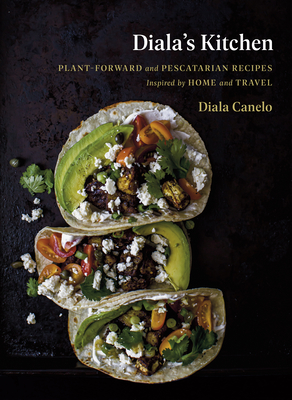 Diala's Kitchen
Plant-Forward and Pescatarian Recipes Inspired by Home and Travel
Hardcover

* Individual store prices may vary.
Description
Food and travel writer Diala Canelo shares 100 healthy, vegetable-forward recipes inspired by her international travel.

On any given day, you'll find Diala Canelo travelling around the world, walking the streets of her favourite cities-- including Barcelona, Paris, Melbourne, Mexico City, Florence, and Santo Domingo, where she grew up near the sea--places that inspire her flavourful and nourishing cooking. Influenced by local flavours, fresh ingredients, and a passion for healthy meals made from scratch, Diala's recipes embrace the beauty in simply prepared, vegetable-forward, pescatarian-friendly cooking.

Diala's Kitchen is a collection of bold and flavourful recipes inspired by home and travel, with stunning food and photography from afar, that food-lovers will want to cook and enjoy with family and friends. With over 100 recipes including Salmon Tacos with Chipotle Crema, Blackened Fish with Creamy Yucca Fries, Wild Mushrooms Over Creamy Polenta with Mascarpone, Coconut Flan, Salted Caramel and Vanilla Pots de Crème, and Caramelized Banana and Cinnamon Loaf, Diala will take you to all the corners of the world and animate your kitchen with lively flavours.
Praise For Diala's Kitchen: Plant-Forward and Pescatarian Recipes Inspired by Home and Travel…
"Diala's food philosophy is one I love: eat seasonally, listen to your body, and celebrate the sense of community that comes from sharing good food. Her gorgeous new book features an array of accessible, jaw-dropping recipes inspired by international travel, from creative lunches to decadent desserts. Diala's Kitchen brings flavors from around the world into your kitchen, encouraging you to share delicious, wholesome meals with the people around you." 
—Jeanine Donofrio, author of Love & Lemons Every Day and The Love & Lemons Cookbook

"You can sense that Diala's heart is focused on family, tradition, and true connection—all lovingly built over time and countless meals. Her recipes are exactly the thing for bringing all of your people together: comforting, abundant, well balanced, and beautifully woven together with the vivid experiences of her travels. This is truly intuitive eating with an equal reverence for pleasure and nourishment. Diala's Kitchen will inspire you to cook, travel, and to gather friends around the table more often."
—Laura Wright, author of The First Mess Cookbook

"Prepare for Diala Canelo to take you around the world on a mouthwatering adventure with her plant-forward recipes that are both modern and timeless. Part travel diary, part culinary memoir, Diala's Kitchen is brimming with healthy yet indulgent food that I want to eat every day."
—Hetty McKinnon, food writer and award-winning and bestselling author of Community, Neighbourhood, and Family

"With equal enthusiasm and sincerity, Diala pulls from a repertoire informed by a broad worldview partnered with an earnest concern for well-being and sustainability. Her balanced approach celebrates the indulgent—including her famous Sunday Waffles—as well as the vibrant and feel-good, with her undeniable voice coming through on every page."
—Tara O'Brady, food writer and author of Seven Spoons

"Warm and delightful just like Diala, this book takes you around the world and back to her kitchen where she recreates a splendid assortment of dishes inspired by her travels."
—Nik Sharma, author of the James Beard-nominated cookbook Season: Big Flavors, Beautiful Food

"A burst of colour and flavour is what we crave from summer's bounty. The plant-forward and pescatarian fare in Diala's Kitchen by blogger Diala Canelo deliver, and are easy to prep, leaving you time to savour the season."
—Style at Home
 
"For vegetarians and pescatarian inspiration, look to Toronto cookbook author Diala Canelo."
—House & Home

"[Diala's Kitchen] features 100 drool-worth and easy recipes suitable for dinner parties, casual meals and awesome lunches . . . the Passionfruit Vodka martini recipe is sassy and delicious, too."
—The Northern News
Penguin Canada, 9780735234932, 296pp.
Publication Date: August 4, 2020
About the Author
DIALA CANELO is the recipe creator and writer of Diala's Kitchen, a food and travel blog where she shares recipes inspired by her trips around the world. She grew up near the sea in Dominican Republic, and later moved to Canada where she fell in love with all things cooking and baking. She graduated from Le Cordon Bleu in Mexico City, where she obtained a Grand Diploma in pastry and bread making. Her diverse travel experiences as a flight attendant have given her the chance to taste food from many different cultures and share her gorgegous photography. Diala has been featured on Food52, The Feed Feed, and Flare magazine. She lives near Toronto, Canada with her daughters, Isabella and Gabriela, her partner, Warren, and their two pets, Oliver and Blue.