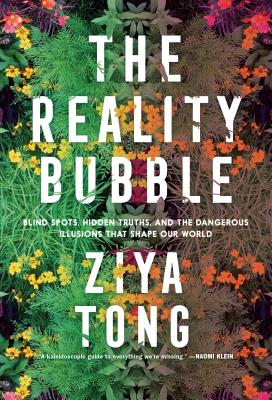 The Reality Bubble
Blind Spots, Hidden Truths, and the Dangerous Illusions that Shape Our World
Hardcover

* Individual store prices may vary.
Other Editions of This Title:
Paperback (1/5/2021)
Description
Shortlisted for the 2020 RBC Taylor Prize

From one of the world's most engaging science journalists, a groundbreaking and wonder-filled look at the hidden things that shape our lives in unexpected and sometimes dangerous ways.

Our naked eyes see only a thin sliver of reality.

We are blind in comparison to the X-rays that peer through skin, the mass spectrometers that detect the dead inside the living, or the high-tech surveillance systems that see with artificial intelligence.

And we are blind compared to the animals that can see in infrared, or ultraviolet, or in 360-degree vision. These animals live in the same world we do, but they see something quite different when they look around.

With all of the curiosity and flair that drives her broadcasting, Ziya Tong illuminates this hidden world, and takes us on a journey to examine ten of humanity's biggest blind spots.

First, we are introduced to the blind spots we are all born with, to see how technology reveals an astonishing world that exists beyond our human senses. It is with these new ways of seeing that today's scientists can image everything from an atom to a black hole.

In Section Two, our collective blind spots are exposed. It's not that we can't see, Tong reminds us. It's that we don't. In the 21st century, there are cameras everywhere, except where our food comes from, where our energy comes from, and where our waste goes. Being in the dark when it comes to how we survive makes it impossible to navigate our future.

Lastly, the scope widens to our civilizational blind spots. Here, the blurred lens of history reveals how we inherit ways of thinking about the world that seem natural or inevitable but are in fact little more than traditions, ways of seeing the world that have come to harm it.

This vitally important new book shows how science, and the curiosity that drives it, can help civilization flourish by opening our eyes to the landscape laid out before us. Fast-paced, utterly fascinating, and deeply humane, The Reality Bubble gives voice to the sense we've all had -- that there is more to the world than meets the eye.
Praise For The Reality Bubble: Blind Spots, Hidden Truths, and the Dangerous Illusions that Shape Our World…
Shortlisted for the 2020 RBC Taylor Prize

Praise for The Reality Bubble:

"In a time of mounting global crisis, the kind of radical curiosity that fills this book — a commitment to probing the unseen, unknowable, and unthinkable — has become essential to our survival. In Ziya Tong's hands, we learn that it can be joyous, too, with thrilling facts, questions, and juxtapositions on every page. A kaleidoscopic guide to everything we're missing."
—Naomi Klein

"This book will tear through your preconceptions like a meteor through space. Ziya Tong is a wonderfully erudite companion on a tour of reality, from the very smallest to the size of the universe and everything in between. It's an incredibly illuminating and challenging but ultimately empowering book, and reading it delivers a shock almost on the level as when Neo took the red pill in The Matrix. Prepare to have your bubble well and truly burst."
—Rowan Hooper, New Scientist

"The Reality Bubble grabs your metaphoric lapels and rattles your mental cage. Page after page, Ziya Tong provides clear lenses for looking at the world, and entertainingly insists we use them—like, now, please. If you don't want to destabilize your conceptions of space, time, biology, and geography, I suggest you back away slowly."
—Adam Rogers, WIRED
 
"Filled with entertaining, often surprising, information, The Reality Bubble reveals how science enables us to 'see' beyond the constraints of our physical and psychic barriers and recognize the consequences.  Ziya Tong's book should be required reading for all who care about what we are doing to the planet.
—David Suzuki, broadcaster and author of The Sacred Balance: Rediscovering our Place in Nature
 
"Ziya Tong takes readers on an important and entertaining scientific journey, as she breaks open all the hidden ways we interact with the natural world every day. Read this book to start seeing—with new eyes—how we can transform our relationship with the extraordinary planet we live on." 
—Dr. Jane Goodall

"Humans have a warped perception of reality. Ziya Tong pierces through this collective fog, using a scientific lens to show us our place in the world as it really is. With a journalist's eye for drama, she uses examples from both the history of science and the latest research to expose uncomfortable truths about the short-sighted ways we produce food and energy and dispose of waste, which are jeopardizing life on Earth. Her arguments compel us to look sharp—we remain in this reality bubble at our own peril."
—Kate Wong, Scientific American

"With curiosity and humor, Tong mixes science, philosophy, and history in a book filled with revelations big and small" 
—Grist

"Not only is this book a delightful tour of scientific wonders, but it's also a profound meditation on why humans have such a hard time getting out of our bubbles and changing our ways. With grace and humor, Ziya Tong reveals our blind spots--both literal and philosophical—and guides us toward a better future that we can face with both eyes open."
—Annalee Newitz, founder of io9 author of Scatter Adapt and Remember

 "A book this audacious, inventive, and soulful shouldn't also be so much fun to read. Ziya Tong scours the universe of human knowledge to reframe how we see the world and our place in it." 
—Elan Mastai, author of All Our Wrong Todays

"The Reality Bubble has opened eyes I didn't even know I had. It is so hard to explain how we humans perceive the world, knowing that we can't tell if we all perceive it the same way. This is where Ziya is beyond brilliant: She breaks down how our individual constructions of reality are far more artificial than we realize, which will leave me trying to answer a whole lot of existential questions for some time to come." 
—Derek Mead, executive editor, global, VICE

"Human beings are built to detect short-range, near-term threats, and yet our social fabric (and maybe even our species itself) depends on learning to detect the stuff that never directly touches us. In The Reality Bubble, Ziya Tong delivers an energetic crash course in this mismatch between our evolutionary gifts and our circumstances. The blind spots she describes are the ones that keep us from internalizing the threat of climate change, the dangers of political manipulation via social networks—even the difficulty of saving for retirement. The physiological and cognitive basis of our reality bubble is something we have to learn about ourselves to get out in front of humanity's biggest problems, and Tong explains the subject, without judgement or derision, in a way that will benefit us all."
—Jacob Ward, NBC News Technology Correspondent, host of the PBS series Hacking Your Mind, and former editor-in-chief of Popular Science

"The world we inhabit is not what it appears to our senses to be. In The Reality Bubble, Ziya Tong takes us on a fascinating, whirlwind tour through many unfamiliar aspects of the reality we thought we knew. It is both sobering and mind-blowing to realize how deeply immersed we are in previously hidden realms which science has revealed to us but which most of us ignore at our peril. Tong is an able guide, leading us through the maze of illusions, and helping us to shed our veils of delusion. She illuminates the unseen, and often dangerous, bubbles within which we live out our lives."
—David Grinspoon, Senior Scientist at Planetary Science Institute and prize-winning author of Earth in Human Hands.

"Ziya has been reading and thinking about our environments, large and small, for years, and this is the result. She reminds us again and again of the idea of shifting baselines. We accommodate to much of what we experience, moving from surprise to acceptance, recalibrating all the way. This book urges us to be vigilant against that"
—Jay Ingram, television and radio host, and author of The Science of Why
 
"Amid the screaming alarms of the Anthropocene—species collapse, habitat loss, social pathologies—Ziya Tong takes a sledgehammer to the bad ideas that brought us to the brink of apocalypse: unbridled capitalism, technological escapism, species-centrism. Equal parts disaster novel and postmodern cabinet of wonders (and terrors), The Reality Bubble makes a passionate, rationalist case for saving the planet before we back off history's cliff, selfie sticks in hand."
—Mark Dery, author of I Must Not Think Bad Thoughts: Drive-By Essays on American Dread, American Dreams

"[The Reality Bubble] promises to be a confluence of ethical, sociological, technological and environmental insights, rigorously investigated, shared in a scintillating way"
—Ian Elliott of A Different Drummer Books (From Rabble's "Canadian Indies on what to read in 2019")

"Our blind spots, however, don't just separate us from wonder – they also keep us from reality. And in her book, Ziya also challenges us to identify and eliminate our deliberate ignorance, not just for self-advancement but for collective preservation"
—Elaine "Lainey" Lui, co-host "The Social", reporter on "etalk", and founder of the website Lainey Gossip

"Tong's excitement explodes off the page. . . . [She] pops the false reality bubble, hoping that we will see things differently before it's too late."
—Canada's National Observer 

"[Tong's] point . . . is made with devastating force, her argument that we're being doomed by our perception of reality a clever and effective way to jolt readers out of their indifference."
—Herald Scotland

"It's a compelling journey into the history of scientific discoveries and a palpable and humbling exposition on the shortcomings of our ability to comprehend."
—The Georgia Straight

"Ziya Tong. . . punctur[es] preconceptions in The Reality Bubble."
—Times Colonist
Allen Lane, 9780735235564, 376pp.
Publication Date: May 14, 2019
About the Author
Award-winning broadcaster, ZIYA TONG anchored Daily Planet, Discovery Channel's flagship science program until its final season in 2018. Tong also hosted the CBC's Emmy-nominated series ZeD, PBS's national prime-time series, Wired Science, and worked as a correspondent for NOVA scienceNOW alongside Neil deGrasse Tyson on PBS. She served as the Vice Chair of WWF Canada until 2019, and was elected to the WWF International Board in 2020.
or
Not Currently Available for Direct Purchase