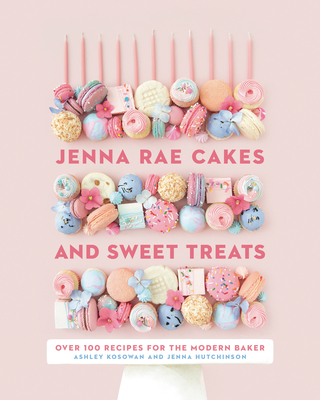 Jenna Rae Cakes and Sweet Treats
Over 100 Recipes for the Modern Baker
Hardcover

* Individual store prices may vary.
Description
NATIONAL BESTSELLER

Beloved family-owned Canadian bakery Jenna Rae Cakes shares over 100 recipes for its most delectable--and most beautiful--sweet treats.

Jenna Hutchinson was in the middle of applying to dental school when she saw an episode of Cake Boss and thought, I can do that! Little did she know, that moment would set her life off in a new direction, and she and her twin sister Ashley would go on to own one of Canada's most successful and celebrated bakeries, Jenna Rae Cakes.

Now, in Jenna Rae Cakes and Sweet Treats, Jenna and Ashley reveal the tried and true recipes, flavours, and show-stopping designs that put them on the map. Inside you will find recipes for over 100 of the most vibrant and decadent cookie sandwiches, cupcakes, party squares, cakes, macarons, cream puffs, and more. Known for the long list of rotating flavour options they offer each day at the shop, Jenna Rae Cakes and Sweet Treats features all of their fan favourites, including Cotton Candy Cupcakes, Lemon Meringue Party Squares, Salted Caramel Macarons, Peanut Butter and Jam Cookie Sandwiches, Salted Dark Chocolate Espresso Cake, and many more. Dive in and let the mouthwatering photography inspire you to bake your very own Instagram-worthy treats with spectacular results. With Jenna and Ashley's insider tips, your baking will reach a colourful, flavourful, and stylish new level in no time.
Praise For Jenna Rae Cakes and Sweet Treats: Over 100 Recipes for the Modern Baker…
"I am absolutely blown away by the beauty of Jenna Rae Cakes and Sweet Treats! I know for a fact that this cookbook is going to have a special spot on my kitchen counter so I can refer to it daily as a source of gorgeous inspiration as every page drips with perfection."
—Jillian Harris, co-author of #1 bestselling Fraiche Food, Full Hearts

"Jenna Rae Cakes and Sweet Treats is as much a feast for the eyes as it is your tummy! The beautiful imagery and delectable recipes will be sure to inspire even the most novice of bakers to head straight to the kitchen and get to work!"
—Rosie Daykin, bestselling author of Butter Baked Goods and Butter Celebrates!
 
"Through stunning photography and wonderfully detailed instructions, Ashley and Jenna teach us how to create dessert masterpieces that are perfectly approachable for any home baker. If the mouthwatering recipe titles don't lure you in, the colorful and creative styling on every page of this absolutely beautiful cookbook will!"
—Sally McKenney, author of Sally's Baking Addiction
 
"I'm SO excited that Jenna and Ashley are finally sharing all their recipes in this incredible cookbook! Now I can make their signature treats at home, as well as add a whole range of new techniques to my baking repertoire. This is a perfect cookbook for anybody looking to bring some cheer and delight into their kitchen."
—Michelle Lopez, author of Weeknight Baking and creator of the blog Hummingbird High
 
"This artful, delectable book is crammed with everything I've come to love and expect from Jenna Rae Cakes—modern, gorgeous cakes, cupcakes, cookie sandwiches, and more! You'll be both swooning and salivating as you flip through this beautiful, visually stunning book! Certainly the most stylish baking book you'll ever own!"
—Lyndsay Sung, blogger and author of Coco Cake Land  
 
"Jenna Rae Cakes and Sweet Treats is a true embodiment of Ashley and Jenna's talent—from the whimsical and sensitive styling to the decadent yet approachable recipes. My personal favorite? The Earl Grey Cream Puffs!"
—Maggie Austin, author of Maggie Austin Cake
 
"Jenna & Ashley's delightfully creative approach to irresistible baking excites every single one of my cakebuds! The clever recipes within the pages of this book are utterly scrumptious. YUM."
—Katherine Sabbath, baker, Director of Creative Cake Decorating, and author of Bake Australia Great
 
"Jenna and Ashley have truly outdone themselves! Jenna Rae Cakes and Sweet Treats is filled with mouth-watering recipes for everything from macarons to marshmallows. Their creative touch and imagination shine through in each recipe, and are sure to inspire the inner baker in all of us!"
—Chelsey White, cake instructor and creator of the blog Chelsweets

"[T]his collection of party-worthy cakes, squares, cookie sandwiches, macarons and other sweets aren't over-the-top in terms of complexity, but look as if they were designed with Instagram in mind."
—The Globe and Mail
 
"[A] fantastic cookbook. . . . [these are] jaw-dropping recipes that are basically guaranteed to blow your guests away with their presentation and delightful flavour."
—The Loop

"For those of you wanting to test your skill at drool worthy cupcakes, macarons and (be still my heart) the utterly delightful peanut butter & jam cookie sandwiches. . . . This one is sure to be a hot seller."
—Travel Manitoba

Penguin Canada, 9780735236745, 328pp.
Publication Date: October 6, 2020
About the Author
ASHLEY KOSOWAN is a graphic designer and photo stylist, and co-owner of Jenna Rae Cakes. She got her start in the wedding industry as Creative Director for a local wedding magazine, and has gone on to design and manage the Jenna Rae Cakes brand. Ashley's favourite sweet treats are Cotton Candy Macarons and Red Velvet Cupcakes. She lives in Winnipeg, Manitoba with her husband and two children, Leo and Millie.

JENNA HUTCHINSON is a self-taught baker and cake designer, and co-owner and founder of Jenna Rae Cakes. She is known for her classic, elegant approach to cake design, and for her trendy and intricate creations. Jenna's favourite sweet treats are Salted Caramel Macarons. She lives in Winnipeg, Manitoba with her husband and daughter, Lilah.