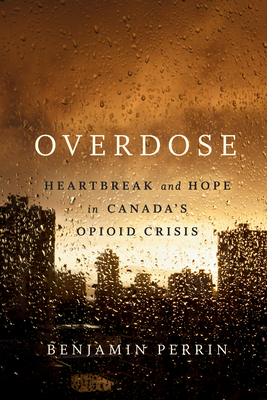 Overdose
Heartbreak and Hope in Canada's Opioid Crisis
Hardcover

* Individual store prices may vary.
Description
NATIONAL BESTSELLER

"Overdose is a necessary and searching investigation into a devastating epidemic that should never have happened. Benjamin Perrin painstakingly shows that it need not continue if we, as a society, heed the evidence."
—Gabor Maté M.D., author of In The Realm of Hungry Ghosts: Close Encounters With Addiction

An astonishing and powerful look at the ongoing opioid crisis 

North America is in the middle of a health emergency. Life expectancies are declining. Someone is dying every two hours in Canada from illicit drug overdose. Fentanyl has become a looming presence—an opioid more powerful, pervasive, and deadly than any previous street drug.

The victims are many—and often not whom we might expect. They include the poor and forgotten but also our neighbours: professionals, students, and parents. Despite the thousands of deaths, these victims have remained largely invisible.

But not anymore. Benjamin Perrin, a law and policy expert, shines a light in this darkest of corners—and his findings challenge many assumptions about the crisis. Why do people use drugs despite the risk of overdosing? Can we crack down on the fentanyl supply? Do supervised consumption sites and providing "safe drugs" enable the problem? Which treatments work? Would decriminalizing all drugs help or do further harm?

In this urgent and humane look at a devastating epidemic, Perrin draws on behind-the-scenes interviews with those on the frontlines, including undercover police officers, intelligence analysts, border agents, prosecutors, healthcare professionals, Indigenous organizations, activists, and people who use drugs. Not only does he unveil the many complexities of this situation, but he also offers a new way forward—one that may save thousands of lives.
Praise For Overdose: Heartbreak and Hope in Canada's Opioid Crisis…
A Loan Stars Pick
One of CBC's "40 great books to read this season"

"[An] important book, the best yet on the crisis. . . . Attitudes about drug use and drug users are changing. More people are coming to see what Perrin calls a clear moral wrong: 'The injustice of unmercifully judging and punishing people who are using drugs in an attempt to get relief from the pain in their lives.' [Overdose] should help hasten that welcome change."
—The Globe and Mail

"Overdose is a necessary and searching investigation into a devastating epidemic that should never have happened. Benjamin Perrin painstakingly shows that it need not continue if we, as a society, heed the evidence."
—Gabor Maté M.D., author of In The Realm of Hungry Ghosts: Close Encounters With Addiction
 
"In Overdose, we walk the streets with the author and meet law enforcement officers, healthcare providers, former users, and activists. Along the way, we overcome any prejudice we may have toward the opioid crisis and its victims. Using empirical research, Perrin guides us through the ramifications of the complex problem of the opioid crisis and looks at ways forward. A real eye-opener."
—The Hon. Marie Deschamps, former Justice, Supreme Court of Canada 
 
"A brilliantly argued chronicle of the opioid crisis, Overdose is beautifully written and impeccably researched. Equally moving, informative, and persuasive, it makes a crucial contribution to the national debate on how we deal with illicit drugs in our society—a clarion call to end the failed war on drugs and instead adopt a compassionate evidence-based approach that emphasizes 'safe supply', and decriminalization for illicit drug users." 
—Prof. Joel Bakan, author of The Corporation
 
"We are in a national health emergency, but government will not say so. These are not 'overdose' deaths as much as they are poisonings. The current approach is failing. For anyone who wants to understand this crisis, who can, like Perrin, keep an open mind, I urge you to read Overdose." 
—Elizabeth May, O.C., M.P., former Leader, Green Party of Canada
 
"Overdose is an eye-opening examination of why it is important to dump old stereotypes about substance use. Perrin masterfully describes how his past beliefs about how to deal with the problems—which were grounded in criminalization and punishment—have drastically changed. This is a crisis that demands our attention. And this excellent, highly readable, and thoroughly researched book is a great place to start." 
—Prof. Timothy Caulfield, Canada Research Chair in Health Law & Policy and author of The Cure for Everything! and Relax, Dammit!
 
"If you are a skeptic, as Perrin once was, of progressive public policy to address the opioid crisis, then this matter-of-fact, evidence-based account is a must read. As Canadians, we must address this crisis with care, compassion, understanding, and concrete action. We all have a role to play." 
—Puglaas, The Hon. Jody Wilson-Raybould, P.C., Q.C., M.P., former Minister of Justice and Attorney General of Canada

"A powerful indictment of Canada's current policies toward illegal drugs. Perrin's book is an excellent popular primer on the issues associated with drugs in Canada and more intensely in B.C. Perrin is surely right."
—Dr. Stephen T. Easton, Professor of Economics, Simon Fraser University & Senior Research Fellow, The Fraser Institute

 "Overdose is incisive, compelling and powerful. It is as clear and clinical an indictment of the failed policy of drug prohibition as I've seen. This book shows that evidence and compassion can be reconciled in this critical public issue. More importantly, it proves that they must be."
—Don Davies, MP & Health Critic (NDP)
 
"[Overdose] takes a hard look at Canada's opioid crisis and those it has affected, with a national call to action as well as concrete ideas on how to improve the situation."
—Drug & Alcohol Testing Association of Canada

"Benjamin Perrin challenges popular assumptions about opioid users—in particular, those addicted to Fentanyl—offering a humane approach to solving this devastating health crisis."
—Quill & Quire

"Bold, informed . . . Overdose [is] a book for every politician in Canada. . . . every municipality faces the disastrous public health challenge of opioids, and no councillor or mayor or city manager should be without this book."
—The Tyee

"[An] accessible investigation of Canada's drug crisis . . . written from an unexpected vantage point. Overdose serves as a good introduction to the issues and one in which people less familiar with the crisis will find progressive arguments presented in a straightforward and compelling manner."
—The Straight

"Overdose does not rely on jargon and is not just endless rows of statistics. Instead it offers a very human approach through straightforward conversations with all types of people. Top notch health officials like Dr. Bonnie Henry, to frontline healthcare workers, social workers, First Nations, poverty rights advocates, addicts and loved ones of addicts are all brought into the fold in this book."
—The Vancouver Sun

"Perrin . . . speaks to multitudes of experts from all sides of the issue, addicts, police officers, drug addiction counsellors, judges, lawyers, frontline workers, Indigenous organizations, activists, border agents, and intelligence analysts. Perrin is able to weave together an exceptionally insightful book that helps illuminate the complexity of the issues involved and comes to concrete conclusions about the best way to fight and win this crisis."
—Drug & Alcohol Testing Association of Canada

Viking, 9780735237865, 304pp.
Publication Date: March 31, 2020
About the Author
BENJAMIN PERRIN is a professor at the University of British Columbia, Peter A. Allard School of Law. He served as a law clerk at the Supreme Court of Canada, and was the lead justice and public safety advisor to Prime Minister Stephen Harper from 2012-13. Professor Perrin is the author of two previous books: Invisible Chains: Canada's Underground World of Human Trafficking, which was a national bestseller and named one of the top books of the year by The Globe and Mail, and Victim Law: The Law of Victims of Crime in Canada. He lives in Vancouver, BC.