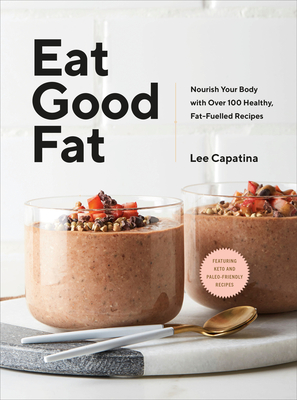 Eat Good Fat
Nourish Your Body with Over 100 Healthy, Fat-Fuelled Recipes
Hardcover

* Individual store prices may vary.
Description
Delicious, fat-fuelled, recipes that will help keep you feeling satiated and energized all day long.

Fat is back! We have finally realized what our ancestors knew all along--that fats are incredibly healthy and nutritious. As a result, everyone is looking for ways to eat good fats as part of a healthy lifestyle. Most of us are not eating nearly enough good fats and could benefit from radically increasing them in our diets. Good fats provide a rich source of energy for the mind and body, balance blood sugar levels, help with the absorption of vitamins, lower bad cholesterol, and keep you full and satisfied for longer. Most importantly, fats make food taste great!

Eat Good Fat makes eating healthy simple and shares the best healthy-fat foods you should definitely be working into your meals and snacks on a regular basis. The book features over 100 delicious recipes that use whole food ingredients and plenty of good fats in dishes like Grainless Ghee-nola, Easy Banana Oat Pancakes, Turmeric Lemon Soup with Ghee-Fried Cashews, Healthyish Carbonara, Grass-Fed Burgers with Pesto and Butternut Squash, Chicken Thigh Pad Thai with Creamy Almond Butter Sauce, Miso-Orange Wild Salmon with Crispy Broccolini, and Cardamom Date Cake with Goat Cheese Frosting. Each recipe is part of a road map to help guide you toward using fats correctly and in a healthy way--and they were created to have a broad appeal for anyone looking to embrace good fats (in all their delicious glory).
Praise For Eat Good Fat: Nourish Your Body with Over 100 Healthy, Fat-Fuelled Recipes…
Praise for Eat Good Fat:
 
"An excellent read that explores the whole concept of eating healthy fats as part of maintaining a healthy diet."
—Toronto Sun

"Fat makes food taste delicious! Lee takes the fear out of eating fat by teaching you why it's important for your body and mind. If that doesn't convince you, you'll leave any hesitations at the door when you discover all her delicious and wholesome recipes."
—Joy McCarthy, bestselling author of Joyous Health and The Joyous Cookbook
 
"I love Lee's philosophy of cooking with locally-sourced, whole food ingredients. Eat Good Fat invites readers to embrace fat in the kitchen, showing that it can fuel the mind, nourish the body, and (most importantly) make any meal incredibly delicious."
—Jeanine Donofrio, author of The Love & Lemons Cookbook and Love & Lemons Every Day

"I got to try Lee's magical ghee years ago, and I have been a fan ever since! It's clear Lee is a true wizard when it comes to good fat. I can't wait to dive into this cookbook filled with unique and mouth-watering recipes!"
—Adeline Waugh, creator and author of Vibrant & Pure
Penguin Canada, 9780735237971, 304pp.
Publication Date: December 29, 2020
About the Author
LEE CAPATINA is a registered holistic nutritionist and founder of Lee's Provisions, a premium organic ghee and wellness tea company. Lee's goal is to inspire others to find their unique inner beauty and to feel radiant, healthy, alive, beautiful, and connected. She lives in Toronto, Canada.
or
Not Currently Available for Direct Purchase