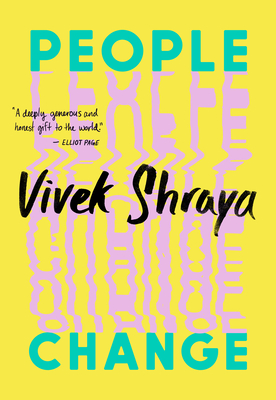 People Change
Hardcover

* Individual store prices may vary.
Description
"A deeply generous and honest gift to the world."
—Elliot Page

The author of I'm Afraid of Men lets readers in on the secrets to a life of reinvention.

Vivek Shraya knows this to be true: people change. We change our haircuts and our outfits and our minds. We change names, titles, labels. We attempt to blend in or to stand out. We outgrow relationships, we abandon dreams for new ones, we start fresh. We seize control of our stories. We make resolutions.

In fact, nobody knows this better than Vivek, who's made a career of embracing many roles: artist, performer, musician, writer, model, teacher. In People Change, she reflects on the origins of this impulse, tracing it to childhood influences from Hinduism to Madonna. What emerges is a meditation on change itself: why we fear it, why we're drawn to it, what motivates us to change, and what traps us in place.

At a time when we're especially contemplating who we want to be, this slim and stylish handbook is an essential companion—a guide to celebrating our many selves and the inspiration to discover who we'll become next.

Praise For People Change…
Praise for People Change:

"People Change is a profoundly honest, insightful, and deeply generous invitation to examine our relationship with change, our love of it and our fear of it. With wit and vulnerability, Vivek touches on themes that show up in all our lives and ultimately asks us to reinvent how we relate to the constant that is change."
—Elliot Page, actor and producer

"A binary and label smashing examination of the infinite vastness of the self. Vivek's introspection of her own life's archive offers invaluable insight into how we define ourselves. My future self will definitely be bringing a copy to my younger self when we finally get those time machines built!"
—Lilly Wachowski, filmmaker (Matrix trilogy, Bound, Work in Progress)
 
"Vivek has redefined my view of what change can be, how not to fear it. Change is evolution."
—Tanya Tagaq, author of Split Tooth
 
"At once personal and philosophical. A must-read for our times, as we flounder with the particular and universal nature of change."
—Deepa Mehta, director of Water, Fire, and Earth
 
"A profound and thoughtful meditation on who we are and what it means when we change. Vivek Shraya's personal journey touches on the universal and enfolds us all."
—Anna Maria Tremonti, journalist and former host of CBC's The Current
Penguin Canada, 9780735238657, 112pp.
Publication Date: January 4, 2022
About the Author
VIVEK SHRAYA is an artist whose body of work crosses the boundaries of music, literature, visual art, theatre, and film. Her bestselling book I'm Afraid of Men was heralded by Vanity Fair as "cultural rocket fuel," and her album Part-Time Woman was nominated for the Polaris Music Prize. The founder of the publishing imprint VS. Books, Shraya is a seven-time Lambda Literary Award finalist. She's been a brand ambassador for MAC Cosmetics and Pantene, and is a director on the board of the Tegan and Sara Foundation, and an assistant professor of creative writing at the University of Calgary. She's currently adapting her debut play, How to Fail as a Popstar, for television with the support of CBC.

vivekshraya.com
@vivekshraya
#peoplechangebook