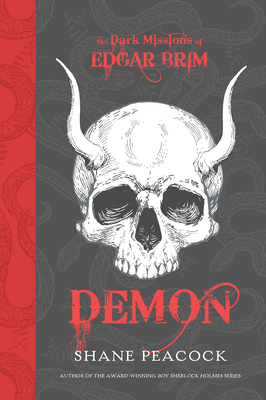 The Dark Missions of Edgar Brim (Paperback)
Demon
Penguin Teen, 9780735262720, 304pp.
Publication Date: October 22, 2019
Other Editions of This Title:
Paperback (7/16/2019)
Paperback (1/2/2018)
Hardcover (1/2/2018)
Hardcover (5/3/2016)
* Individual store prices may vary.
Description
The third and final book in a gripping Gothic YA trilogy, featuring monsters from classic literary tales, secret societies and the fight between good and evil.

Having tracked the monstrous Godwin to the Arctic and barely escaped with their lives, Edgar Brim and his friends return to London. Edgar continues his work at London Hospital, now under the tutelage of the Chairman, the affluent and charming Sir Andrew Lawrence. Edgar's night terrors begin increasing in intensity, and soon the group becomes aware of a new threat: they are being stalked by a new creature, an invisible assailant they are convinced is the Devil himself. In the hope of curing his affliction and combating his fears, Edgar confides in Dr. Berenice, a renowned yet enigmatic alienist who may somehow be involved in the mystery. Yet when the group suffers a fatal attack and a long-dead ally makes an appearance, Edgar begins questioning his own sanity. Can he and his friends truly defeat the most powerful villain imaginable if they can't even trust their own minds?
About the Author
SHANE PEACOCK was born in Thunder Bay, Ontario, and grew up in Kapuskasing. A biographer, journalist and screenwriter, he is also the author of several novels and plays. He has received many honors for his writing, including the prestigious Arthur Ellis Award for Eye of the Crow and Becoming Holmes and the Geoffrey Bilson Award for Historical Fiction for Vanishing Girl, all titles in his Boy Sherlock Holmes series. Shane Peacock lives with his wife and three children in Cobourg, Ontario. Visit him at his website: www.shanepeacock.ca and follow him on twitter: @Shane_Author