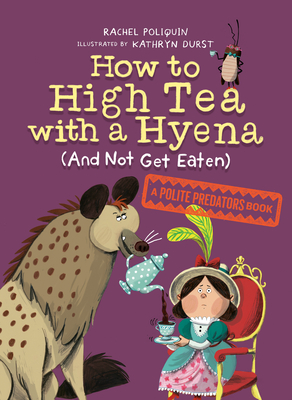 How to High Tea with a Hyena (and Not Get Eaten)
A Polite Predators Book
Hardcover

* Individual store prices may vary.
Other Editions of This Title:
Paperback (2/7/2023)
Description
The second book in a hilarious illustrated non-fiction chapter book series starring a savvy and stylish cockroach who guides the reader through an encounter with a charming -- and dangerous -- predator. Is this hyena drooling for tea and crumpets . . . or for you?!

Celeste is a cockroach, and everyone knows that cockroaches are survivors, so who better to give advice on surviving an encounter with a polite predator? High teas are dainty meals with pretty teacups: you nibble tiny cakes, sip milky tea and chit-chat about not-so-important things like why doughnuts have holes and if fish have eyebrows. But Ruby the hyena is loud, ferocious and tends to slober. High-speed gobbling makes good sense in the wild, but it is a definite no-no in the tearoom! And Ruby just happens to be Queen of a very large clan of hungry hyenas. Will high tea be ruined by uninvited guests? Is Ruby peckish for something other than Celeste's famous cream buns? Using her vast knowledge of hyenas, Celeste comes up with lots of strategies to get through high tea in one piece. Many of her suggestions are dangerous, most are absurd, but all are based on true hyena biology and hunting behavior.
Praise For How to High Tea with a Hyena (and Not Get Eaten): A Polite Predators Book…
"This [is] an adorable and funny story . . . but it [is] also a good teaching tool." —Jill's Book Blog

"Humorous and entertaining, and worthy of a place at the table." —School Library Journal

"[A] clever approach to the natural world, convincing in its message that . . . there is always more to learn." —Imaginary Elevators

"Snappy, kid-friendly portions of text supported with generous illustration drive the pace of this book . . . Readers will get caught up in the fun without even realizing how much they are learning." —CM: Canadian Review of Materials
Tundra Books, 9780735266605, 84pp.
Publication Date: April 5, 2022
About the Author
RACHEL POLIQUIN is a writer engaged in all things orderly and disorderly in the natural world. With a cross-disciplinary background in visual arts, cultural history and natural history, she holds a Ph.D. in Comparative Literature from the University of British Columbia and a Post-Doctoral Degree in History from the Massachusetts Institute of Technology. Rachel is the author of the Superpower Field Guide series, and has also written for Science Friday, The Believer Magazine and the New York Times.

KATHRYN DURST is a graduate of Sheridan College in Ontario, Canada. She has a background in animation, having interned with Pixar Animation Studios. Kathryn has illustrated numerous children's books, including the #1 New York Times bestseller from Paul McCartney, Hey Grandude!. When she is not illustrating books, she can be found playing the accordion, growing vegetables, folk dancing or putting on shadow puppet shows. She lives in Toronto, Canada, with her grumpy mini dachshund named Chili Dog.