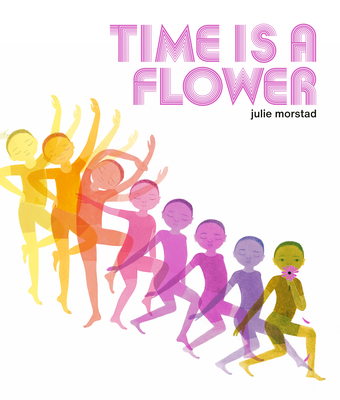 Time is a Flower
Hardcover

* Individual store prices may vary.
Description
A playful and poignant exploration of the nature of time through the eyes of a child from acclaimed author/illustrator Julie Morstad.

What is time? Is it the tick tick tock of a clock, numbers and words on a calendar? It's that, but so much more. Time is a seed waiting to grow, a flower blooming, a sunbeam moving across a room. Time is slow like a spider spinning her web or fast like a wave at the beach. Time is a wiggly tooth, or waiting for the school bell to ring, or reading a story . . . or three! But time is also morning for some and night for others, a fading sunset and a memory captured in a photo taken long ago.

In this magical meditation on the nature of time, Julie Morstad shines a joyful light on a difficult-to-grasp concept for young readers and reminds older readers to see the wonders of our world, including children themselves, through the lens of time.
Praise For Time is a Flower…
WINNER of the 2022 Marilyn Baillie Picture Book Award!
Nominated for the 2022 Governor General's Literary Award for Young People — Illustrated Text

A 2021 New York Times/New York Public Library Best Illustrated Children's Book
A New York Public Library Best Book for Kids (2021)
A Toronto Public Library's "First and Best 2021" Book Pick
A Booklist Top Ten Picture Books Selection

"Thoughtful metaphors and diverse characters take viewers through the manifold dimensions of time. . . . This exuberant vehicle will expand the thinking of those just beginning to comprehend clocks and calendars." —STARRED REVIEW, Kirkus Reviews

"A conceptual meditation, winsome and enigmatic." —STARRED REVIEW, Publishers Weekly

"A fascinating way to think about the passage of time." —STARRED REVIEW, Booklist

"[You're] in sure hands with Julie Morstad, one of the most gifted artists making picture books today." —Mac Barnett, author of The Wolf, The Duck, and the Mouse and the Shape Trilogy

"An exploration of the concept of time is a daunting premise for a children's book, but Morstad pulls it off with panache. Her warm, friendly renderings in pencil, marker and ink distill the book's abstract ideas . . . with ingenuity and simplicity." —New York Times

"Morstad's crisp, fine-lined illustrations convey a hushed and wondrous tone. Her spreads are uncluttered and spacious, with grayscale pencil drawings of children and colors that pop off the page." —BookPage

"Time is a Flower is another elegant production from Julie Morstad's endless imagination." —Imaginary Elevators

"Morstad's detailed images capture the movement of time from a child's point of view, while giving readers of all ages a chance to reflect on the cycle of life." —Postmedia
Tundra Books, 9780735267541, 56pp.
Publication Date: September 21, 2021
About the Author
JULIE MORSTAD is an award-winning author and illustrator. She has written the picture books Today and the Governor General's Literary Award finalist How To. Her beautiful illustrations can be found in numerous books such as It Began With a Page: How Gyo Fujikawa Drew the Way; Julia, Child; This Is Sadie and, most recently, Girl on a Motorcycle. In 2018 she designed a permanent stamp for Canada Post. Julie lives in Vancouver, British Columbia, with her family.