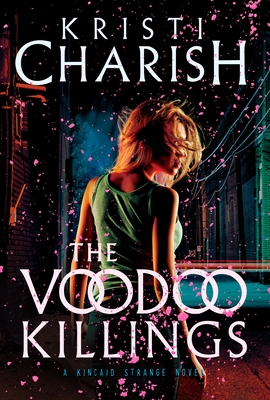 The Voodoo Killings (Paperback)
A Kincaid Strange Novel (Kincaid Strange Series, The #1)
Vintage Canada, 9780735273122, 352pp.
Publication Date: June 12, 2018
Other Editions of This Title:
Paperback (5/10/2016)
MP3 CD (9/27/2016)
* Individual store prices may vary.
Description
For fans of Bitten by Kelley Armstrong, a new urban fantasy series introduces Kincaid Strange, not your average voodoo practitioner...

For starters, she's only twenty-seven. Then there's the fact that she lives in rain-soaked Seattle, which is not exactly Haiti. And she's broke. With raising zombies outlawed throughout the continental USA, Kincaid has to eke out a living running seances for university students with more money than brains who are desperate for guitar lessons with the ghost of a Seattle grunge rocker--who happens to be Kincaid's on-again, off-again roommate.
     Then a stray zombie turns up outside her neighbourhood bar: Cameron Wight, an up-and-coming visual artist with no recollection of how he died or who raised him. Not only is it dangerous for Kincaid to be caught with an unauthorized zombie, she soon realizes he's tied to a spate of murders: someone is targeting the zombies and voodoo practitioners in Seattle's infamous Underground City, a paranormal hub. When the police refuse to investigate, the City's oldest and foremost zombie asks Kincaid to help. Raising ghosts and zombies is one thing, but finding a murderer? She's broke, but she's not stupid.
     And then she becomes the target... As the saying goes, when it rains it pours, especially in Seattle.  
About the Author
KRISTI CHARISH, author of Owl and the Japanese Circus and Owl and the City of Angels, has a background in archeology and a PhD in zoology from the University of British Columbia. She has worked as a scientific adviser on projects such as fantasy and SF writer Diana Rowland's series White Trash Zombie, and is the co-host of the Adventures in Sci-Fi Publishing Podcast. She lives in Vancouver.
Praise For The Voodoo Killings: A Kincaid Strange Novel (Kincaid Strange Series, The #1)…
"If you're a fan of Buffy Summers and Sookie Stackhouse, you'll definitely like Kincaid Strange." —Canadian Living

"The Voodoo Killings is such a spectacular mix of urban fantasy and mystery it kept me up to two in the morning. Give me more Kincaid Strange." —Faith Hunter, New York Times bestselling author of the Jane Yellowrock series
 
"Kristi Charish grabs the zombie novel by the throat and drags it back to square one, creating a voodoo zombie mystery that is a fresh and fantastic take on a whole genre. A must read!" —Peter Clines, author of The Fold, 14 and the Ex-Heroes series

"What a rush! Highly entertaining, original, and brimming with wit—and zombies in closets—I loved The Voodoo Killings. Can't wait for the next!"  —Julie E. Czerneda, author of This Gulf of Time and Stars
 
"This was an absolute delight to read. With a smart, cynical hero and zombies whose morals are as gray as the brains they snack on, The Voodoo Killings offers a fun and creepy new world—or two—to get lost in." —Patrick Weekes, author of the Rogues of the Republic series