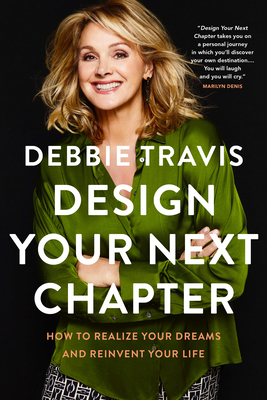 Design Your Next Chapter
How to realize your dreams and reinvent your life
Paperback

* Individual store prices may vary.
Other Editions of This Title:
Digital Audiobook (11/19/2018)
Hardcover (11/20/2018)
Description
If you feel stuck with no idea what you should do next, lifestyle celebrity and TV pioneer Debbie Travis's bestseller is for you. Drawing on the lessons she learned in her own leap into a new way of living, along with a multitude of stories, tips and ideas to jumpstart your dreams, Debbie's created an inspiring roadmap for change.

A few years ago, Debbie Travis realized that she was no longer challenged by her wildly successful TV career, yet she was so busy she was missing out on the people and things that made her happy. She dared to dream about a whole new direction in life--a plan to turn a 13th-century farmhouse in Tuscany into a unique hotel and retreat for people who need a change as much as she did. And now she is not only living that dream but sharing it with others.
Her new book draws directly on her own experiences (when she started, Debbie could barely make a bed, let alone run a hotel in a foreign county) and the uplifting stories of personal u-turns shared by women who have come to her retreats. Debbie's "commandments" will inspire women (and men) who have lost track of who they are or what they want to be; who are going through the motions of a career that doesn't satisfy them anymore; who are wondering what to do with themselves now that their kids are gone or their marriage is over. On every page, Debbie shares the tools that helped her transform her life. Her common-sense advice, often delivered with her trademark humour, will help motivate anyone who finds themselves standing at a crossroads wondering "What's next for me?"
Praise For Design Your Next Chapter: How to realize your dreams and reinvent your life…
NATIONAL BESTSELLER

"Reflecting on her own experiences of personal U-turns, triumphs and challenges, as well as the stories of women who have come to her retreats, Travis's 'commandments' will inspire women of all ages who have lost track of who they are or what they want to be." —The Suburban (Montreal)

"One of the most difficult things humans face in their lifetimes, and sometimes more than once, goes something like this: What do I do now? How do I find my new purpose? What really makes me happy? Debbie Travis's new book, Design Your Next Chapter, is the perfect literary companion to help you take the first step to actualizing your passions. Right from the opening paragraphs, you get a real sense that Debbie's experiences, both good and bad, will shine a light on taking chances and understanding that you, too, can take a leap towards new adventures in your own life. This book is not only inspiring but very funny, whimsical and infectious, and I know it will light a fire and motivate you to embrace the best things in life!" —Jann Arden, singer-songwriter, and author of Feeding My Mother and Falling Backwards
 
"In Design Your Next Chapter, Debbie shares her courage, strength, beauty, confidence, experience and heart. I want nothing else in my own life than to surround myself with positive and inspiring people like this incredible woman. How wonderful that in her book she's offering us real ways to create a future for ourselves that is exactly as we dreamed it could be." —Lynn Crawford, chef and cookbook author
 
"Honesty, passion and humour—these are the words I would use to describe my dear friend, Debbie Travis. She pours her heart and soul into everything she does. This book exemplifies exactly that. Design Your Next Chapter takes you on a personal journey, in which you'll discover your own destination just as Debbie discovered hers. You will laugh and you will cry. And if you are searching for that missing piece of yourself, her book will throw you a lifeline." —Marilyn Denis, television and radio host
 
"Debbie Travis combines her business, design and life experience in the most enjoyable, practical and stylish self-help book you'll read this year." —Trish Halpin, editor-in-chief, Marie Claire
 
"Engaging and inspiring from start to finish, Design Your Next Chapter is a powerful reminder that when we have the courage to speak our truths and step fully into our dreams, we can find the motivation to live our best lives. Diving into Debbie's new book is like spending a day with a really inspiring friend." —Cathy Loblaw, CEO, Ronald McDonald House Charities Canada
 
"Let Debbie Travis be your guide, guru or best friend. She knows how to live life to the brim. In these pages, she shares both her secrets and practical steps leading to her formidable and inspiring successes. This funny, touching and smart book will surely propel readers to make startling changes in their lives." —Frances Mayes, author of Under the Tuscan Sun
 
"I loved it. Design Your Next Chapter is wonderful in its honesty, freshness, self-irony and vital spirit." —Patricia Reinmann, publisher, DTV
Vintage Canada, 9780735274785, 256pp.
Publication Date: March 31, 2020
About the Author
DEBBIE TRAVIS is an international television icon, a bestselling author, a newspaper columnist, a sought-after public speaker and the centre of a small business empire. Her shows, Debbie Travis' Painted House, Debbie Travis' Facelift, From The Ground Up and All For One--and most recently the six-part documentary, La Dolce Debbie, about how she transformed a 13th-century Tuscan farmhouse into a hotel and retreat--have been seen in Canada, the United States and 80 other countries. She has authored nine previous books (eight on decorating); Oprah has called her "the master of paint and plaster." Having stepped back from TV producing, she gets to relax, just a little, running a luxury boutique hotel where like-minded women can experience the Tuscan lifestyle at her Girls' Getaways and a 100-acre farm where she produces an organic Extra Virgin Olive Oil and a variety of lavender products. Debbie shares her journey with her husband, Hans, and two sons, Josh and Max.
or
Not Currently Available for Direct Purchase