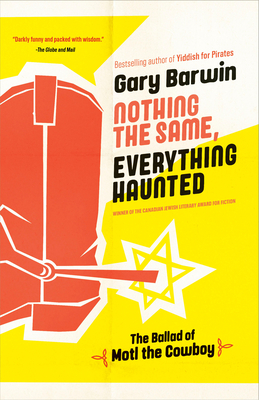 Nothing the Same, Everything Haunted
The Ballad of Motl the Cowboy
Paperback

* Individual store prices may vary.
Other Editions of This Title:
Digital Audiobook (3/8/2021)
Hardcover (3/9/2021)
Description
A middle-aged Jewish man who fantasizes about being a cowboy goes on an eccentric quest across Europe after the 1941 Nazi invasion of Lithuania in this wild and witty yet heartrending novel from the bestselling author of Yiddish for Pirates, shortlisted for the Scotiabank Giller Prize.

Motl is middle-aged, poor, nerdy, Jewish and in desperate need of a shave. Since having his balls shot cleanly off as a youth in WWI, he's lived a quiet life at home in Vilnius with his shrewd and shrewish mom, Gitl, losing himself in the masculine fantasy world of cowboy novels by writers like Karl May--novels equally loved by Hitler, whose troops have just invaded Lithuania and are out to exterminate people like Motl. In his dreams, Motl is a fast-talking, rugged, expert gunslinger capable of dealing with the Nazi threat. But only in his dreams.

As friends and neighbours are killed around them, Motl and Gitl escape from Vilnius, saving their own skins. But they immediately risk everything to try rescue relatives they hope are still alive. With death all around him, Motl decides that a Jew's best revenge is not only to live, but to procreate. In order to achieve this, though, he must relocate those most crucial pieces of his anatomy lost to him in a glacier in the Swiss Alps in the previous war. It's an absurd yet life-affirming mission, made even more urgent when he's separated from his mother, and isn't sure whether she's alive or dead. Joining forces, and eventually hearts, with Esther, a Jewish woman whose family has been killed, Motl ventures across Europe, a kaleidoscope of narrow escapes and close encounters with everyone from Himmler, to circus performers, double agents, quislings, fake "Indians" and real ones. Motl at last figures out that he has more connection to the Indigenous characters in western novels than the cowboys.

An imaginative and deeply felt exploration of genocide, persecution, colonialism and masculinity--saturated in Gary Barwin's sharp wit and perfect pun-play--Nothing the Same, Everything Haunted: The Ballad of Motl the Cowboy is a one-of-a-kind novel of sheer genius.
Praise For Nothing the Same, Everything Haunted: The Ballad of Motl the Cowboy…
WINNER OF THE 2021 CANADIAN JEWISH LITERARY AWARD FOR FICTION

"[A] boundary-pushing [and] . . . very funny book. . . . There are few voices in Canadian writing as original as Barwin's." —Toronto Star 

"[Gary Barwin] proves again why he's one of the most distinct voices in Canadian lit." —The Globe and Mail

"[D]arkly humorous and affecting . . . the fantastic one-liners deepen the poignancy of the horrors. This inventive, madcap novel is a stunning testament to Jewish humor and survival." —Publishers Weekly

"Barwin is a talented and prolific artist . . . and this novel showcases his signature style and strengths: acrobatic language bursting with puns, rhyme, alliteration and all manner of wordplay, madcap escapades, and a sprinkle of slapstick. . . . This wildly inventive novel plays by its own rules. In Barwin's world, imagination is freedom, and comedy, courage." —Quill & Quire

"This is a novel steeped in history and truths—and ingenuity. . . . An adventure story set in horrific times, this novel manages to be darkly funny and packed with wisdom." —The Globe and Mail

"Barwin's second novel deserves the same attention as his first; it takes risks with an even more ambitious premise, is filled with delightful wordplay and poetic language and, like Yiddish for Pirates, there is simply not anything else out there quite like it." —Winnipeg Free Press

"A fierce and funny horse ride through hell, told with brio." —Yann Martel, author of Life of Pi
 
"A hilarious and life-affirming adventure, equal parts Sound of Music, Blazing Saddles and matzo ball soup. This is Barwin's tallest and deepest tale yet, a crackers modern Western that meditates (as it moseys) on compassion, kinship and the absurdity of atrocity." —Sean Michaels, author of The Wagers
 
"This is the most wildly inventive novel I have read in decades, and Gary Barwin is the enormously talented wordsmith who has pulled it off! It begins in the nightmare of the Holocaust in Nazi-occupied Lithuania and travels across Europe and North America examining the plight both of Jews and Indigenous peoples. And through it all we find jokes based on cowboy themes. Jokes! What are jokes doing among these calamities? Displacing the horror, easing the way, making the tragedies, if not bearable, at least something one can talk about without incessant weeping in a world haunted by the past." —Antanas Sileika, author of Provision Yours
Vintage Canada, 9780735279544, 344pp.
Publication Date: March 8, 2022
About the Author
GARY BARWIN is a writer, composer, and multidisciplinary artist and the author of twenty-three books of poetry, fiction and books for children. His recent national bestselling novel, Yiddish for Pirates, won the Stephen Leacock Medal for Humour as well as the Canadian Jewish Literary Award and the Hamilton Literary Award. It was also a finalist for both the Scotiabank Giller Prize and the Governor General's Literary Award for Fiction. For It Is a Pleasure and a Surprise to Breathe: New and Selected Poems was also recently published to much acclaim. A PhD in music composition, Barwin has taught creative writing at a number of colleges and universities. His prose and poetry has been published in hundreds of magazine and journals internationally--from Reader's Digest to Granta and the Walrus. Born in Northern Ireland to South African parents of Ashkenazi descent, Barwin lives in Hamilton, Ontario.