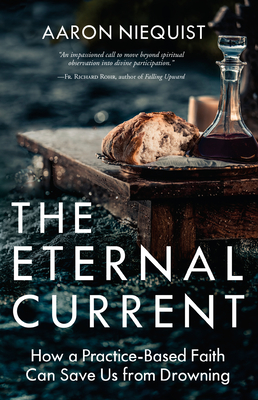 The Eternal Current (Hardcover)
How a Practice-Based Faith Can Save Us from Drowning
WaterBrook, 9780735291164, 208pp.
Publication Date: August 7, 2018
Other Editions of This Title:
CD-Audio (8/7/2018)
* Individual store prices may vary.
Description
A call for Christians to move past the shallows of idealized beliefs and into a deeper, more vibrant, beatitude-like faith rooted in sacred practices and intimate experiences with God.

When the limits of his own faith experience left him feeling spiritually empty, Niequist determined God must have a wider vision for worship and community.

In his search, Aaron discovered that there was historical Christian precedent for enacting faith in a different way, an ancient and now future way of believing. He calls this third way "practice-based faith."

This book is about loving one's faith tradition and, at the same time, following the call to something deeper and richer. By adopting some new spiritual practices, it is possible to learn to swim again with a renewed sense of vigor and divine purpose.
About the Author
Aaron Niequist has served as a leader at some of the most influential churches in the country. In 2014 he launched a neo-liturgical, practice-based form of church that operates out of Willow Creek in Chicago. He also helps to run A New Liturgy and The Practice podcasts. Aaron and his wife, bestselling author Shauna Niequist, live in the suburbs of Chicago with their two sons.
Praise For The Eternal Current: How a Practice-Based Faith Can Save Us from Drowning…
"The Eternal Current is an impassioned call to move beyond spiritual observation into divine participation. Jesus didn't invite us to simply believe about the River of God; he invited us to swim! By learning from the perennial wisdom of the wide Christian community, Aaron has written a book that will launch you in your practice from the transcendent to the particular, and it will draw you in your faith perspective from the particular to the transcendent."
—Fr. Richard Rohr, founder of the Center for Action and Contemplation and author of Falling Upward

"The Eternal Current is a gift, challenge, cure for what ails, and blessing. Rather than simply pointing to the problem, Aaron has put in the time and energy to craft a new way forward, not only for you as an individual but also for your faith community. This book will cause you to reimagine a life-giving, hopeful, centered, embodied, and living path to follow Jesus."
—Sarah Bessey, author of Out of Sorts and Jesus Feminist

"Aaron Niequist has written the defining account of a generation of evangelicals who are disenchanted with the often shallow wells of evangelical spirituality and who are looking for a deeper, more robust, transformational expression of their faith. What sets his story apart, however, is that he stayed within his native tribe to contend for a different kind of space. The Eternal Current is the new construction on the other side of the deconstruction, written not by a theorist but by a practitioner."
—Jonathan Martin, author of How to Survive a Shipwreck and Prototype

"You hold in your hand a brilliant exploration of those ancient but evergreen practices the church must recover to remain a vital and prophetic presence in the world. This field-tested and practical guide will equip and empower you to live in and lead others into the life-giving waters of a practice-based faith."
—Ian Morgan Cron, author of The Road Back to You

"I am inspired by Aaron Niequist's bold vision of a church that is open to learning from all the branches of our Judeo-Christian tradition. Aaron has documented one of the most refreshing approaches to practice-based discipleship that I have ever encountered. He doesn't have all the answers, but he sure is asking the right questions."
—Fr. J. Michael Sparough, SJ, Bellarmine Jesuit Retreat House

"For far too long we have wrongly equated depth of knowledge with depth of life when it comes to our discipleship. I'm so grateful Aaron Niequist has presented a creative vision for us to reimagine life with God. Aaron lays out a framework for us that has been tested in real community. Our churches and we as individuals desperately need to swim with this Eternal Current of practice-based faith."
—Rich Villodas, lead pastor of New Life Fellowship, New York

"I value this book because of Aaron's winsome way of inviting us to swim in the Eternal Current of God's kingdom by engaging in the life-giving practices spiritual seekers have used through the ages to open themselves to God. And what a clear and compelling invitation it is, emerging from his own life and witness! I share Aaron's vision for practice-based communities that learn together how to swim in the deep end of the pool for the sake of others, and I am glad we have taken the deep dive together."
—Ruth Haley Barton, author of Sacred Rhythms

"Aaron has masterfully shared the skills he's developed through the journey of discovery. This book is for all of us who want to discover how to grow deeper roots in loving God and our neighbor in the radical way Jesus described in the Gospels—through the rhythms of grace found in practices of public worship."
—David M. Bailey, coauthor of Race, Class, and the Kingdom of God study series

"Reading The Eternal Current was like stepping into the current of my own heart. Aaron Niequist is a genuine encouragement to those of us who are working with the grace of God to practice ourselves into being followers of Jesus and his gospel of the kingdom of God. For those who want to take Jesus seriously, this book renews faith and reveals a fresh perspective on church." 
—Todd Hunter, Anglican bishop and author of Giving Church Another Chance