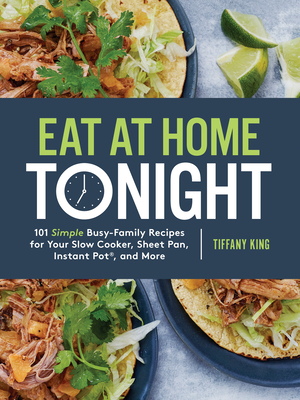 Eat at Home Tonight
101 Simple Busy-Family Recipes for Your Slow Cooker, Sheet Pan, Instant Pot®, and More: A Cookbook
Paperback

* Individual store prices may vary.
Description
Founder of the Eat at Home website and family meal-planning wizard Tiffany King shares recipes focused on simplicity, flavor, and healthy balance to help home cooks end every day with an affordable family dinner.

A popular food blogger with 8.5 million page views, Tiffany King's debut cookbook is crafted for those nights "when life happens." This is the cookbook to turn to when all hope of a homemade, wholesome dinner seems lost: when the fridge is empty, when it's already 8pm, when one kid has soccer practice and the other dance, when there's no time for cleanup because homework has to get done. Just like her blog, King's book is tirelessly encouraging and realistic. The recipes feature bright vegetables and affordable pantry ingredients. The book, uniquely arranged by "excuses," includes sidebars with mealtime conversation starters and helpful cooking hints.
Praise For Eat at Home Tonight: 101 Simple Busy-Family Recipes for Your Slow Cooker, Sheet Pan, Instant Pot®, and More: A Cookbook…
"You've got excuses? Tiffany has recipes. Eat at Home Tonight shows busy readers how to get a hearty meal on the table even if you're starved for time or short on ingredients. You'll never waste time in the drive-through lane again."
—Laura Vanderkam, author of Off the Clock: Feel Less Busy While Getting More Done

"This beautiful book contains power far beyond any collection of recipes. In Eat at Home Tonight, author Tiffany King communicates with the clarity of Oprah, the logic of Martha Stewart, and the joy of Julia Child. For years society has lamented the American family's disconnect. But now Tiffany King is bringing us all back together. So come on! Let's Eat at Home Tonight!"
—Andy Andrews, New York Times best-selling author of The Traveler's Gift and The Noticer

"Decades of studies have proven the most important part of raising children into successful adults is to consistently gather around a dinner table with the family. At last, author Tiffany King proves that eating at home is not only doable but easy and fun. Part recipe book, part fascinating ideas and conversation starters, Eat at Home Tonight will help you create family experiences that will be remembered forever!"
—Laurie Hise, blogger at Passionate Penny Pincher

"Tiffany won me over with her first chapter: 'I Only Have 15 Minutes Tonight.' I mean really, isn't that often our dilemma in this tilt-a-whirl world? I love somebody who gets my family spin. And if expedience isn't enough, she spells out a map of food from Italy, Switzerland, Greece, Mexico, right back to Chicago and my family's homeland of Kentucky. Then she tops it off with a twist of Tennessee—Elvis and all! Love me some Blue Suede Shoes.
—Patsy Clairmont, speaker, author, and foodie

"Finally a cookbook that lets me choose my meals based on my phase of life and the amount of time I have in each season! My biggest struggle with meal planning and cooking is being able to pick my meals based on my time constraints. Tiffany's recipes are all delicious and well received by my family. I know that if I pick one of her recipes that matches my schedule for that week, everyone will be happy."
—Lisa Woodruff, founder of Organize 365

"As someone who has made dozens and dozens of Tiffany's recipes over the past two years, I was excited about this cookbook. But it far exceeded my high expectations! I mean, hello! Where else have you seen a cookbook with recipes for when 'My Refrigerator Is Empty' or 'I Only Have 15 Minutes to Cook' or 'I Don't Have Time for Dishes Tonight' or 'We Can't Sit Down for Dinner Tonight'? If you are looking for a cookbook that actually gets you and your needs, this is the one! I know it is going to get a lot of use in our kitchen!"
—Crystal Paine, New York Times best-selling author and founder of Money Saving Mom

"I knew from page 1 that Tiffany understands what my weeknight life is like, and her mealtime strategies prove it. With recipes for nights when I have only fifteen minutes, or when everyone's on a different schedule, or when I really don't have time (or the inclination) to do dishes, Tiffany equips cooks like me to get home-cooked meals on the table, night after night."
—Anne Bogel, creator of Modern Mrs Darcy and author of I'd Rather Be Reading
WaterBrook, 9780735291232, 224pp.
Publication Date: August 7, 2018
About the Author
TIFFANY KING has cooked more than ten thousand meals for her husband and four kids. Over the years, Tiffany has learned what works and what doesn't for getting dinner on the table fast. Her recipes have been developed in a real kitchen for her busy family and tested by the millions of readers of her website, Eat at Home. She also shares recipes and demonstrates cooking techniques through weekly live videos on her popular Facebook page. When she's not cooking, you can find her curled up with a good library book.