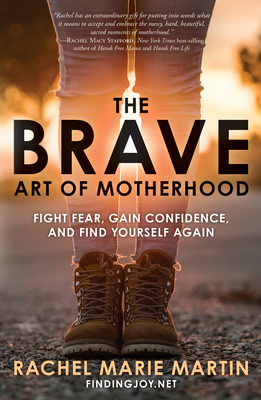 The Brave Art of Motherhood
Fight Fear, Gain Confidence, and Find Yourself Again
Paperback

* Individual store prices may vary.
Other Editions of This Title:
Digital Audiobook (10/8/2018)
Description
Full-time FindingJoy.net blogger, speaker, marketer, podcaster, and single mom of seven, Rachel Marie Martin presents a rallying cry to anyone who believes the lie that she is "just a mom."

Over the years, you willingly pour everything you have into your family, but in the process, you lose the essence of who you are. In her characteristic raw and visceral style, Rachel teaches you how to rewrite the pages of your story, follow your passion, and discover the beauty of who you are.

Drawing on lessons from her own incredible journey--together with insight from conversations with thousands of other women--Rachel encourages moms to break cycles, take off masks, and prevent fear from taking control. She balances her "no excuses" approach with breathing room and grace for those messy moments in life and mothering.

Rachel reminds you there is always a reason to hope, to move forward, and to dare the impossible. You can make changes. You can pursue dreams, find yourself, and live a life of deep happiness and boundless joy. Stop waiting for "someday." Take hold of the moment, and say yes to your dreams.
Praise For The Brave Art of Motherhood: Fight Fear, Gain Confidence, and Find Yourself Again…
Real Words from Real Moms


"Thank you for being such an honest and true voice for so many moms out there."
—Jen K.

"You help me get through the days when I am not sure what I have gotten myself into and when I question if I am cut out for motherhood. Thank you."
—Heather B.

"Thank you for allowing me to see the truth that has been staring me in the face and for giving me the strength to move forward with what is best for my children and me."
—T.E.

"Your writing helps me feel less alone and often gives me the little boost I need to dig deep and keep going."
—Jenifer J.

"Thank you so much for showing me that I'm normal, that mothering my children is an imperfect science of trial and error, and that it's okay not to be perfect. Thank you."
—Heather W.

"Today you bring tears to my eyes. You make me feel like somebody gets it. Somebody understands."
—Becky R.

"The wisdom you share is life changing and gives me hope in the days when I need it the most."
—Kristi B.

"When I read your honest reflections, I hear an assuring voice whisper back, 'You are not alone.' Suddenly, my hope is renewed, and I'm able to go back to what I do best: loving my people. You have an extraordinary gift for putting into words what it means to accept and embrace the messy, hard, beautiful, sacred moments of motherhood."
—Rachel M. S.

"I am constantly riding the roller coaster that is motherhood. Thank you for your compassionate and enlightening words of strength, wisdom, and inspiration."
—Tash M.

"Your words have spoken straight to my heart. There have been times when they've been my primary encouragement."
—Jessi H.

"Sometimes your words are what keep me going when I've hit the wall of patience, energy, and self-confidence."
—Kathy S.
WaterBrook, 9780735291393, 224pp.
Publication Date: October 9, 2018
About the Author
RACHEL MARIE MARTIN, having pulled herself up from poverty to being named one of Inc. magazine's top 40 entrepreneurs, has been writing Finding Joy full time for several years and writing online for over a decade. She has always had a passion for a daring, adventure-filled life and is often requested to speak and motivate others with her vivacious energy and deep belief that life is a gift. Rachel is also a partner in Blogging Concentrated, the world's largest training and development company for bloggers, authors, and entrepreneurs. She travels worldwide teaching marketing, voice, messaging, social media strategy and more. Rachel is a single mom of seven and lives in Tennessee.