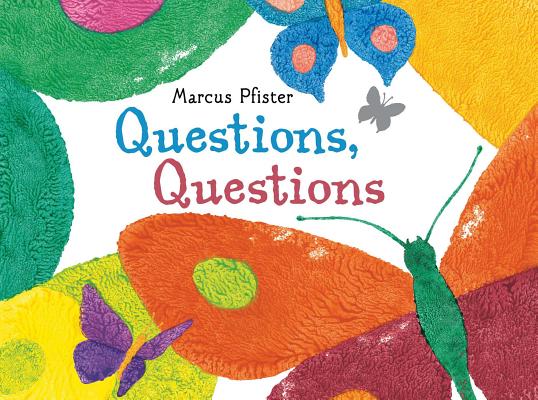 Questions, Questions
Hardcover

* Individual store prices may vary.
Other Editions of This Title:
Board book (7/1/2014)
Description
How do birds learn how to sing?

What brings summer after spring?

 

What turns the leaves from green to brown

and sends them floating gently down?

In thirteen engaging couplets, Marcus Pfister opens children's eyes to the wondrous mysteries all around them.
Praise For Questions, Questions…
Booklist Reviews Bertie At Bedtime:
Bertie and his father may be hippos, but this story of getting a child fed and ready for bed is universal and
familiar. At first, young Bertie doesn't want to eat supper because he is busy playing. Dad says he will
play with Bertie after supper and toothbrushing, and he keeps his promise—chasing Bertie, giving him a
fun bath, and playing hide-and-seek. After three books (including classics such as Good Night, Hippo) and
a quick succession of bedtime dances, at least one hippo is ready for bed: Dad. Pfister's hippos are an
irresistible pair, full of sweetness and life. Although Pfister uses a single floral pattern for wallpaper,
flooring, furniture, and clothes, he keeps the art from becoming boring by running the pattern through
vivid and appealing shades of purple, blue, green, pink, and orange. The book's last spread is a charmer: as
Dad lies curled up on a bundle of blankets and pillows, Bertie cuddles up close. "Good night, Daddy," he
says. "Tomorrow we can play some more."
NorthSouth Books, 9780735840003, 32pp.
Publication Date: March 1, 2011
About the Author
Marcus Pfister was born in Bern, Switzerland. After studying at the Art School of Bern, he apprenticed as a graphic designer and worked in an advertising agency before becoming self-employed in 1984. His debut picture book, The Sleepy Owl, was published by NorthSouth in 1986, but his big breakthrough came 6 years later with The Rainbow Fish. Today, Marcus has illustrated over 50 books, which have been translated into more than 50 languages and received countless international awards. He lives with his wife Debora and his children in Bern.