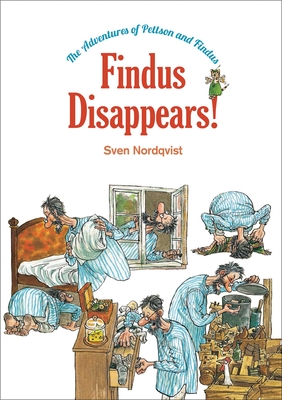 Findus Disappears! (The Adventures of Pettson and Findus) (Hardcover)
NorthSouth Books, 9780735841840, 32pp.
Publication Date: September 26, 2014
* Individual store prices may vary.
Description
Meet Findus—the adorable, clever little cat—and Pettson—the loving forgetful farmer—in this charming series of illustrated storybooks filled with humor and heart. Old man Pettson is lonely until his neighbor brings him a box that reads: "Findus Green Peas." But when Pettson opens the box he doesn't see peas . . . he sees a tiny kitten. Pettson's lonely days are over and he talks like he's never talked before—and soon Findus himself is talking. What a cat he has! But when the house is suddenly quiet and empty, Pettson knows something is wrong—Findus is missing!
About the Author
Sven Nordqvist was born in Helsingborg, Sweden. Although he studied architecture, he always wanted to be an illustrator and found work illustrating advertisements, posters, and textbooks. In 1983 he won first prize in a children's book competition and since then has worked as an author and illustrator of children's books. He is a renowned children's book illustrator and writer in Sweden and across Europe. When he's not illustrating books for children, he spends time building playgrounds, children's play areas at hospitals, and decorations for schools. Carpentry has always been an important part of Nordqvist's life—often reflected in the actions of his industrious character Pettson—with the central goal being the enrichment of children's lives. The beloved Pettson and Findus stories draw, in part, on Nordqvist's loving observations of his two sons when they were younger. His unique illustrations are inspired by the delights of everyday life.