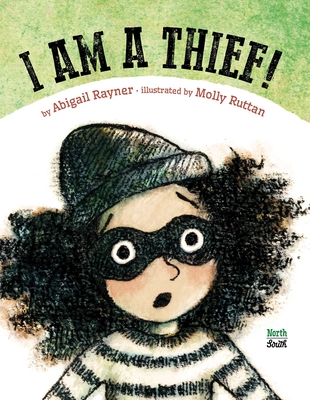 I Am a Thief!
Hardcover

* Individual store prices may vary.
Description
When Eliza Jane Murphy—line leader, captain of the worm rescue team—impulsively pockets a sparkly green stone from her classroom's "Exploring Green" display table, her heart crumples.

My heart stopped singing. My letters went wonky. I was too heavy to swing!

I wanted to put it back . . . But what if someone saw?

But when she discovers that nearly everyone in her family took something once in their lives—from her baby brother and mom, to her nana with her sausage-stealing dog—Eliza overcomes her shame to make things right.

A hilarious and heartfelt story about stealing and finding the courage to do the right thing.
Praise For I Am a Thief!…
*Starred Review. This humorous story speaks to anyone who has made a regrettable mistake, rounding it out with a gently ironic surprise final spread...Hilarious and sweet, with a gentle, affirming moral.
— Kirkus Reviews

Rayner creates an engaging story through Eliza's conversations, reflections, and disarming confessional narrative... Ruttan's expressive mixed-media illustrations use "Wanted" posters at intervals, creatively portraying Eliza, her relatives, and their pets as thieves. This entertaining, original picture book leaves plenty of room for discussion.
— Carolyn Phelan

...this book will resonate with kids who have taken something that is not theirs, and, because it provides an avenue for dialogue, it may convince them to think twice.
— School Library Journal
NorthSouth Books, 9780735842892, 40pp.
Publication Date: September 3, 2019
About the Author
Abigail Rayner was born in England where they have lots of history and rain. She spent her childhood visiting castles, picnicking in cars, and getting told off for writing stories during maths. When she grew up, she became a reporter and moved to New York, where she was encouraged to write stories, but not the made-up kind. These days she lives in New Jersey, with her wonderful husband, two brilliant kids, and three terrible cats. She never gets in trouble for writing stories.

Molly Ruttan grew up in Hastings-on-Hudson, New York. She and her twin sister showed signs of artistic and musical talent at a very early age. Molly attended the Cooper Union School of Art in New York. She graduated with a degree in Graphic Design and established a career as a Graphic Designer and Illustrator in Los Angeles. She is married to her childhood friend and music producer, Gabriel Moffat. They have three daughters, three dogs, one cat, one rabbit, a garden, some fish, and who knows how many magical nature spirits animating the back yard!