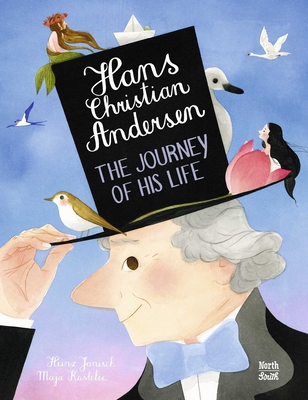 Hans Christian Andersen
The Journey of His Life
Hardcover

* Individual store prices may vary.
Description
"If you like, I'll tell you the story of a boy who learned to fly."

Through an enchanted conversation with a young girl in a horse-drawn coach, Hans Christian Andersen shares his life's struggles, dreams, and triumphs—whose threads can be found woven into his greatest stories. He tells her about the "fairy tale of his life" and how the son of a shoemaker became a celebrated writer.

Heinz Janisch paints a sensitive portrait of Andersen and his literary work. Maja Kastelic has developed a well-suited illustration concept for this story that combines sumptuous art of a picture book with elements of a graphic novel. Thus, for the first time, H. C. Andersen's life and work become a fascinating collage in picture book form.

A moving, inventive story about the life of Hans Christian Andersen.
Praise For Hans Christian Andersen: The Journey of His Life…
*STARRED REVIEW. In this smoothly translated blend of biography and storytelling, Janisch uses Andersen's own metaphor: The Danish writer called his memoir The Fairy Tale of My Life..."A very special fairy story," indeed.
— Kirkus Reviews

*STARRED REVIEW. This lovely book should be savored.
— School Library Journal

Aside from the stories themselves, this lyrical outing offers younger audiences the best insight into Andersen's life and gifts since Jane Yolen's The Perfect Wizard (2005).
— John Peters

There's something truly magical happening in Hans Christian Andersen: The Journey of His Life. It's not just the context, although there's plenty of magic to be found there. It's in everything, really: the story, the illustrations, the colors, the compositions. If there's a perfect picture book, in my opinion, I'd say this gets damn close to being it.
— John Herzog

In her art, Kastelic melds the text layers, shifting among soft watercolors of the coach ride, sepia-toned memories of Andersen's childhood, and vividly hued compositions recalling vintage fairy tale illustration for references to Andersen's stories.
— Bulletin of the Center For Children's books

For those who want a short tour through Andersen's life, they can have it with this illustrated picture book detailing the struggles, dreams and triumphs of the inimitable storyteller. Inspiring for children and adults alike.
— Book Riot

The sumptuous illustrations use graphic novel elements to tell the story. In the illustrations, there are references to well-known authors of children's books and some famous children's book characters, like The Little Prince, Pinocchio, and more. An author's note tells more about Hans Christian Andersen's life.
— Omnilibros
NorthSouth Books, 9780735843882, 56pp.
Publication Date: September 1, 2020
About the Author
Heinz Janisch was born in Austria in 1960 in Güssing, Austria. and studied German literature in Vienna. He has published numerous books, including many children's titles, which have been translated into more than twelve languages. He was nominated for the 2009 Lindgren Memorial Award and has been nominated for the 2010 Hans Christian Andersen Award. In 2008 he received the Austrian Picture Book Award. Heinz Janisch lives with his family in Vienna and in Burgenland.

Maja Kastelic was born in Slovenia, where she studied painting, philosophy and the theory of visual arts. She worked for several years as a retouching artist restoring frescos, before starting her career in children's publishing. Maja has received a White Ravens Award and has been selected for the Bologna Illustrators Exhibition.