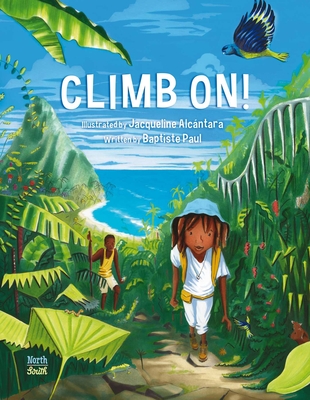 Climb On!
Hardcover

* Individual store prices may vary.
Description
Take a hike with this father-daughter adventure that's sure to inspire you to get outside.

When a young child reminds her dad about the hike they planned, her father is hesitant —To the tippy top? It's a great day to watch futbol (soccer). But as the two climb on, her enthusiasm is contagious. Filled with setbacks, surprises, and stunning views, this warm and humorous story highlights in vivid colors the bonding power of a shared experience. A list of creatures at the end prompts a second look for keen-eyed readers to make discoveries of their own.

Baptiste Paul and Jacqueline Alcántara (co-creators of The Field) have teamed up again! Baptiste's humorous and tender text, with a sprinkling of Creole words straight from the Pitons, and Jacqueline Alcántara's vibrant and evocative illustrations capture the wonder and emotions experienced on the trail and the special relationship between a parent and a child.

Praise for The Field:

Kirkus Reviews Best Picture Book of 2018
School Library Journal Best Book of 2018
The Horn Book Best Picture Book of 2018
Shelf Awareness Best Children's Book of the Year
Bank Street Best Children's Book of the Year

"Irresistible fun." Kirkus Reviews, Starred Review

"Vibrant illustrations . . . match the vigor and excitement of the text." The Horn Book, Starred Review

"Excitement overflows from the pages and the children." Booklist, Starred Review
Praise For Climb On!…
Lush and lovely, with an original story.
— Betsy Bird

The story, with all the familiar beats of give and take between parent and child, delivers on the promise of a great hike. The banter is spot-on, and the duo's feeling of accomplishment radiates off the page.
— School Library Journal



The colorful illustrations work well on many levels...Paul and Alcántara...now lead viewers on a memorable excursion, captured in this vibrant picture book. - STARRED REVIEW
— Booklist

A lovely—and needed—book about the rewards of persistence and Black people enjoying nature.
— Kirkus Reviews

It's a beautiful morning, and even though Dad just wants to watch futbol, his full-of-energy daughter reminds him that
he promised to go on a hike with her. "Annou ale! Off we go!" to the "tippy top" of their lush Caribbean island. The
adventurous duo encourages each other in Creole, and the accompanying English text makes for easy reading, as does
its spacious, verse-like placement amid the rich, full-bleed illustrations. The hike is more challenging than either one
expected—"Mouté! Climb on!"—until finally, they make it to the top, from which they can see their whole town and
the sea beyond. If only someone had brought a camera! Oh, well. "Chonjé. Remember." Fans of the creators' previous,
lively, futbol-centered collaboration, The Field (rev. 5/18), will cheer this very welcome addition, but this book also
easily stands on its own. The endpapers encourage readers to go back through the book to find a variety of creatures
hidden on the pages.
— The Horn Book

Mouté! Climb on!" A hike to the summit of a tropical peak has a father and child bonding through movement in this effervescent book by Paul and Alcántara. Filling backpacks with water, snacks, and a first aid kit, the book's brown-skinned protagonists follow a lush, animal-filled path that has them swinging past a waterfall, climbing a spindly ladder, and scaling rocks until, at last, they reach the top with its views of the town below. Paul's staccato prose fluidly mixes Creole and English for a rhythmic effect that emphasizes the exertion on display: "Fé vit. Hurry up!/ Step./ Breathe./ Sweat." Bursting with verdant foliage, Alcántara's exuberant illustrations capture the physicality of the story through varied perspectives. A final scene prompts readers to seek-and-find creatures that appear throughout, but even without this layer of directed interactivity, the creators' combined efforts create a father-child adventure that readily engages.
— Publishers Weekly

Author Baptiste Paul has written a fun story sprinkled with the Creole patois native to the place the story takes place. The language is spare and lyrical, the story is compelling and fun. The rich and stunning illustrations created by Jacqueline Alcántara fill every page with marvelous details that will keep young listeners engaged throughout repeated readings. This is a real winner.
— San Francisco Book Review
NorthSouth Books, 9780735844810, 32pp.
Publication Date: March 8, 2022
About the Author
Baptiste Paul is a children's picture book author. His first book for NorthSouth, The Field, received 3 starred reviews and won the Sonia Lynn Sadler Award, was a Junior Library Guild selection, and also appeared on the Horn Book Fanfare Best of 2018, the School Library Journal Best of 2018, and the CCBC 2018 Choices lists. Baptiste loves sports, likes to roast his own coffee, and grills. He lives in Wisconsin with his family.

Jacqueline Alcántara is a children's picture book illustrator. Her debut picture book, The Field, written by Baptiste Paul, received 3 starred reviews and won the Sonia Lynn Sadler Award, was a Junior Library Guild selection, and also appeared on the Horn Book Fanfare Best of 2018, the School Library Journal Best of 2018, and the CCBC 2018 Choices lists. Jacqueline's favorite days are spent drawing, painting, writing, and walking her dog. She lives in Chicago.